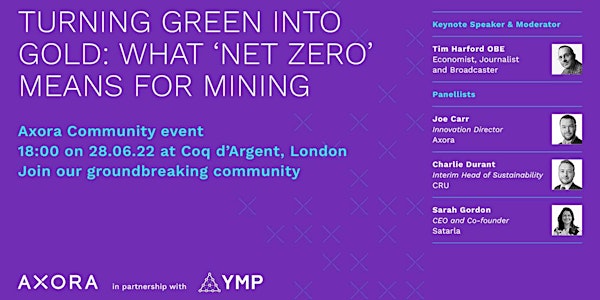 Turning green into gold: what 'net zero' means for mining
Location
Coq d'Argent
1 Poultry
London
EC2R 8EJ
United Kingdom
We're delighted to invite you to this exclusive event for Axora Community members in partnership with Young Mining Professionals.
About this event
The evening will start with a highly engaging talk by Tim Harford, the 'Undercover Economist', Financial Times columnist, BBC broadcaster, author and a podcaster (Cautionary Tales, More or Less)
"Why Companies Squander Brilliant Ideas"
Followed by a panel discussion moderated by Tim and featuring key industry speakers:
Charlie Durant, Interim Head of Sustainability at CRU
Sarah Gordon, CEO and Co-founder of Satarla and Co-founder at Responsible Raw Materials
Joe Carr, Innovation Director at Axora
The panel will discuss:
How can the traditionally risk-averse mining sector learn to innovate better?
How the sector ought or can respond to so-called 'black swan' events that disrupt the transition to clean energy?
What can mining do to become more sustainable beyond the low-hanging fruit?
You can expect an evening full of insightful conversation, valuable connections, and a drink and a bite on us, set on one of the best rooftop terraces in the City of London. And don't worry, although we're sure it will be a beautiful evening, there is a canopy.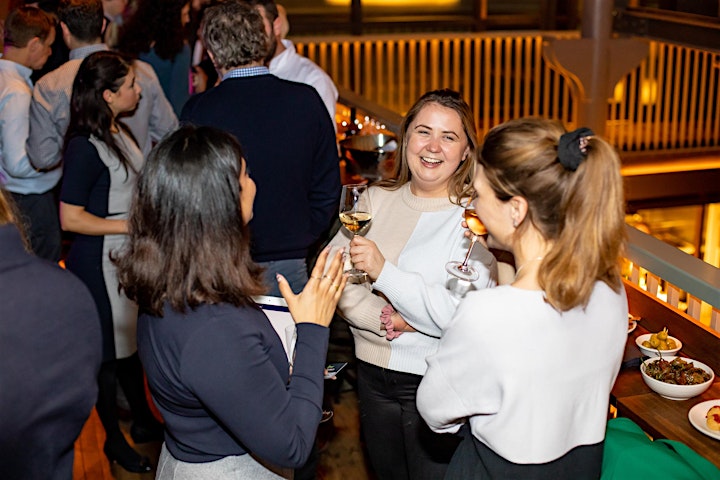 Join the Axora Community here.
Please note, this evening is run exclusively for Axora Community members. If you're not yet a member you can join by following this link.
About the Axora Community
The Axora Community is a safe space for sharing knowledge and ideas on using technology to make your company safer, more sustainable, and more efficient. Connect and collaborate with likeminded people and together, help to solve some of the biggest challenges facing the energy, and metals and mining industries.
About Young Mining Professionals
Young Mining Professionals (YMP) is a growing international association of mining professionals based in major mining centres across the world, that share the goal of advancing the global profile and leadership of the mining and exploration industry. YMP was established to assist participants in obtaining the skills, support and knowledge to successfully advance their careers, develop a network of contacts within the industry, and identify career and mining-related investment opportunities.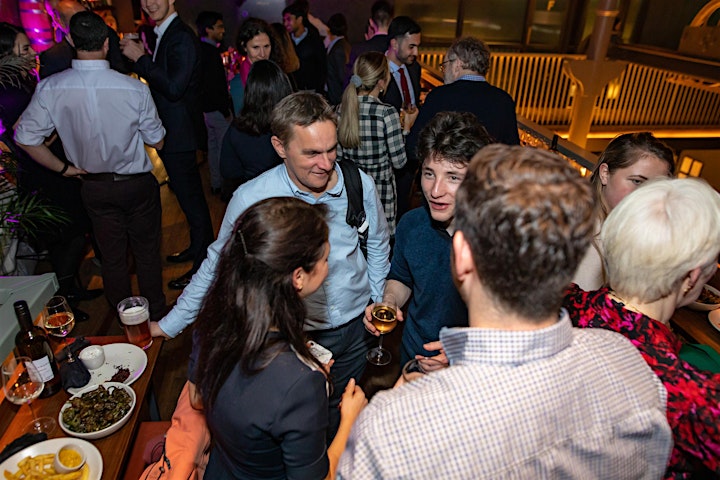 About Axora
Axora takes the hard work out of finding, evaluating and deploying innovative, technological solutions that address the safety, sustainability and efficiency challenges faced by heavy industry.
We have over 170 proven solutions on our marketplace, and our growing online community of industry professionals is keen to discuss the challenges and solutions of the day.
We work collaboratively with solution providers and customers to cut through the noise, to understand the local context, and to help reduce the time and effort required to implement groundbreaking solutions for groundbreaking businesses.