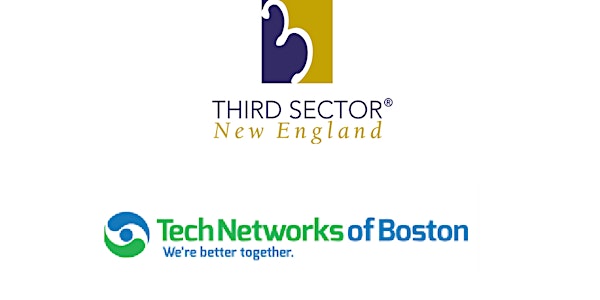 TSNE & TNB Super Roundtable: Community Commons as a Resource for Nonprofits
Location
Boston NonProfit Center
89 South Street
Boston, MA 02111
Sales Have Ended
Registrations are closed
Thank you for your interest this Super Roundtable session! We are sorry to inform you that this Roundtable session is currently booked to capacity. We strongly urge you to add yourself to the waiting list; we have a very good track record of finding seats for nonprofit professionals on the waiting list.
Description
Dear Colleagues and Friends,

Third Sector New England (TSNE) and Tech Networks of Boston (TNB) are pleased to invite nonprofit professionals to a Super Roundtable with Nicole Shiner of United Way and Jamie Kleinsorge of the Institute for People, Place, and Possibility. The setting will be the at the Boston NonProfit Center, and the topic will be using CommunityCommons.Org as a tool to support nonprofit grant writing, advocacy, and program development. CommunityCommons.Org is a free online resource.

The doors will open at 8:00 am, and a complimentary breakfast will be served. This will give all participants ample opportunity for informal professional networking before the program begins.

Here's what Nicole and Jamie say about this session:

Access to reliable, meaningful data can boost a grant application, help design better programs, assist in advocacy efforts, and augment evaluation efforts. CommunityCommons.Org maps and reports are easy to use and can be tailored to meet your needs. Maps and reports can be made at a variety of geographies (county, service area, region, school district or legislative district) and with over 10,000 data layers, the possibilities are endless.

A few examples of how nonprofits use CommunityCommons.Org in their day to day workflow:

- To identify populations of greatest need - looking at areas with high poverty, low educational attainment, and low access to resources like health services, fresh fruits and vegetables, and educational opportunities.

- To identify populations to serve with a new or existing program - looking for concentrations of specific races, ethnicity, seniors, low-income, individuals with disabilities, etc.

- To get data for a grant application - answer questions like, "how many people live in your service area? how many seniors live in your service area? what is the average income in your service area? how many people live below 200% of poverty? how do you know access to dental care/mental health services/etc. is a problem in your area?"

- To identify gaps in service and make the case for more types of services in an area. Mapping the number of teen suicides and number of treatment facilities in a given legislative district provides organizations with a targeted map they can take to decision makers to make a case for improved or enhanced services.

Here's a little more about Nicole:

Nicole Shiner joined the United Way of Massachusetts Bay in 2004, and is currently the operations manager for community impact. In this role, Nicole's primary responsibility is managing and maintaining data about United Way's investments in a portfolio of over 200 agencies. Nicole is responsible for collecting the outputs and outcomes associated with those investments. She is also United Way's primary user of CommunityCommons.Org. Nicole comes to the United Way with a background in paralegal from Washington State and numerous awards for outstanding customer service.
Here's a little more about Jamie:

Jamie Kleinsorge, MS is a project director at the Institute for People, Place, and Possibility. Jamie has been on the development and training teams for CommunityCommons.Org since 2011. She has trained thousands of organizations, community-level professionals, government agencies, and healthcare systems on the use and application of data and GIS for community assessment, programming, and evaluation. Jamie has a Master's of Science in Rural Sociology with an emphasis in community development from the University of Missouri, and a Bachelor of Arts in Political Science from Western Illinois University. Jamie has academic expertise and on-the-ground experience in community and economic development, non-profit management, public health, and data analysis and GIS.

Please note:

1) This will be a professional development opportunity for nonprofit professionals who want to learn with and from their peers in other organizations.

2) This session is for employees of nonprofit organizations. It is not designed to meet the needs of vendors, volunteers, students, consultants, job-seekers, and others.

3) Priority in registration will be given to those who are employed by nonprofit organizations that hold full membership in the Massachusetts Nonprofit Network.

4) Participation in this session is free of charge for nonprofit professionals. However, you must have a confirmed reservation in order to attend.

5) If this session is booked to capacity by the time you seek to register for it, please go ahead and put yourself on the waiting list. We have a good track record of finding seats for nonprofit professionals on the waiting list.

We hope that you can join us for a vigorous and informative conversation, in which you will be welcome to share your knowledge and experience with your peers.

Best regards from Deborah


Deborah Elizabeth Finn | Senior Strategist
Tech Networks of Boston
1 Wadleigh Place | South Boston, MA 02127
Phone: 617.504.8188 | Fax: 888.527.9333
deborah@techboston.com | techboston.com
We are a Certified B Corp! | Visit our Boston Techie Blog
Follow us on Facebook, Twitter, and LinkedIn!