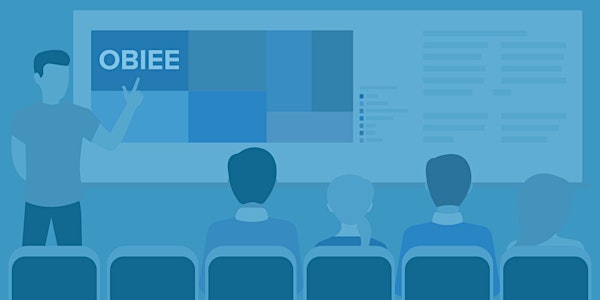 TRN209: OBIEE 11g System Administrator (Remote training only- May 21-22, 2018)
When and where
Location
US-Analytics 5280 Avalon Boulevard Alpharetta, GA 30009
Refund Policy
Refunds up to 30 days before event
Description
Course Overview
For two days, system administrators and architects will learn advanced administration within OBIEE 11g. You'll everything you need to know for your role as an OBIEE admin, including:
• Modules on system and performance management
• Security
• Troubleshooting
• Monitoring
• Advanced performance concepts
This course is based on OBIEE 11.1.1.7 but all concepts are applicable to all OBIEE 11g versions. It covers administration of OBIEE across Windows and Linux.
Course Delivery: Instructor-led with labs
Who Should Attend?: System Administrators, Architects
Previous Knowledge: Basic familiarity with Linux is beneficial, but not mandatory Duration 2 Days
Detailed Course Agenda :
Day 1
Product Overview
• OBIEE 11g Product Overview, Key Components, and Product Demo
OBIEE 11g Systems Management
• System Startup, Shutdown, and Restart Process
• Explanation of the OBI Directory Structure
• Systems Admin Using Enterprise Manager
• Use of WLST in OBI Management
• Patching OBIEE • Query Caching
• Setting up Usage Tracking
• Aggregate Persistence Wizard
• Write Back
OBIEE 11g Product Architecture
• Architecture Overview
• Components in Detail
• OBIEE 11g Security Overview
• Oracle Fusion Middleware 11g Security Overview
• Backward-Compatibility with OBIEE 10g Security
• Application Roles & Application Policies
• Performing Common Security Tasks
• Integration with Microsoft Active Director
Day 2
High Availability & Clustering
• Review OBIEE Architecture
• Installation Scenarios: Desktop, Departmental, Enterprise
• Department Topology & Vertical/ Horizontal Scaleout
• HA Considerations • Enterprise Topology
• Clustering and HA for WLS Admin Server
OBIEE & Performance
• What is Performance?
• The OBIEE Stack
• Measuring Performance
• Design Patterns – What Does "Good" Look Like?
• Troubleshooting Performance Issues
• Testing Performance – A Brief Introduction
Monitoring & Troubleshooting the OBIEE 11g Stack
• Monitoring OBIEE
• Troubleshooting OBIEE 11g