Deliver Virtual training the "TBR-VE" Way, new brain-based virtual tools & techniques. Contact for Hardship / Educator / Student Pricing.
About this event
In this practical and interactive 5-modules Training from the BACK of the Room Virtual Edition class, you'll explore the current "cognitive neuroscience" that explains how ALL humans learn.
You'll discover 6 specific brain-science principles and a 4-step instructional design model that you can use in your own virtual teaching and training.
You'll leave with dozens of new ideas, activities, resources, and a new "Gold Standard" for Virtual Instruction and Learning.
After your active participation in the TBR-VE Class, you will be able to:
1. Apply 6 brain-science principles every time you deliver a virtual training regardless of the complexity of the topic, size of the group, or level of learners.
2. Use the 4Cs Map as a training design and delivery models for brain-based virtual instruction.
3. Create virtual training sessions that combine your own topic and materials with the brain-based concepts and strategies from the class and demonstrate how to leverage the strengths of the virtual learning environment.
4. Explain to colleagues your understanding of cognitive science as it applies to learning, training, and memory in both virtual and face-to-face environments.
5. Choose from dozens of virtual brain-based learning activities for all topics.
6. Become an active member of the TBR-VE Class Group and share your own expertise about brain-based virtual instruction and learning.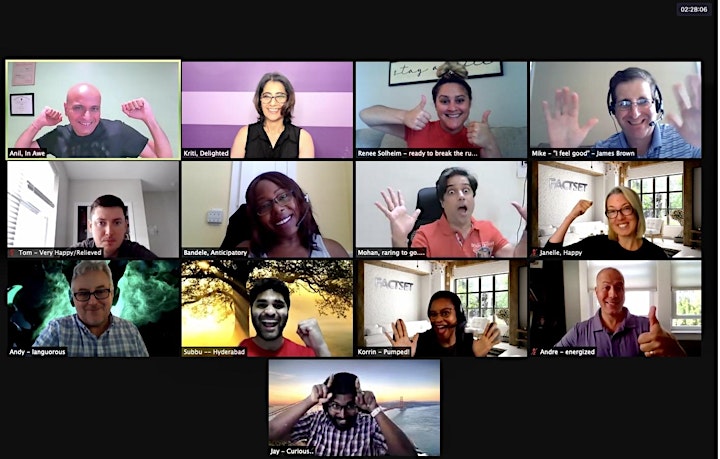 To attend the TBR-VE Class, you will need:
a) The book "Training from the BACK of the Room" in either digital or paperback format. The book is available for purchase on Amazon.com.
b) A computer (desktop or laptop; the class is NOT designed for a digital tablet or cell phone).
c) Live-streaming camera capability.
d) Adequate sound system (test it with a friend – oftentimes a computer speaker/microphone can be tinny-sounding and you may need to purchase an economical, external speaker/microphone).
e) A basic familiarity with the software platforms that will be used to deliver the class: (list apps here). If these apps are new to you, please consider viewing one of the free introductory tutorials on YouTube: (include links here). Or set up your own free account for each app and "play" with its features until you get a sense of how it works.
f) Printing source to download/print the digital Participant Workbook (about 45 pages). You should have a printed version of the Participant Workbook because handwriting (not typing) is an important component of brain-based learning (a tablet with handwriting capability – not just typing – is adequate). FYI: The workbook pages are not sequential for a reason; therefore, using an analog copy will make it easier to flip back and forth between pages.
g) Miscellaneous analog materials: sticky notes, sharpies/markers, blank paper, pen/pencil.
To attend the TBR-VE Class and to receive a "TBR-VE Class Certificate of Completion" you must:
a) Have the mandatory materials ready to use (these are itemized in the list above).
b) Attend all five 2.5 hour modules (a total of 12.5 hours of class time spaced over 2 1/2 - 3 weeks) and be an active participant during the live-streaming class time. Your commitment includes arriving on time and setting aside the whole time to attend, without meeting/call interruptions.
c) Do the "Warm-Ups" and "Follow-Ups" (pre/post-work) for each module – a total of about 6 hours of "homework" – reading, viewing, writing, creating, responding. There will be about an hour of pre-work before the class begins, about an hour between each of the 5 modules, and about an hour of post-work.
(Think of the homework as a "flipped classroom" approach to learning in which many of the traditional "lecture-based" segments take place off-line and the practice segments take place online. These "priming" and "spaced practice" assignments are really important elements of brain-based learning. They are also important to your own success as a TBR-VE Class participant.)
d) Be an active member of the TBR-VE Class Slack community site for the duration of the class. You will be supporting and encouraging the other class members and deepening your own understanding of brain-based instruction.
e) Fill out an evaluation survey at the end of the TBR-VE Class so that your class trainer/producer team can make the class even better for future participants. You are a valuable part of this iterative, continuous improvement process.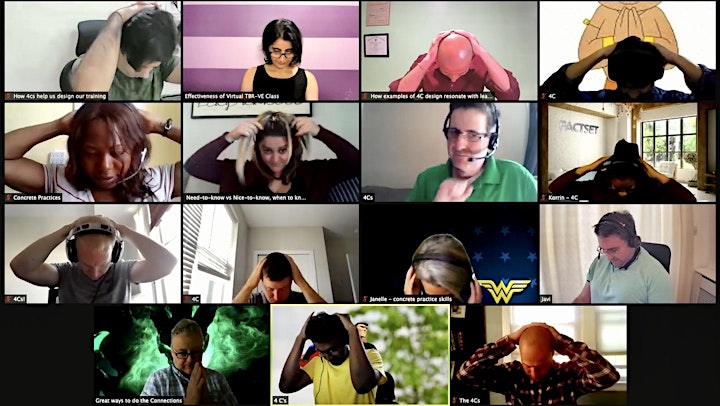 Class Details
Duration: 5 sessions of 2.5 hours each
Module 1 - Tuesday December 1, 2020
Module 2 - Monday December 7, 2020
Module 3 - Wednesday, December 9, 2020
Module 4 - Friday, December 11, 2020
Module 5 - Monday December 14, 2020
Time: 10:00am - 12:30pm EST / 3:00pm - 5:30pm GMT
Maximum Class Size: 12 attendees to ensure maximum engagement.
Locations: Live Virtual
What's included:
PDF Participant Workbook of TBR-VE
A Certificate of completion.
A trainer's 'tool bag' of practical, brain-based instructional strategies you can put to use immediately in your own training programs.
Member of the TBR-VE class group on Slack.
Your Trainers:
Proud to be the '1st Trainers Team to deliver TBR-VE class in the world'
For private TBR-VE sessions, please contact us at kriti@conceptsandbeyond.com
Anil Jaising:
I am an executive and a public speaker in a financial services organization. I have presented and trained executives and teams from an early stage in my career. My role is to change the mindsets of adult audiences that seek data-based research and experience-based knowledge and skills. I have been using Training from the Back of the Room since 2011 and became a certified trainer to share my "life-since changing" TBR experience and foster future trainers to have a high sense of awareness and empathy for their learners. I have been a reviewer and speaker at the Agile Conference and Global Scrum North American and European Gathering since 2017. In a TBR workshop, I bring this experience to co-create great training design and delivery for all attendees. I have delivered public/private training and workshops in several countries across the world. My Agile/Scrum and DevOps training uses effective TBR design and includes stunning visuals that engage the brain and have no PowerPoint slides. I continually help review world-renowned speakers with their proposals and workshop designs and I bring that knowledge and expertise to my learners. I am a third-degree blackbelt in Karate and teach kids martial arts using TBR techniques.
I can be reached at https://www.linkedin.com/in/aniljaising and Twitter @aniljaising
Kriti Jaising:
I am Kriti Jaising, the Founder and a Trainer at Concepts & Beyond Inc. I have over 20 years of experience in Advertising, Digital Marketing, Event Management and Consumer Research. I have been on the Board of Directors of local PTA for the last 3 years. I get to interact closely with the School system, Superintendent, teachers, and students. The dynamic changes in the learning landscape motivatedand drawn to become a TBR Practitioner & Trainer. As a Trainer and Founder of Concepts & Beyond, I want to extend the outreach of TBR, implementing the values of Training from the Back of the Room into Sales, Consumer Research, and Education, thus improving the quality of learning as a whole.
My favorite quote: "Live as if you were to die tomorrow and Learn as if you were to live forever". - Mahatma Gandhi
I can be reached at https://www.linkedin.com/in/kritijaising/ and Twitter@jaisingkriti
Cancellation Policy
Tickets are non-refundable, except on a case by case basis. The Eventbrite fee is non-refundable.
Organizer of Training from the Back of the Room Virtual Edition (TBR-VE)