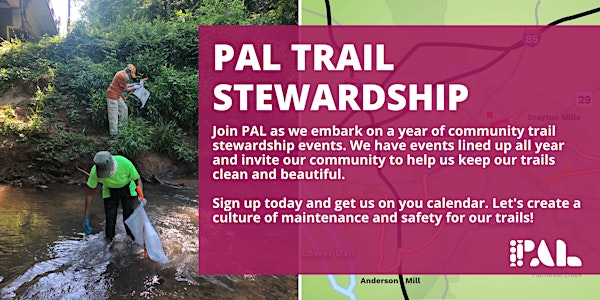 Trail Stewardship
Help PAL and Trees Coalition restore and maintain the beauty of our parks and trails.
About this event
Taking care of our trails is a crucial element of any trails system, and except for the big stuff like repaving, much of that work can be done by volunteers.
Below is a list of trail stewardship events throughout the year, each of them held from 9-11am. We'll have some hand tools available, but bring gloves and any tools you might want as we fight back the ivy, privet, Elaeagnus and other invasive plants species that threaten our trees and our trails. Keeping these trails in good shape means they'll last and serve as safe places to play for a long time.
Sign up now, and get us on your calendars. Let's create a culture of maintenance and safety for our trails!
For additional questions or concerns contact Ned Barrett at nbarrett@palspartanburg.org or Emi Bautista at ebautista@palspartanburg.org.