Toxic Crusaders: Learn how DTSC Protects People and the Environment!
Description
Experience first-hand the thrill of laboratory science!
---

Middle School students - put your science and detective skills to the test on Saturday, June 2, from 01:00 PM - 5:00PM, at the Department of Toxic Substances Control Laboratory. Approximately 40 students will spend the afternoon participating in hands-on science activities and learning about careers in environmental laboratory science.

Parents — you're invited too! Arrive one-hour prior to pick-up time (4PM) to take a tour of the state-of- the-art laboratory and learn how the lab serves the community. Light refreshments will be served.


The Department of Toxic Substances Control Laboratory (DTSC) serves as California's reference laboratory for analysis of toxic chemicals in soils, water, wastes, materials, and products that may have adverse effects on public health and the environment.


The Association of Public Health Laboratories (APHL) is the national nonprofit representing governmental laboratories that monitor and detect public health threats, ranging from lead contamination in drinking water to metabolic and genetic conditions in newborns.

Check out the official event flyer.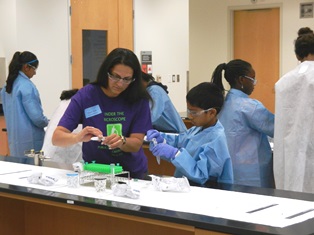 ---
FAQs - Frequently Asked Questions

---

What should I wear?
The following dress code guidelines should be observed and will ensure that your safety is maintained while attending the event:
Clothing should provide adequate protection when working with materials in the training laboratory. Do not wear clothing that drags on the floor or does not provide adequate skin protection.

Shorts, capri pants, dresses and skirts

are not allowed in the laboratory.

Halter tops, tank tops and crop tops

are also considered inappropriate laboratory attire.
Jewelry or other flowing clothing or accessories that may hang into activity materials need to be removed before working in the laboratory.
Clothing, hats, buttons or pins bearing offensive or obscene language, pictures or other offensive material (e.g. sexually explicit, depictions of violence, profanity) may not be worn while attending trainings or other activities at DTSC.

Sandals, perforated shoes and open-toed or open-heeled shoes

are not permitted

in the laboratory. Shoes should have non-slip soles and provide full coverage of the foot.
Personal protective equipment (lab coat, gloves, protective eyewear) will be provided for use by event participants. Lab coats, gloves and other PPE must not be worn outside of the training laboratory.
Is there an age limit to enter the event?
Yes. Students must be at least 12 years-old to participate. Please note, each individual student and each individual parent must obtain a seperate ticket. See the links above.
What should I bring to the event?
Bring your signed registration summary (printed ticket). Remember what you should wear (see FAQ - What should I wear?).
What do I do in the case of a special need?
Contact Laura Siegel at 240-485-2744 or laura.siegel@aphl.org at least one week prior to the event.
I want to register, but the event is full. What do I do?
Complete the registration form and your name will automatically be added to our waitlist. You will be notified if/when a space becomes available.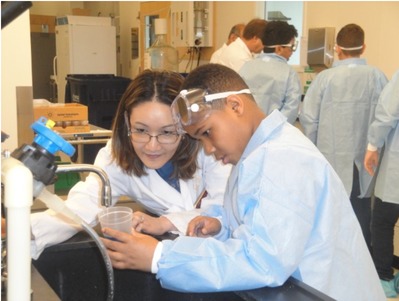 ---
Photos from Previous Events

---

Want to learn more about previous laboratory science days hosted by APHL and our member laboratories? Check out photos and articles from our previous events: