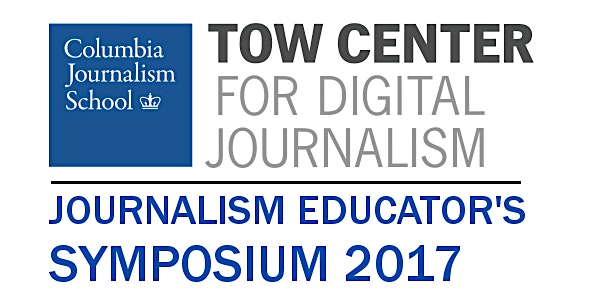 Tow Center for Digital Journalism: Educator's Symposium
Location
Columbia University School of Journalism
2950 Broadway
New York, NY 10027
Sales Have Ended
Registrations are closed
Thank you for your interest in the Tow Center's Educator's Symposium! We're sorry we missed you this year, but please visit towcenter.org to join our mailing list for early notice on these and other upcoming events.
Description
From Fake News to AI: Teaching Journalism in Contentious Times

In the past year, mistrust of the press and threats against it have continued to increase, as have challenges from the tech industry to the reporting and distribution models of traditional journalism. In some cases, new technologies - like artificial intelligence - may hold promise for streamlining routine news tasks. At the same time, algorithms and automation are presenting journalists and readers alike with carefully engineered information that rarely represents "the whole story." To prepare students for the sophisticated challenges of today's newsrooms, journalism educators need to stay ahead of these developments.
To that end, the Tow Center for Digital Journalism at Columbia Journalism School is pleased to invite you to its annual Educator's Symposium, which will be held on Tuesday, Sept. 19th, 2017. With an exciting lineup of talks from journalism educators who are taking on the industry's most challenging topics, this event is an opportunity to spend some time with your fellow journalism educators, and to share challenges and best practices around today's rapidly changing reporting and publishing context.
Lunch and welcome (12pm - 1pm)
Session 1: Artificial intelligence and news smarts (1pm - 2:15pm)
Artificial Intelligence: What is Real and What is Hype - Professor Meredith Broussard, New York University
Teaching Data Literacy and Skepticism Skills - Professor Hilke Schellmann, New York University
Teaching Demo (2:15pm - 2:45pm)
Workbench: Visual Data Workflow for Journalists - Jonathan Stray, Columbia Journalism School

Coffee break (2:45pm - 3:15pm)
Session 2: Emerging Issues in Digital Journalism (3:15pm - 5:00pm)
How to Spot Fake News and Stay News Literate -

Sissel McCarthy, Distinguished Lecturer and Director of the Journalism Program, Hunter College

Out of the Box Audience Engagement - Jan Schaffer, Executive Director of the J-Lab

Teaching Product Thinking for News

- Marie Gilot, Director, CUNY J+ Workshops



300 Seconds of Innovative Thinking

- Jeremy Caplan, Director, Tow-Knight Center for Entrepreneurial Journalism, CUNY
Reception (5pm - 6pm)
Note: This event is intended for full- and part-time journalism educators at all levels who will be teaching in the 2017-2018 or 2018-2019 academic years. Please register with your .edu email address. If you do not have one, please contact us at the email address below.
If you have any questions, comments or suggestions, please don't hesitate to get in touch by sending an email with the subject line "Educator's Symposium" to towcenter@columbia.edu and we will get back to you as soon as possible.
We look forward to seeing you in September!