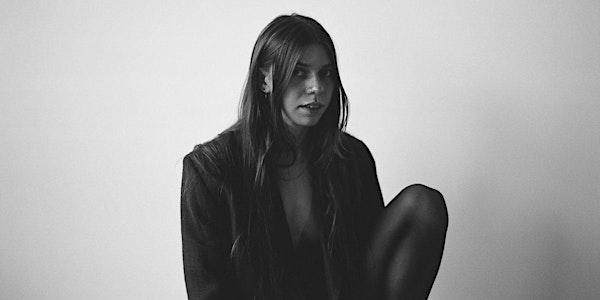 Tomberlin
with Trace Mountains
Date and time
Friday, April 28 · 7:30 - 10pm EDT.
Location
DC9 Nightclub 1940 9th St NW Washington, DC 20001
Performers
Headliners
More Performers
About this event
2 hours 30 minutes

ALL AGES

Mobile eTicket
Tomberlin
WEBSITE | FACEBOOK | INSTAGRAM | TWITTER | SPOTIFY | BANDCAMP | SOUNDCLOUD
Tomberlin is Sarah Beth Tomberlin, a pastor's kid born in Florida, raised in rural Illinois. She wrote the majority of her debut, At Weddings (2018), while living at home. For a while after leaving home and church, she lived in Louisville, Kentucky. She worked a day job and kept writing songs. She posted some of these songs to Bandcamp, which led to her signing a record deal with Saddle Creek. It all happened fast: Less than a year after her first live show, she performed on Jimmy Kimmel and she ended up moving to L.A. which is where she wrote Projections (2020), her EP followup to At Weddings.
During the pandemic, Sarah Beth was all over the place, physically and mentally. Louisville. Los Angeles. Back home in Illinois for a bit. Brooklyn, where she's now settled, she says. Brooklyn is also where her new album i don't know who needs to hear this… was recorded, at Figure 8 studios over the course of two weeks, with producer and engineer Phil Weinrobe (who played a variety of instruments on the collection), and later mastered by Josh Bonati, also in Brooklyn.
"The theme of the record," she explains, "is to examine, hold space, make an altar for the feelings." Hold space: Tomberlin's songs do it literally, making it heard space. Her full-length debut, At Weddings, was widely praised for the sparsity and delicacy of its instrumentation, especially in contrast with the emotional heft of her lyrics.
Here, the space feels larger and holier, built to echo. Pedal steel. Old acoustic guitars, freshly plucked. A drifting synthesizer. Chill, brushy percussion. Ambient, expansive clarinet and saxophone. Aleatory piano trills, a lot of piddling with the occasional splash. The looseness and wideness of the arrangements conveys a tender regard for their parts, as though each arpeggio, loop, scratch is a found shell or feather in the hand. Then there is the instrument of her voice, which has the endearing quality of being perfectly tuned but reluctantly played. "I'm not a singer," she sings on "idkwntht." "I'm just someone who's guilty.
Trace Mountains
WEBSITE | FACEBOOK | INSTAGRAM | TWITTER | SPOTIFY
Based in Upstate New York, Trace Mountains represents the solo endeavors of former LVL UP singer/guitarist Dave Benton. Initially formed as a lo-fi folk side project, Benton self-released a collection of idiosyncratic, yet endearing demos in 2016, followed in 2018 by Trace Mountains' debut, A Partner to Lean On. After LVL UP disbanded that same year, he moved to a small town in the Hudson Valley and committed himself more fully to his solo work, releasing the focused and ruminative indie rock of Lost in the Country in 2020 and the more folk-tinged House of Confusion the next year.