About this Event
Todd Snider has long been recognized as one of his generation's most gifted and engaging songwriters, so it's no surprise he has returned with a brilliant set of songs -- and make no mistake, Cash Cabin Sessions, Vol. 3 contains some of his best work as a writer. But what really jumps out on the album is Snider's growth as a musician and vocalist. He plays all the instruments on the record, and his guitar work and harmonica playing are nothing short of exceptional; not only full of feeling, but highly skilled. In regards to his guitar playing on the record, Snider says he wanted to take everything he's learned over the past 30 years and play the way he used to play really well.
As far as his vocals on the album are concerned, Snider is singing with more confidence than ever, a confidence born in part from his time with Hard Working Americans doing nothing but sing. His stirring vocal performances range from slurring blues mumble to Dylanesque talking blues to gravely, honest ache.
Of the five songs on which Snider serves up his humorous brand of socio-political commentary, three are performed in the talking blues style: "Talking Reality Television Blues," a hilariously accurate short history of television; "The Blues on Banjo," a bad case of the blues caused by the sorry state of everything from the crooked international monetary-military-industrial complex to the spineless politicians who serve it and which references "Blue Suede Shoes," Richard Lewis, and Townes Van Zandt; and "A Timeless Response to Current Events," a brilliant bit of wordplay on which he calls bullshit on faux patriotism, crooked capitalism, and lying politicians. Jason Isbell and Amanda Shires contributed backing vocals on the latter two songs.
There are two other songs on the album featuring Snider's socio-political points of view: "Just Like Overnight," about the surprising inevitability of change, and "Framed," written from the point of view of the framed "first dollar bill" in a bar, a point of view that shows doing the right thing doesn't pay.
There also are three songs with a music theme. If not for the events that led to the writing of one of those songs,"The Ghost of Johnny Cash," there almost certainly would be no Cash Cabin Sessions, Vol. 3. After a visit to Cash Cabin Studio for a Loretta Lynn session in 2015 where she recorded a song they cowrote, Snider began having a recurring dream about the studio that featured the Man in Black himself. The dream led him to book time at the studio and ultimately inspired him to write "The Ghost of Johnny Cash," which tells the story of Loretta Lynn dancing with Cash's ghost outside the studio in the middle of the night. As he did on much of the record, Snider played the century-old Martin that had long been Johnny Cash's favorite instrument on that song.
Snider paid tribute to Cash's longtime friend and confidante in another of the music-themed songs, "Cowboy Jack Clement's Waltz." Inspired by the iconic record man's oft-quoted maxims regarding the art of recording, the song achingly laments Clement's passing, while touchingly celebrating his legacy.
The album opens with the other song with a music theme, "Working on a Song." It's an existential exercise, a song Snider wrote about writing a song called "Where Do I Go Now That I'm Gone," an idea he actually has been working on for thirty years, but which remains unfinished.
There are also two songs that are personal in nature: "Watering Flowers in the Rain," which was inspired by a former associate of Snider's whose nickname was "Elvis," and "Like a Force of Nature," a philosophical reflection on the orbital nature of friendships. Isbell also added harmony vocals to "Like a Force of Nature."
If Snider is anything, he is a true artist, and he reminds us of that on Cash Cabin Sessions, Vol. 3. At a point in time when the world has never been more complicated and confusing, with people getting louder and louder, Snider did a 180, went back to his roots as a folksinger, to a simpler, quieter form of expression; and it might be what the world is waiting to hear: just a man, his guitar, and the truth.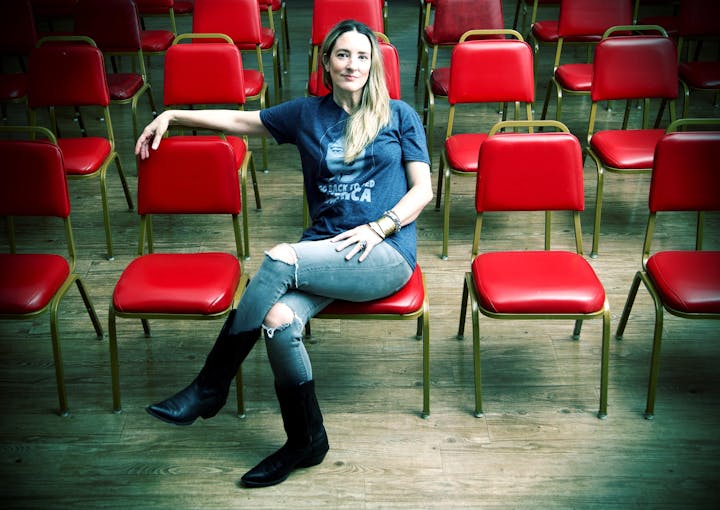 ​Molly Thomas has always been authentic, but Thomas and her band, The Rare Birds, have raised the bar on honesty and vulnerability for their new album, "Honey's Fury." The southern Alabama foursome amplifies Thomas' recurring theme of our humanness, connection, and the personal transformation of our chaos and confusion into a river of sweet honey. During the four years of creativity that yielded "Honey's Fury," Thomas has seamlessly woven 12 songs of love, betrayal, destruction, forgiveness, reflection and healing into a powerfully inspirational album. Thomas effortlessly transforms the depth, range and complexity of her existence into enlightening learning experiences that are touching and inspirational to her listeners. A notable example is "Thank You" where Thomas takes us on the wave of emotions surrounding her recent divorce, marital infidelity and ultimately her path to forgiveness and healing. Her transformative and empathetic touch is most evident here.
Molly Thomas has always been a child of the water and metaphors of flow and changing tides frequently surfaces in her lyrics. Born in Ocean Springs, Mississippi, Thomas has made her home in and cultivated the majority of her musical influences from the southern regions of Alabama, Mississippi and Tennessee. A hive for songwriters and artists whose emotive storytelling and beautifully gritty swampy swagger personify the region. The south has been the perfect location for Thomas to grow her self- described Indie Swamp Pop.
As a side-person, Thomas has rec​​orded and toured internationally, including late night performances on David Letterman and Jay Leno's Tonight Show with folk icon, Todd Snider. Her violin, string arrangements and vocals have been featured on recording and live performances with Guster, Matthew Ryan, Will Hoge amongst others, and her reputation as a songwriter, multi-instrumentalist and collaborator speaks for itself. Throughout her career, Thomas has released three critically acclaimed records as a solo artist and her music has appeared in films.
6pm Doors
Ticket Policy
Many of our shows sell out well in advance. All sales are final; no refunds and no exchanges.
To Guarantee seating, please purchase Reserved Seating Ticket Levels.***General admission does not guarantee a seat.
For General Admission shows, tables and seating in the club can be guaranteed only with a dinner reservation. General admission does not guarantee a seat.
Flash photography is prohibited. We are a 21+ club.
All event information is subject to change. Please check back before date of event. Late table reservations will be released once the show has started. Helsinki Hudson reserves the right to change ticketed sections without notice.
Performers
Date and Time
Location
Refund Policy