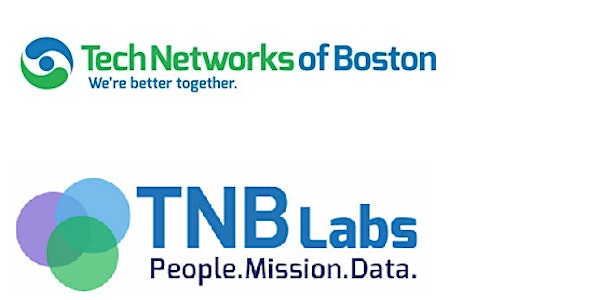 TNB Roundtable: Nonprofits Collaborating to Build Capacity, Public Presence...
Location
Boston NonProfit Center
89 South Street
Boston, MA 02111
Sales Have Ended
Registrations are closed
Thank you for your interest in Tech Networks of Boston's Roundtable series! We are sorry to inform you that this TNB Roundtable session is currently booked to capacity. We urge you to add yourself to the waiting list; we have a very good track record of finding seats for nonprofit professionals on the waiting list.
Description
Dear Colleagues and Friends,

Tech Networks of Boston (TNB) and TNB Labs (TNBL) are pleased to invite nonprofit professionals to a Roundtable session on nonprofit collaboration to build capacity, public presence, and business.

Our panel will consists of representatives of nonprofit organizations that belong to the Commonwealth Alliance of Family and Children's Services:

- Susan Getman, Chief Executive Officer, Walker

- Steve Hahn, Executive Director, NFI Massachusetts

- Barbara Wilson, Chief Executive Officer, Family Continuity
- Stephen Yerdon, Executive Director, Devereux

Here's what Susan Getman says about this session:

"As funders move to preferring larger agencies, seamless service systems, and more comprehensive service arrays, small and mid-size nonprofits are challenged to remain sustainable, relevant, and impactful. What to do? Established in 2011, The Commonwealth Alliance of Family and Children's Services (a.k.a. "The Alliance") is a voluntary collaboration of six nonprofits that combined create a statewide footprint of services serving over 20,000 children, youth, and adults.

"With a combined workforce of over 1,900 professionals, and annualized revenues of over $100M, the Alliance has successfully undertaken a range of collaborative projects and capacity building activities. These are designed to build individual agency capacity and business opportunities as well as to impact public policy related to the Alliance's goal to help improve the broad spectrum system of specialized behavioral health, education, and social services for vulnerable children and families."

In this session, participants will:

A) Learn the principles for strategic collaboration that is built on trust, respect, shared values and common ideals

B) Understand the tactical components of building an effective, voluntary collaboration

C) Identify strategies aimed at overcoming barriers to effective collaborative activities

D) Identify potential partners for voluntary collaborations of their own

Please note:

1) In keeping with the spirit of the TNB Roundtable series, this session will NOT be a sales pitch for any product or service. This will be a professional development opportunity for nonprofit professionals who want to learn with and from their peers in other organizations.

2) This session is for employees of nonprofit organizations. It is not designed to meet the needs of vendors, volunteers, students, consultants, job-seekers, and others.

3) Priority in registration will be given to those who are employed by nonprofit organizations that hold full membership in the Massachusetts Nonprofit Network.

4) Participation in this session is free of charge for nonprofit professionals. However, you must have a confirmed reservation in order to attend.

5) If this session is booked to capacity by the time you seek to register for it, please go ahead and put yourself on the waiting list. We have a good track record of finding seats for nonprofit professionals on the waiting list.

We hope that you can join us for a vigorous and informative conversation, in which you will be welcome to share your knowledge and experience with your peers.

Best regards from Deborah

Deborah Elizabeth Finn
Chief Strategic Officer
TNB Labs, LLC
P.O. Box 2073
Framingham, MA 01703

617-504-8188
definn@tnblabs.org
www.tnblabs.org
Follow us on Twitter and Facebook!