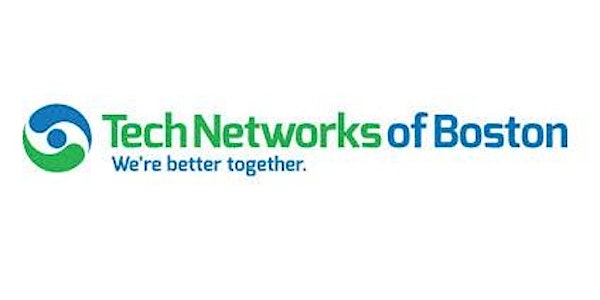 TNB Roundtable: Nonprofit Collaboration Lessons from a Community Organizer
Location
Boston NonProfit Center
89 South Street
Boston, MA 02111
Sales Have Ended
Registrations are closed
Thank you for your interest in Tech Networks of Boston's Roundtable series! We are sorry to inform you that this TNB Roundtable session is currently booked to capacity. We strongly urge you to add yourself to the waiting list; we have a very good track record of finding seats for nonprofit professionals on the waiting list.
Description
Dear Colleagues and Friends,

Tech Networks of Boston (also known as TNB) is pleased to invite local employees of nonprofit organizations to a Roundtable session in which our featured guest will be Michael Jacoby Brown, the author of "Building Powerful Community Organizations: A Personal Guide to Creating Groups that Can Solve Problems and Change the World." We will discuss what nonprofit organizations can learn about collaboration from the best practices of community organizers.

Here's what Michael has to say about this TNB Roundtable session:

"Ever wonder how to build teams that love to work together? Ever find yourself overwhelmed and afraid to delegate a job to someone because you are afraid it won't be done as well as you can do it – even it means you have to stay up all night to get it done? How to set achievable goals and hold people accountable to them?

"Community organizers have useful insights, methods, and ways of thinking about people and the world in which we live that can be helpful in any nonprofit organization. Come armed with your questions, catcalls, and sense of humor.

"For a sneak preview, read this article on what community organizers can teach us: http://michaeljacobybrown.com/wp-content/uploads/2012/12/WhatCanCommunityOrganizersTeachUs.pdf "

Here's a bit more about Michael:

Michael Jacoby Brown has worked as a community organizer and trainer for over 35 years, starting as a volunteer working with labor unions and community groups. He has worked for The Vermont Alliance, Mass Fair Share, The National Jobs with Peace Campaign, The PICO Network and as a trainer and consultant to numerous community, housing, labor, religious, health and political organizations. He was the founder and Director of the Jewish Organizing Initiative, (now JOIN). His book, "Building Powerful Community Organizations," has been used widely in college courses and by many grass roots groups. He writes a monthly e-newsletter, "The Organizers Edge."

He has an MPA from the Harvard Kennedy School of Government and serves on the boards of the Union of Minority Neighborhoods and the National Organizers Alliance.

He is married to Jessica Goldhirsch, has two children and lives in Arlington. He says that his website, www.MichaelJacobyBrown.com will tell you more about him than you probably ever want to know.

Please note:

1) In keeping with the spirit of the TNB Roundtable series, this session will NOT be a sales pitch for any product or service. This will be a professional development opportunity for nonprofit professionals who want to learn with and from their peers in other organizations.

2) This session is for employees of nonprofit organizations. It is not designed to meet the needs of vendors, volunteers, students, consultants, job-seekers, and others.

3) Priority in registration will be given to those who are employed by nonprofit organizations that hold full membership in the Massachusetts Nonprofit Network.

4) Participation in this session is free of charge for nonprofit professionals. However, you must have a confirmed reservation in order to attend.

5) If this session is booked to capacity by the time you seek to register for it, please go ahead and put yourself on the waiting list. We have a good track record of finding seats for nonprofit professionals on the waiting list.

We hope that you can join us for a vigorous and informative conversation, in which you will be welcome to share your knowledge and experience with your peers.

Best regards from Deborah

Deborah Elizabeth Finn | Senior Strategist
Tech Networks of Boston
1 Wadleigh Place | South Boston, MA 02127
Phone: 617.504.8188 | Fax: 888.527.9333
deborah@techboston.com | techboston.com
We are a Certified B Corp! | Visit our Boston Techie Blog
Follow us on Facebook, LinkedIn and Twitter!