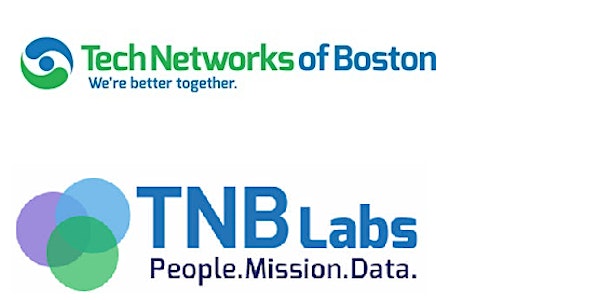 TNB Roundtable: How Nonprofits Can Find and Use Public Data Effectively
When and where
Location
Boston NonProfit Center 89 South Street Boston, MA 02111
Description
Dear Colleagues and Friends,

Tech Networks of Boston(TNB) and TNB Labs (TNBL) are pleased to invite nonprofit professionals to a Roundtable session on how best practices for nonprofits that want to find and make use of public data. Our featured guest will be George Reuter of Compass Working Capital.

Here is what George says about this session:

"Have you written a needs statement for your nonprofit recently? Struggled with what indicators to collect to evaluate your program? Nonprofits are regularly asked to put their mission and their program activities in the context of (or alongside) benchmark comparison data. "Collective impact" initiatives frequently ask nonprofits to align their activities toward key outcomes that are collected consistently in multiple geographies. Meanwhile, government entities at all levels are increasingly making access to public data a priority. Join us for a conversation about public data sources, tools to manipulate and visualize that data, and some examples of how to frame your nonprofits' story (your mission and impact!) using publically available data."

Here's a little more about George:

George Reuter is the director of learning and knowledge management at Compass Working Capital, which is a nonprofit that provides financial services to families with low income. He leads the development of actionable learning that supports Compass's clients and improves the organization's financial coaching practices. Prior to his time at Compass, he spent eight years working in community development at The Neighborhood Developers (TND), where he directed evaluation efforts related to housing, community engagement and financial capability programs. While at TND, George launched a peer consulting business that provided database and evaluation services to community development corporations in the greater Boston area.

George is a Salesforce.com certified advanced administrator and certified developer. He completed his master of science in urban studies and planning at MIT. He also holds a professional certificate in program evaluation from Tufts University and a bachelor's degree from Haverford College.

Please note:

1) In keeping with the spirit of the TNB Roundtable series, this session will NOT be a sales pitch for any product or service. This will be a professional development opportunity for nonprofit professionals who want to learn with and from their peers in other organizations.

2) This session is for employees of nonprofit organizations. It is not designed to meet the needs of vendors, volunteers, students, consultants, job-seekers, and others.

3) Priority in registration will be given to those who are employed by nonprofit organizations that hold full membership in the Massachusetts Nonprofit Network.

4) Participation in this session is free of charge for nonprofit professionals. However, you must have a confirmed reservation in order to attend.

5) If this session is booked to capacity by the time you seek to register for it, please go ahead and put yourself on the waiting list. We have a good track record of finding seats for nonprofit professionals on the waiting list.

We hope that you can join us for a vigorous and informative conversation, in which you will be welcome to share your knowledge and experience with your peers!

Best regards from Deborah

Deborah Elizabeth Finn
Chief Strategic Officer
TNB Labs, LLC
P.O. Box 2073
Framingham, MA 01703

617-504-8188
definn@tnblabs.org
www.tnblabs.org
Follow us on Twitter and Facebook!