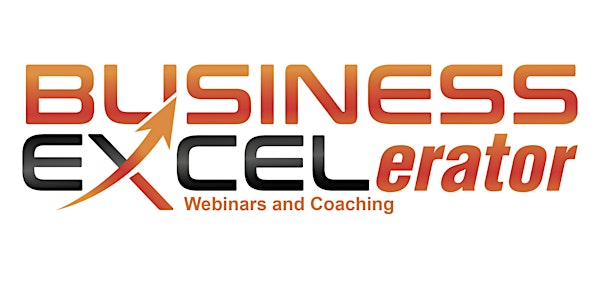 TIME TO PIVOT - Business EXCELerator Webinar
During COVID, we've all had to PIVOT – change our business processes, procedures, and much more! Let's talk about how, what and WHAT'S NEXT!
About this event
This FREE webinar will be a good way to begin sorting out all the "stuff" in your head. As a business coach during this pandemic, I've helpe more people talk through the clutter and chaos surrounding their business. HOW to PIVOT. WHAT to change, let go-of and do differently... especially with the processes, procedures and yes, even with staff.
During this webinar, I'll share some examples from my clients and what I've experienced myself.
This will be LIVE and INTERACTIVE! So, come ready to chat, share and prepare for WHAT'S NEXT!
We'll discuss HOW and WHAT to:
Prepare for the re-emergence
Shift your Mindset
PIVOT
Updating your Business Plan & Goals
Where YOU are, and
What's NEXT
This webinar is for people who:
Currently own a business – no matter where it stands
Want to start a business
Have a side-gig and want to get it to that next level!
Bring your questions, notepad and open mind ready to listen, share and, even offer ideas!