Actions and Detail Panel
Tiki's Grill & Bar Presents: Kona Brewing Company Beer Dinner
Mon, January 11, 2016, 6:00 PM – 9:30 PM HST
Description
Come join us as Tiki's Grill & Bar Executive Chef Ronnie Nasuti pairs his menu with an amazing line up of Kona Brewing Company beers, with Kona Brewmaster Ryan McVeigh introducing the beers. We will also be featuring guest bartender Marcos Lara and his competition cocktail The Rosemary Wave from the recent Kona Beertender Cocktail Competition.
If you have a seating request, please contact us via the Eventbrite page and we will do our best to accommodate you.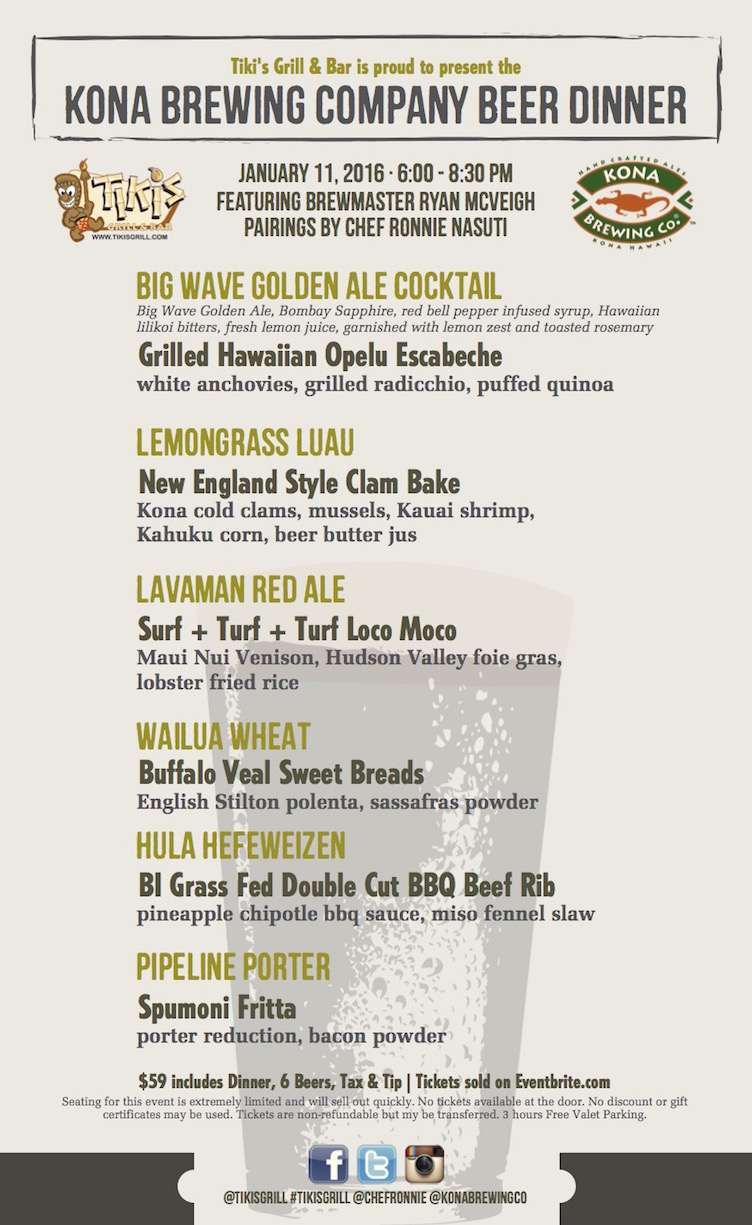 Buy your tickets for an exciting beer dinner in Waikiki with Executive Chef Ronnie Nasuti as he pairs his menu with a lineup of Brew Master Ryan McVeigh's Kona Brewing Company beers.
Ryan McVeigh began his professional brewing career in Colorado in the year 2000; he then moved to Boise, Idaho and brewed for Big Horn Brewing Co. Finding that the "big city life" was not for him, he searched for a larger brewery in a small town environment. When Kona Brewing Co brought him to the islands in 2005, it turned out to be exactly what he was looking for. He has since worked in every capacity of the brewing process at Kona Brew, from cleaning kegs to lab work, filtration operations to sales. He currently holds the title of Brewery Manager and Brewmaster.
Executive Chef of Tiki's Grill & Bar Ronnie Nasuti: When he first came to Hawaii, he worked at Horatio's (now Kincaid's), holding various positions in a very regimented and high volume kitchen. After hearing about Roy's and "the buzz" about an exciting, new style of cuisine, he wanted to work for Chef Roy Yamaguchi and his new dining concept. He started at the former Roy's Park Bistro location, learning every station including 24-hour room service and pastry. He then went to the flagship restaurant in Hawaii Kai where he trained further under Chef/Founder Roy Yamaguchi, Corporate Chef/Partner Gordon Hopkins and Corporate Chef Hawaii Jacqueline Lau. Chef Ronnie went on to become Sous Chef at Roy's Poipu Bar & Grill on Kauai, then Executive Chef at Roy's Hawaii Kai after fulfilling an opportunity as the Executive Chef at Chez Michel in Honolulu.
After a proven record of successful and distinguished accomplishments, Chef Ronnie has chosen to hang his hat at Tiki's Grill & Bar, steering this favorite destination for locals and visitors alike to a higher level of dining and excellence. Chef Ronnie, who believes in the farm-to-table movement by visiting farms and building strong bonds with local farmers, brings in island fresh produce and breads, as well as 175 pounds of local grass-fed beef and 450 pounds of locally caught or raised fish every week. His delicious signature items and dinner specials that fuse Hawaiian/Pacific Island with American cuisine are the result of his dedication to the craft and cooking with locally grown and raised food.