Description
"To serve injured and active-duty American service men and women."
TIKIs for the TROOPs BURLESQUE SHOW
Pin-ups For Vets is a non-profit charitable organization dedicated to helping injured and ill American soldiers, Marines, airmen, Guards and seamen—and current active-duty personnel. The project is the work of Gina Elise who sells and distributes the Pin-ups For Vets Calendar, which hearkens back to 1940s and 1950-style vintage pretty-girl images.
This show directly benefits PIN-UPS ON TOUR which is committed to providing low or no-cost entertainment for Veterans as part of our Morale Boosting Mission. In addition, 20% of all proceeds from every show go to benefit award-winning nonprofit Pin-Ups for Vets to help bring joy to hospitalized Veterans and Deployed Troops!
Every year PIN-UPS ON TOUR is featured in the media for the work we do to make veterans SMILE and we have been able to donate over $50,000 in rehab equipment to VA Hospitals nationwide thanks to the sales of our calendar - which has been featured on: FOX, ABC, NBC, Queen Latifah Show, Inside Edition, PBS, AOL NEWS, National Examiner, American Forces Network,The Military Channel, Good Day LA, Gene Simmons Family Jewels TV show, among countless other media outlets.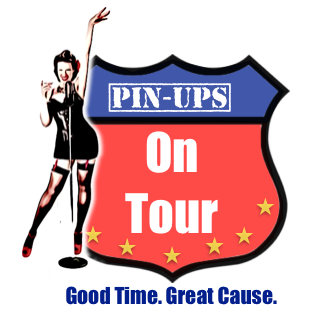 More information can be found at www.PinupOnTour.com
Gina Elise, Founder, Pin-Ups For Vets, a 501c3 Non-Profit Organization
http://www.facebook.com/pinupsforvets
http://twitter.com/pinupsforvets
To see a 10 min mini-documentary about Pin-Ups For Vets:
https://www.youtube.com/watch?v=710XMdaNGqw
Sign up here to receive updates: Pin-Ups For Vets Newsletter
TIKIs for the TROOPs also FEATURES:
The HULA GIRLS band
Like a '32 Ford tearing through the International Marketplace in 1960 Honolulu, The Hula Girls have been busy spreading their self-described 'hulabilly' sounds all over Southern California for the past 7 years. It's the upright bass thumping of Mr. Christian Kessler, the dizzying drumming of Mr. Doug Sanborn, the Gretsch guitar twangin' of Mr. Spike Marble, and the wild steel guitar of Mr. Shorty Poole! Don't forget their hula-a-go-go dancers, Miss Audrie Loraine and Miss Judy Luck!
They've played along side such modern rockabilly, surf, and punk legends as The Stray Cats' Lee Rocker and Slim Jim Phantom, Dick Dale, The Ventures, Duane Eddie, X, The Addicts, The Reverend Horton Heat, The Knitters, Big Sandy and His Fly-Rite Boys, Dave Alvin, Southern Culture on the Skids, Los Straitjackets, Wayne the Train Hancock and Hot Rod Lincoln. It's up-tempo hapa haole, tiki, and surf themed music, all filtered through the late 1950's and early 60's rockabilly and rock n' roll sound. Here come The Hula Girls!
18-and over show, dinner available at your table, free parking, doors open at 7 pm, show ends 11:45 pm.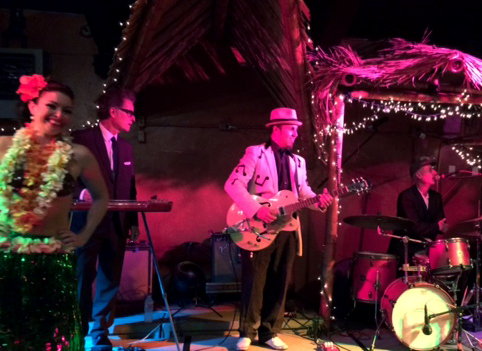 Organizer of TIKIs for the TROOPs Burlesque Show with Hula Girls band