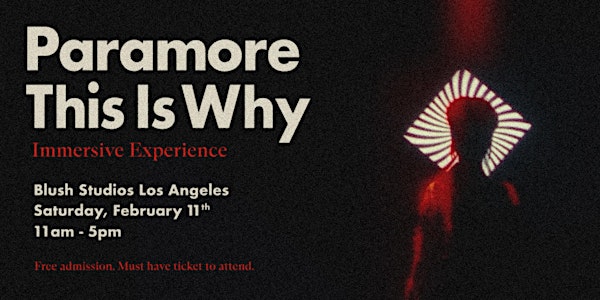 "This is Why" — Immersive Experience
The event will feature an album cover themed photo booth, group listening experience, analog art installations, and more
By Paramore - This is Why — Immersive Experience L.A.
Location
Blush Studios 147 North Mission Road Los Angeles, CA 90033
About this event
This is Why — Immersive Experience
Taking place at Blush Studios in LA's Arts District, the event will feature an album cover themed photo booth, group listening experience, analog art installations, and more, all within a retro-futurist environment that immerses guests into the album.
💡 This is a free event with only a limited number of tickets available in advance.
💡 You must have a ticket to attend. No walk-up admissions will be processed.
💡 Ticket(s)are non-transferrable and must be presented alongside a valid matching photo ID of the ticket purchaser. Tickets may not be resold.
💡 Display your Eventbrite barcode for entry into the event on your phone, mobile wallet, or printed PDF.
💡 Once validated, ticket(s) cannot be reused.
💡 Select your entry time from the ticket drop down menu when reserving your spot. Ticket times cannot be rescheduled.
Consult the FAQs of this experience located at the bottom of the page for more information.
Please show up within your designated time slot; otherwise, entry is not guaranteed. All tickets will be dispersed in advance. No tickets will be available on site. Limit 2 tickets per patron, per order.
Preorder the album at: https://www.paramore.net/thisiswhy
ACCESSIBILITY & SAFETY
What are the accessibility and security measures?
Before entering the experience, all patrons will be subject to a bag screening process as well as pass through magnetometers for the safety of everyone.
Is it COVID secure and safe?
We will be following all local regulations for Covid safety. For the safety and comfort of everyone,  masks are encouraged, but not required.
We require all staff, vendors, and patrons to follow local and federal guidelines on the prevention of the spread of Covid-19. If you are experiencing symptoms, please stay home. For any questions, don't hesitate to contact us at hello@courdesign.com
Is the experience ADA compliant?
Yes. The venue and event are both ADA compliant. For any questions or concerns, please email hello@courdesign.com.
What are the Event Rules and Prohibited Items at the experience?
For the safety and security of all guests, please note all items and bags are subject to search. Event staff reserves the right to remove any objects or persons who are deemed disruptive or unsafe.
Small personal cameras are allowed (professional equipment and tripods are not permitted)
Food and beverages can NOT be brought inside
Alcoholic beverages can NOT be brought inside
Umbrellas are NOT permitted inside
Pets other than service animals are NOT permitted
Re-entry is NOT permitted
This is a No Smoking & No Vape venue
The following items are NOT permitted
Bicycles
Roller blades
Strollers
Wagons
Firearms
Mace/pepper spray
Knives
Drones
Coolers
Lawn chairs
Frequently asked questions
Is there parking available?
Will Paramore be at the event?
Where is the experience located?
Does the experience take place in an indoor or outdoor venue?
How long does the experience last?
Will food and beverage be available on site for purchase?
Can I take photos or record the experience?
Is there an age requirement?
Are there chairs available? Can I be seated during the experience/exhibition?
Will restrooms be available on site?
Are pets and service dogs allowed?
Can I leave the experience and return?
I think I left something behind. How can I get it back?
Can I buy merch at the experience?
Have a Media Inquiry or looking for a Press Pass?