THIS DAY 5: Inclusive Innovation
Description
NOV 16: INCLUSIVE INNOVATION
Join us for the last day of #THIS18 and Global Entrepreneurship Week! All programs will take place at the HCC SouthEast Center for Entrepreneurship, located on the 3rd floor of the Workforce Building: http://www.hccs.edu/locations/southeast-college/eastside-campus/
SCHEDULE


SESSION DESCRIPTIONS
Inclusive Innovation Coffee Talk
Join Impact Hub Houston and local innovators as we work to catalyze positive change in our city, especially as it pertains to the United Nations Sustainable Development Goals, with a focus on specific Goals including Decent Work and Economic Growth, Gender Equality, and Quality Education. We need your unique perspective to bring this interactive session to life and help define our next steps! *Coffee and light breakfast provided*
+Brenda Rios, Director of Entrepreneurial Initiatives Community Relations, HCC
+Ana Rojas Bastidas, Executive Director at TiE Houston
Female Founders: Building Houston
Gain insight from the journeys of these pioneering entrepreneurs, followed by mentor roundtables:
+ Reda Hicks
+ Amanda Ducach
+ Grace Rodriguez
+ Deidre Mathis
+ Cherise Esparza.
HelloAlice: Meet the Up & Comers
Hear from Houston founders who are breaking out of the box to launch the next game-changing companies. This demo showcase presentation will feature five bold business owners with friendly feedback from the audience:
+ Zawadi Bryant, NightLight Pediatric Urgent Care
+ Abbey Donnell, Work & Mother
+ Arathi Narasimhan Dar, SkillQuo
+ Joy Hutton, On the Go Glam
+ Amy Gross, VineSleuth
THIS Happy Hour

Join us for drinks and great company at Around the Corner before we make our way to close out the evening at TX/RX Labs
Join THIS for a tour of TXRX beginning at 7PM and 8PM. Founded in 2009, TX/RX is a nonprofit makerspace that provides 600+ classes/year for adults and youth to receive training in computer numerically controlled (CNC) machines.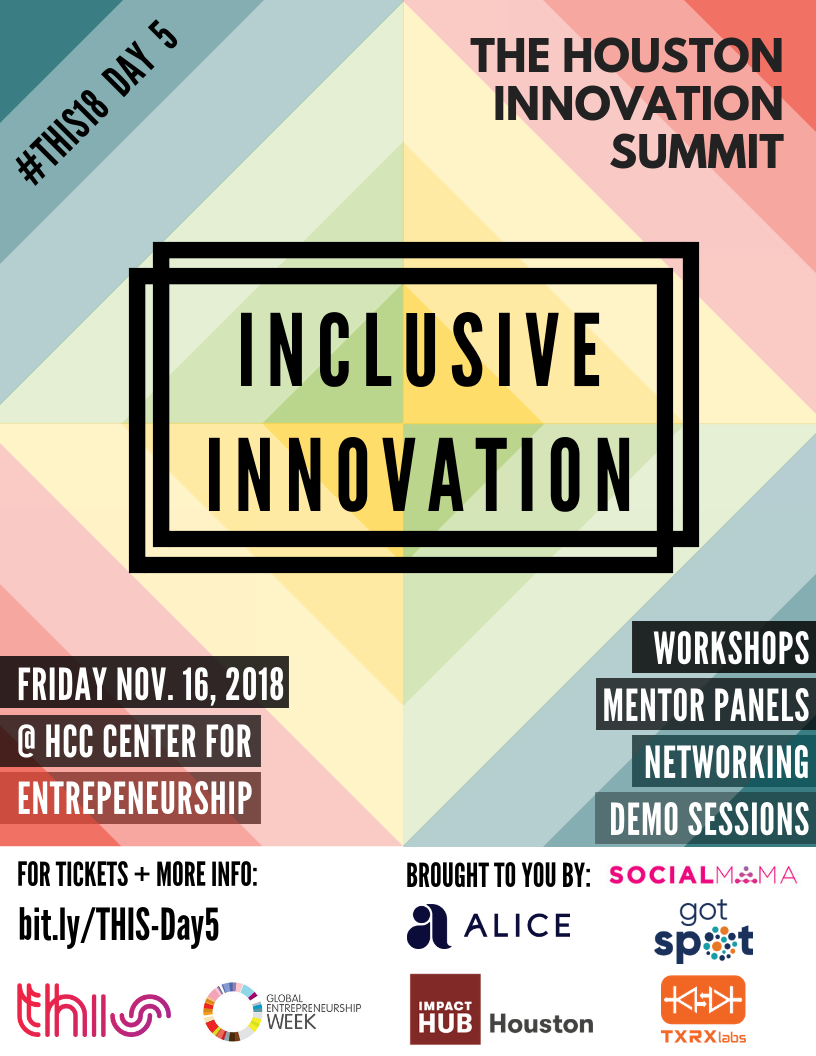 Driving to HCC SouthEast Center for Entrepreneurship from the ...
SOUTH: Follow I-45 N to Gulf Freeway Service Road/Gulf Freeway in Houston. Take exit 41A from I-45 N toward Woodridge Drive.
NORTH: Follow I-45 S and take Exit 41A toward Woodridge Drive, then merge onto the Southbound Service Road staying in the left-hand lane. Use the left lane to turn left onto Woodridge Drive. Use the middle lane to turn left at the first cross street onto the Northbound Service Road.
PARKING DETAILS:
Once established on the Northbound Service Road stay in the right-hand lane and take a sharp right onto Rustic Street. While Eastbound on Rustic, the parking lot will be on your left.
There should be ample parking in the outdoor parking lot. However, if not, the parking garage is located just Southeast across the street from the outdoor parking lot.
Standing on Rustic Street, the Learning Hub will be to your right, adjacent to the open parking lot to the East.