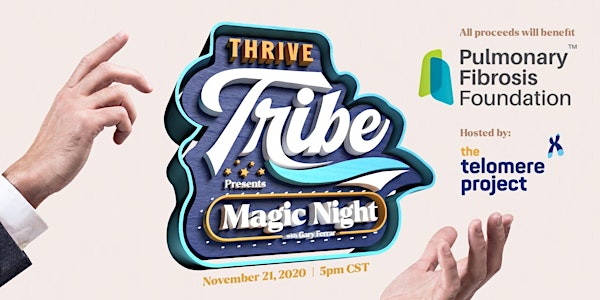 The Telomere Project's Thrive Tribe presents Magic Night with Gary Ferrar
Join The Telomere Project's Thrive Tribe for Magic Night with Gary Ferrar, magician/ mentalist benefiting The Pulmonary Fibrosis Foundation
Refund Policy
Contact the organizer to request a refund.
Eventbrite's fee is nonrefundable.
About this event
What is The Telomere Project?
The Telomere Project (TTP) was set up by three brothers (Erik, Matt and Michael) to address telomere syndromes ~ in particular idiopathic pulmonary fibrosis (IPF) - an irreversible, fatal telomere syndrome which has claimed the lives of several of their family members. In 2014 the brothers lost their father to familial IPF. This genetic disorder had already claimed the lives of their uncle and grandfather. Website: www.thetelomereproject.org
What is IPF?
Idiopathic Pulmonary Fibrosis (IPF) is an unforgiving disease best characterized as a slow suffocation. One of the challenges of combating IPF is that the disease is very effective. There are no IPF survivors to tell their stories and many may not know they have IPF since IPF can be commonly mistaken for other pulmonary disease. According to the National Institutes of Health, about 100,000 people in the United States have IPF, and approximately 50,000 new cases are found each year. During COVID - 19, the impact on the IPF community has been disproportionate. IPF patients in hospitals are 73% more likely to die than non IPF patients (matched for age, gender, comorbidities).
What is TTP doing about it?
TTP is focusing on two efforts 1) Raising funds to support projects and programs which are building pathways to treatments and a cure. 2) Promoting Thrive Tribe - Thrive Tribe is about seeking joy and cherishing the time we have together. It is about community. This evening is the second Thrive Tribe event and we hope you will join us.
What is Magic Night?
Magic Night guests will be entertained by Gary Ferrar, magician/ mentalist, in this private, virtual performance full of unexpected moments and unique effects. From national television appearances on NBC, Fox News, and USA, to performing for celebrities such as Tom Brokaw, Howard Stern, and Robert De Niro, Gary has been wowing audiences for over a decade. Be prepared for your mind to be blown! This event is suitable for all ages.
Tickets
Magic Night tickets are $25. Each ticket admits one Zoom screen. Proceeds will be donated to The Pulmonary Fibrosis Foundation (PFF). PFF is the leading patient advocacy organization of pulmonary fibrosis and are committed to funding research to find effective therapies and, hopefully one day, a cure for IPF. PFF website: www.pulmonaryfibrosis.org A Zoom link will be emailed prior to the event.
Donations
If you cannot join us for Magic Night but would like to make a donation to PFF, follow this link: https://secure.qgiv.com/event/magicnight/ Your support means so much!