The Startup Selling Intensive: The Complete Sales Framework to Fund & Scale...
Description
The Startup Selling Intensive: The Complete Sales Framework to Fund & Scale Your B2B Startup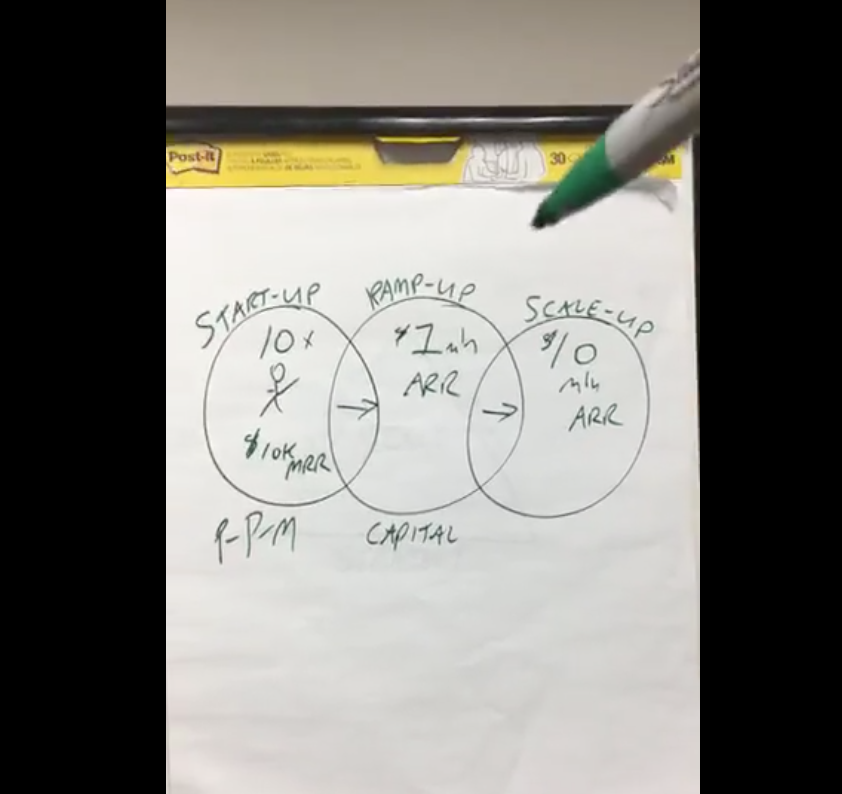 If the #1 priority for your B2B startup in 2018 is SCALABLE REVENUE...
If you are a serious CEO that need to get serious about your company's sales growth RIGHT NOW...
If it feels like you're reaching your LIMITS instead of REACHING YOUR POTENTIAL, knowing that your startup can SCALE UP and GROW UP if only it had the right sales process...
... then this event is for YOU.

How many of your product demos end up with – "Looks great. Send me a proposal and we'll get back to you..." and then they never return your emails?

How many times this year have you told yourself – "This is the month where these deals will close," and they never did?

How many of those promising deals from back in April are now are telling you – "Ping me in January…" Or worse, how many of those deals went completely dark on you?

How many thousands of dollars did you spend on "big industry trade show," only to beep badges for mediocre leads that ask for one-pagers and promise to "share it with the team…"?
Hustling and hard work will only get you out of the garage. You can't build the company you imagine just by "working harder." The more you push, the bigger the to-do list gets.
It's not about hustling more or working harder. Most startups struggle because they don't have a repeatable, scalable sales process.
The math is simple:
AMAZING PRODUCT + NO SALES PROCESS = NO FUTURE
Because your COMPANY'S SUCCESS is determined directly by your SALES SYSTEM.
If you want to ACCELERATE your startup's sales... If you want to experience SCALABLE revenue growth... If you want to BUILD the company you imagine...
You need proven, repeatable, SCALABLE SALES SYSTEMS.
That's why I teach this Startup Selling Intensive – a full-day, in-person workshop designed to teach you the complete sales framework you need to fund and scale your company.
In my world, we do things differently:
Laser-focused Prospecting… Selling directly to executives…. Collaborating with prospects to move deals quickly through the Sales Pipeline… Setting prices based on value, not what's in the budget...
This workshop will show you the complete sales framework I developed and used to lead three B2B startups – Aplia, Altos Research & Blend – to their first millions in revenue, and now implement with B2B startups EVERY DAY.
These are the same frameworks I used at Blend as VP of Sales to land our early customers and grow revenue, setting the course for the company's a $500M valuation today, and more importantly, taking over their market vertical.
Here are just a few examples of the teams I've helped this past year:
When Chris Combs and Vishal Sunak founded LinkSquares, they had only a MVP, no prospects, no sales pipeline, no customers and no revenue. Within a year of working with them to identify, build and implement their sales process, they closed an oversubscribed Seed Round and they're quickly closing in on $1MM ARR.

When Bryan Pratte, CEO at QuarkWorks, restructured his entire sales process based on what he learned at this workshop, he added a $20K/month customer to their top-line revenue within two months.

Anne Stefanyk, CEO at Kanopi Studios applied a new model to her company's sales process and added $160K in new contracts in three months, and then later added a $500k client to her company's portfolio

Jordan Knox and Jack Hirsch, cofounders at Butter.ai, structured their product launch strategy on the frameworks they learned, and added three paying enterprise customers two months BEFORE their product launch…

Dimitris Giannoccaro, CEO at IAMIP, closed a $1.5 million in funding this year, directly attributed to their revenue growth – strategies he learned by working with me.
HERE'S WHAT YOU'LL LEARN:
In this workshop, we'll build YOUR sales plan around the three core pillars you need to achieve Scalable Revenue Growth:
1 - A Precise Sales STRATEGY so that you know exactly where to focus your company's sales efforts.

2 - A TACTICAL Sales Playbook so that you have a plan EVERY SINGLE DAY to find prospects, build a sales pipeline and convert your deals to paying customers.

3 - A Process for OPERATIONAL Excellence so that your team and you are 100% clear on what matters most to achieving scalable revenue growth.
We keep this event small, and invite only B2B startup CEOs and their co-founders. You'll learn alongside startup founders just like you – a focused group of CEOs looking at 2018 as the year they break out of the "Start-Up" phase forever, and begin the journey to Ramp Up and Scale Up their company's sales.
INTERESTED?
Book your spot now – one ticket gets you two seats – one for you and one for your cofounder. We'll be spending the day building your entire sales framework for 2018 and beyond.
Let's get your team aligned on what it's going to take to FUND, GROW and SCALE your startup.
Take action. Start now, so you can get out of sales purgatory forever.