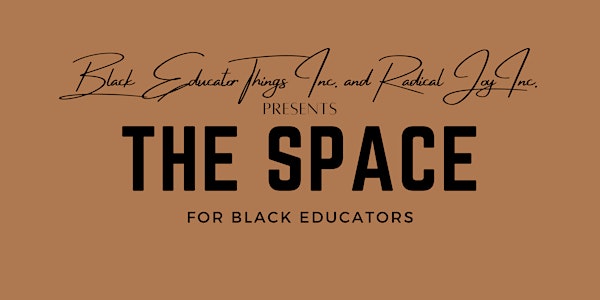 The Space
A space to unlock Black joy and community as Black educators join events and conversations to help prioritize their own joy and wellness.
Refund Policy
Contact the organizer to request a refund.
About this event
Black Educators Things is excited to collaborate with Radical Joy Inc to launch the first of many events. Please join us on November 10th at 6pm EST on zoom for a free self care workshop for Black Educators.
"The Space" encourages Black Educators to be their full self by providing a community of support in professional development, networking, resources and wellness strategies. Our goal is to provide a community for Black educators. Services will be provided based on community need. Black educators are crucial to all students and in schools so we must prioritize Black educators' physical and emotional safety. Our first event is a self care workshop.
Self-care is a general term that describes everything you do deliberately for your mental, physical, and emotional well-being. Deliberately is the key word. After a long, difficult day/week, it is not easy to deliberately remember to prioritize yourself. Let us help you reflect and reset.