About this Event
Sat Sept 7, 2019 at the historic ballroom The Paramount in LOS ANGELES (free parking)
$15 tickets available www.theparamountla.com
**Wear your best vintage attire**
Live: The Rhythm Shakers, Bebo & The Goodtime Boys
RECORD HOP with DeeJay's Ody & Zac Vargas spinnin' your fav boppers, jivers, strollers!
Tattoo Tony's Dance Class
8:30 PM Doors Open // ALL AGES
8:30 PM - 9:30 PM Tattoo Tony's Dance Class10:30 PM Bebo & The Good Time Boys11:30 PM The Rhythm Shakers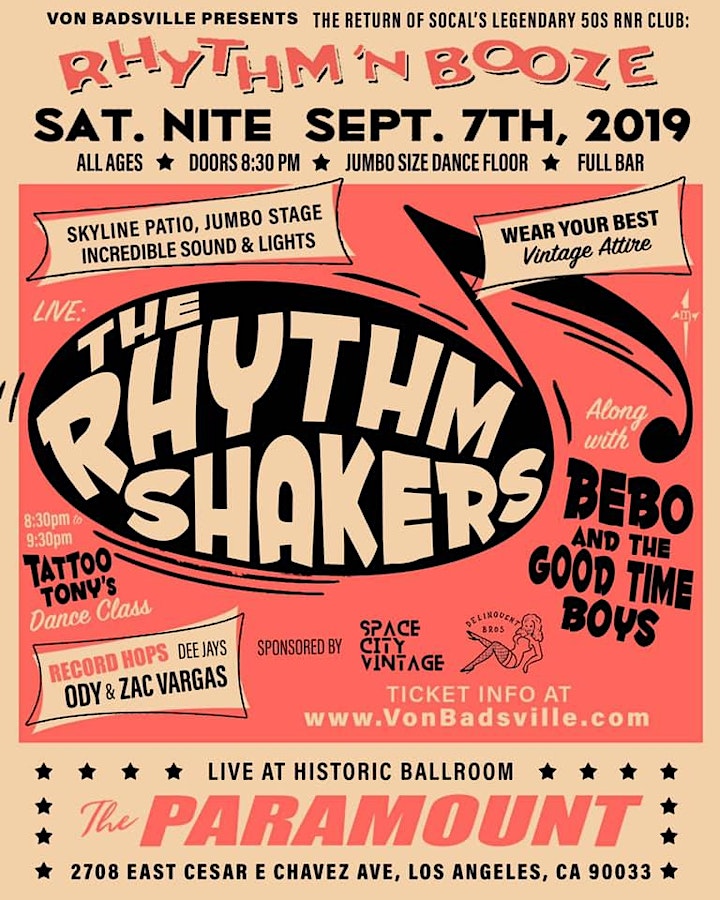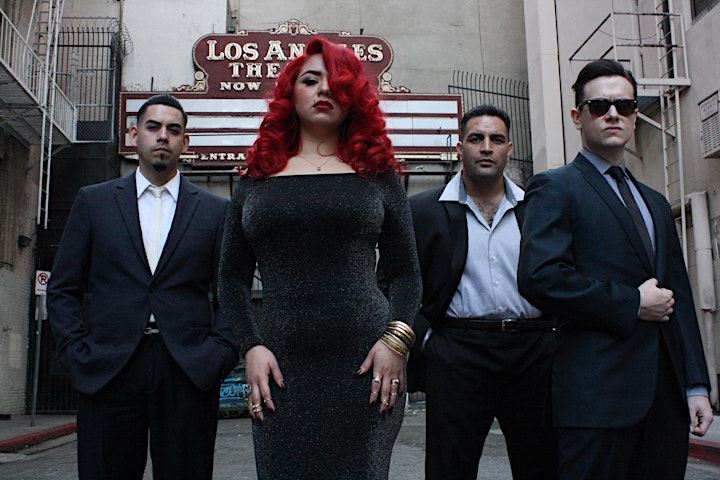 The Rhythm Shakers
As red hair is flailing and double bass pounding, Marlene Perez of the Rhythm Shakers closes out another show in Los Angeles. Ripping wails and howling vocals are rocketed from her torso more reminiscent of Tina Turner and Amy Winehouse than the echo dripped hiccups of the 1950's rock and roll genre the band exists within. The Rhythm Shakers are a late 50's rock and roll band except for one major difference; they are very comfortable with living in the present. They have travelled the world fueled by supremely creative vocal lines with masterful backing tracks. Bassist Victor Mendez and Drummer Brook Emelio weave a spider web of rhythm both straight forward and head bobbing yet technical and algorithmic. Kevin O'Leary the guitar player and also front man of The Reckless Ones, embodies the genre while firing creative and precise guitar lines in the middle of the rhythm and vocals.
The band has traveled the world on this eclectic style of rock and roll playing such festivals as Sjock Festival (Belgium), High Rockabilly (Spain), The Rockabilly Rave (U.K.) and Viva Las Vegas (To name a couple). They've also worked with billboard pop artists such as Sam Sparro, Moneybrother, Nick Waterhouse while at the same time writing and releasing genre defining albums such as "Flipsville", "Voodoo" and their latest "Panic".
The Rhythm Shakers at their core have the look and sound of a late 50's / early 60's rock and roll band while at the same time keeping their eyes widely up aimed at the most interesting sounds of 60's soul, blues and modern music. They're highly sought after on festivals around the world because they aren't afraid of making music that seeks to travel to new heights while still respecting the past. One must witness live the high temperature magic that exudes from L.A. clubs and European venues all the same to truly understand that The Rhythm Shakers are at the top of their game.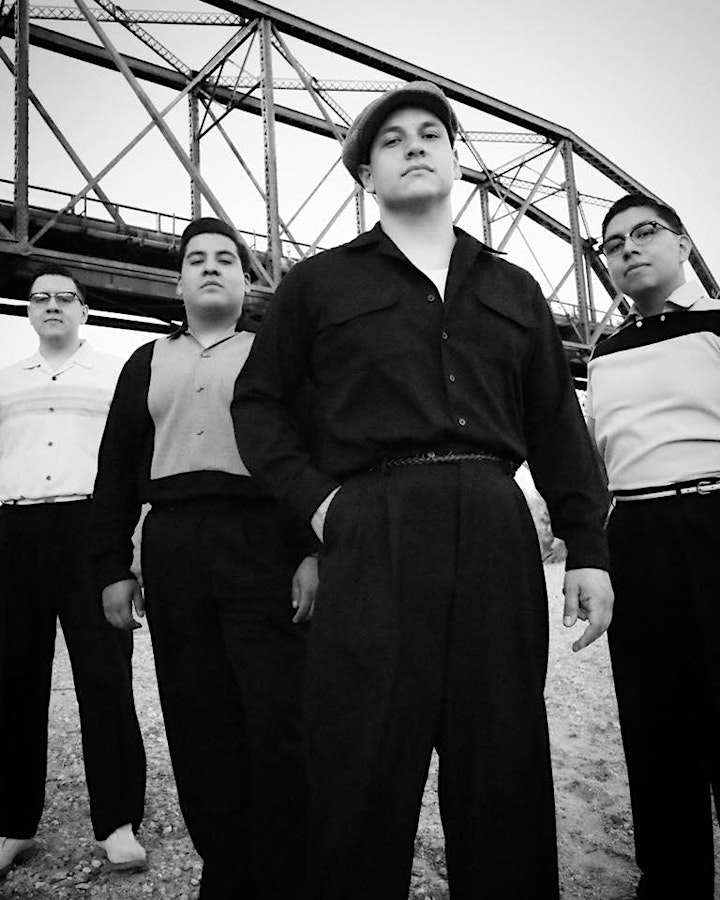 Bebo and the Good Time Boys, play traditional Rockabilly music influenced by the 1950's but with a modern approach and sound, they mix their influences of Rockabilly and Latino music creating a hot pot of unique and contemporary RnR. The band's first record "Let the fun begin" was released at the end of 2014, receiving fantastic reviews and enthusiastic response all over the world, the band are one of the most in demand RnR bands in Southern CA.
Performers
Date and Time
Location
Refund Policy