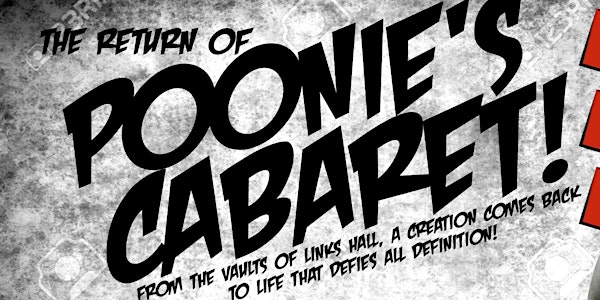 The Return of Poonie's Cabaret
Location
Links Hall
3111 N. Western Ave
Chicago, IL 60618
The Vertical Side Show curates the return of the beloved Links Hall performance series, "Poonie's Cabaret"!
About this event
Back from the vaults, Poonie's Cabaret returns to Links Hall!
Poonie's Cabaret is named after the late great Chicago choreographer, Poonie Dodson, who died of AIDS in the early 90's. Originally inspired by Patrick's Cabaret in Minneapolis, Poonie's Cabaret welcomes all forms of expression and anything which cannot be defined but can be thoroughly enjoyed. It features works-in-progress from artists working in many different creative realms – dance, music, contact improvisation, puppetry, performance art, theatre, voguing, freestyle rapping, drag, burlesque, cheerleading, stand-up comedy, etc. Poonie's Cabaret welcomes all forms of expression and anything which cannot be defined. Curators invited by Links Hall select the works shown from among local Chicago artists and proceeds go to the Dodson / Erley "Coming Out of the Closet" Fund.
*Click HERE to view footage of a 1985 Poonie Dodson solo performance (video courtesy Patrick E. Scully, Dodson's collaborator). Stay tuned for the confirmed "The Return of Poonie's" artist lineup! *
CURATOR / PRODUCER BIOS
Ken Gasch (aka Bazuka Joe) - Co-Director - is one third of The Stage Door Johnnies from Chicago, named Burlesque Hall of Fame "Best Group 2011". Bazuka headlines and tours throughout the U.S., Canada, Australia, New Zealand, and Europe and has been listed in the Top 50 Burlesque Performers in the world for 7 years consecutively. Trained in contemporary, classical, and jazz dance, theater, and vault staff he is a seasoned teacher and instructor with more than fifteen years of experience teaching and directing at a professional level. Before entering the world of burlesque and cabaret, Bazuka served as Artistic Director for Open House Dance Company and choreographed/performed in the iconic indie film "Were the World Mine".
Chris McCray (aka Ray Gunn) - Artistic Director- has been making audiences submit to his dirty imagination throughout cities nationally and internationally, including Australia, New Zealand, Canada, and throughout Europe since 2009. This sinful assassin is 1/3 of the award-winning, male burlesque troupe "The Stage Door Johnnies" and has consistently ranked among the top 20 in 21st Century Burlesque Magazine's annual list of the Top 50 Burlesque Performers in the world. In 2013, Ray was crowned King of Burlesque at the Burlesque Hall of Fame in Las Vegas. Former Artistic Director of Chicago Dance Crash and Corpo Dance Company, Chris is trained in contemporary dance, acrobatics, capoeira, and pole arts.
COMPANY BIO
The Vertical Side Show celebrates its fifth year creating immersive, inclusive spectacles that bring elements of dance, burlesque, drag, circus arts, live music, and storytelling. Co-founded by Ray Gunn and Bazuka Joe, the company proudly features award winning artists and internationally acclaimed teachers and performers. For more info, visit www.theverticalsideshow.com .