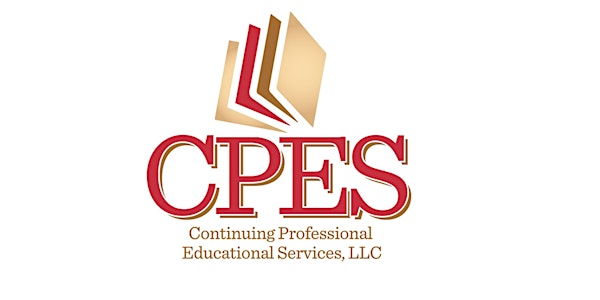 The Quantitative Conceptual Site Model Approach: Maximizing the Utility of Your CSM
When and where
Location
EcoComplex (Bordentown, NJ) 1200 Florence-Columbus Road Bordentown, New Jersey 08505
Refund Policy
Contact the organizer to request a refund.
Eventbrite's fee is nonrefundable.
Description

Due to COVID19 this NEW course is being offered as a Live Webinar!

The Quantitative Conceptual Site Model Approach:
Maximizing the Utility of Your CSM
May 13, 2020 | 8:30am-12:30pm | Bordentown, NJ
Register For Webinar Here!


Course Description:
This half-day workshop is designed to take environmental professionals beyond the traditional qualitative Conceptual Site Model (CSM) by adding an overlay of quantitative information that sharpens decisions and provides documented support that can be important to an LSRP's, or other environmental professional's, practice.


The Quantitative Conceptual Site Model (QCSM) approach provides the professional with a functional version of the CSM that can be used to guide investigations, assist in remedial design or test the effectiveness of a remedy, and can provide a documented, science-based tool for sound decision making.


The CSM has long been used by investigators, and described in regulatory guidance, as an integral part of environmental site investigation and remediation activities; providing site investigators, regulators, and other interested stakeholders with a tool to better understand site conditions, identify data needs, and make decisions regarding site cleanup planning and implementation But the traditional CSM typically qualitative in nature, consisting of narrative and/or pictorial descriptions of contamination sources and subsurface conditions at a contaminated site. The Quantitative Conceptual Model (QCSM) approach, which involves the merging of quantitative analysis results with the framework of a sound site conceptual model, provides a functional tool for sound decision making.


The workshop will provide an overview of state and federal CSM guidance (including documents developed by the New Jersey Department of Environmental Protection (NJDEP), Interstate Technology and Regulatory Counsel (ITRC), and United States Army Corps of Engineers (USACE)), and a discussion of how the conceptual models developed in accordance with these documents benefit from the incorporation of quantitative analyses at all stages of a project. Instructors will present a detailed discussion of the QCSM approach, and will describe quantitative analysis tools and techniques that can be applied in any project, ranging from simple calculations, to more complex analyses, including spatial data analysis methods, 3-D Data visualization techniques, and groundwater flow and contaminant transport analyses that can range from "back of the envelope" calculations to more complex computer models. Special attention will be given to an overview of various data collection tools and techniques, emphasizing the importance of adequate data resolution and data quality during field investigations to facilitate QCSM development.


Additionally, a series of QCSM case studies, including examples from the LSRP/Project Manager's perspective, and from the data analysis team's perspective, will also be presented.


Finally, attendees will receive copies of select spreadsheet calculators and modeling software (along with simple examples to work through independently) that can be utilized to add a quantitative component to their CSMs.



Who Should Attend:
This course will appeal to LSRPs, environmental professionals, regulators, and others responsible for implementing and overseeing environmental investigation and remediation activities. Attendees will gain a better understanding of sound data collection methods and analysis tools and techniques that, when incorporated into the site CSM, provide a scientifically-supported, transparent QCSM tool that that can be utilized at all stages of a project to more effectively communicate with interested stakeholders, and make more informed decisions.


Course Instructors:
Charles F. McLane III
Dr. Charles McLane is a Principal with McLane Environmental LLC in Princeton NJ where he specializes in quantitative hydrogeology, groundwater modeling, and chemical fate and transport in subsurface hydrologic systems for projects that include water resource evaluation and water supply permitting; wastewater management and disposal; conceptual site model development; and design and evaluation of groundwater remediation and hydraulic control systems. He has led short courses and training workshops for USEPA, National Ground Water Association, and other professional organizations. Dr. McLane holds a B.A. in Geology from Susquehanna University; an M.S. in Geology from the Earth Resources Department of Colorado State University, with a focus on watershed hydrologic processes; and a Ph.D. in Environmental Sciences from the University of Virginia, with a focus on hydrogeology and computer simulation techniques.


Mark Kauffman
Mr. Kauffman is a Manager at McLane Environmental with special expertise in hydrogeologic site investigations, analysis and interpretation of complex geospatial data, environmental forensic techniques, and ground water modeling. Mr. Kauffman has applied these techniques to interpret complex site data, and provide consulting support for projects including site engineering, regulatory compliance, and litigation support. Mr. Kauffman has managed and consulted on a number of projects, including visualization and analysis of site data to help guide remedial actions at DoD facilities; review of engineering plans for a proposed quarry site; water supply well field siting and permitting projects; ground water modeling projects to evaluate the fate and transport of contaminants; and matters involving insurance litigation, CERCLA cost allocation and Natural Resource Damages. Mr. Kauffman received his B.S. degree in Environmental Studies from Temple University, and has completed graduate work and has participated in continuing professional education on a variety of topics, including groundwater modeling, environmental forensics, and environmental regulations.


Phil Brilliant, CHMM, LSRP
Mr. Brilliant is founder of Brilliant Environmental Services, LLC (BES) a full-service environmental consulting and contracting firm with offices in Jackson, NJ. Phil is a Board Member/LSRP of the NJ Site Remediation Professional Licensing Board.


Registration Includes:
Continental breakfast, course materials, continuing education certificate & free parking.


---
Continuing Education Credits
NJ LSRP CEC's - 1 Regulatory & 2.5 Technical

NJ Professional Engineers: 3.6 CECs



ATTENTION HEALTH OFFICERS AND REGISTERED ENVIRONMENTAL HEALTH SPECIALISTS

:

Participants who complete this education program will be awarded 3.6 NJ Public Health Continuing Education Contact Hours (CEs)