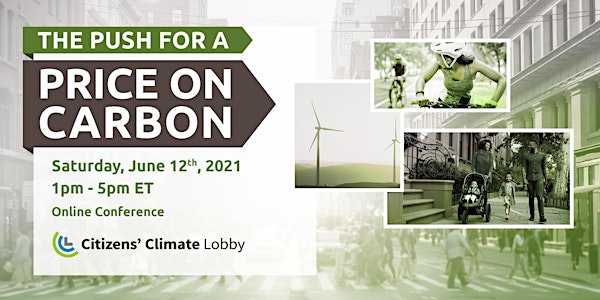 The Push for a Price on Carbon: CCL's June 2021 Virtual Conference
The Push for a Price on Carbon
About this event
Citizens' Climate June Virtual Conference
June 11 (5pm PT/8pm ET): Pre Conference Reception
June 12 (10am-2pm PT / 1 - 5pm ET): Main Day of the Conference
June 13 (starting at 10am PT / 1pm ET): Sunday Seminars
If you are a registered attendee, look out for emails on June 8th and June 10th with more details and connection information. Be sure to check your spam, promotions, and updates folders. Missed the email? See a copy here.
You can register through the conference starting. Check your Eventbrite confirmation email for details on how to connect.
Calling on Congress
An economy-wide carbon price is the single most powerful tool we have to reduce America's carbon pollution to net zero by 2050. We're asking Congress to enact that powerful tool this year. You'll get updates on what's happening in Washington, D.C., from keynote speaker Adele Morris, economist at the Brookings Institution, and CCL's government affairs team.
It Takes a Coalition
Keynote speakers Jasmine Sanders, Executive Director of Our Climate, and Jerry Taylor, President of Niskanen Center, will share what their organizations are doing this year in support of climate solutions. At our breakout sessions, you'll have the opportunity to hear from faith groups, local leaders, businesses and more about their perspectives on the push for a price on carbon.
Grassroots Action
Grassroots action is at the heart of the push for a price on carbon. Citizens' Climate grassroots supporters span the United States and its diverse climates and interests. Together, we'll double down on the push for a price. You'll be trained on actions you can take in your community, with the media, and with your member of Congress.
** We will be using Airmeet as our conference platform. For the best experience on Airmeet, it is essential to use a laptop or desktop computer, and Chrome (version 79 or later) as your internet browser. You can download the latest version of Chrome here. Not connecting on a laptop/desktop or Chrome v79 or later will most likely limit your interactivity on the platform, and cause sound and video issues. Airmeet is a video conferencing software, there is not a phone/dial-in option. We will also be live streaming some conference sessions on Facebook, Twitter, and YouTube. **
Add a Sunday Seminar
Each of these virtual seminars lasts 1.5-2.5 hours (starting at 10am PT / 1pm ET on June 13), taking our attendees deeper into the material than a standard conference breakout. When you register for the June 12th conference, you can choose to RSVP for a Sunday Seminar as well, please select the "RSVP Sunday June 13" ticket in addition to your June 12th ticket. You can choose from one of four seminar topics:
A Lens Into Race & Climate (2 hours)How do White and BIPOC (Black, Indigenous, and People of Color) individuals move beyond diversity to talk about race issues at a climate organization? Gain tools and practices for counteracting racial bias and microaggressions to help create a more compassionate and inclusive organization. This session will be hosted by Program Director Don Addu, Diversity and Inclusion Director Karina Ramírez and Diversity and Inclusion Program Coordinator Patricia Rubio. [Similar seminar offered at the Dec. 2020 Conference]
Energy Innovation Act: Messaging and Policy Details (2 hours) How do you know what to say when talking about the Energy Innovation Act and other carbon pricing policies? We'll review key messages, discuss how to tailor your message for your audience, and the materials available to help make the case. [New seminar]
Understanding the Conservative Perspective—Critical to Achieve the Mission (1.5 hours) In our politically polarized times, we may not always want to interact with those who have different viewpoints from ours. But as lobbyists for a bipartisan climate solution, leaving our echo chambers is critical to achieving our mission. Join us for a Braver Angels Town Hall in which progressives/liberals will hear from a diverse panel of conservatives and learn to appreciate common ground. You will leave with an understanding that bipartisanship is not just a given - it requires conscious effort from all. [New seminar]
Climate Advocate Training Workshop (2.5 hours)This workshop will help newer volunteers (and seasoned volunteers who want a refresher) understand CCL's method and vision, and inspire you to find your role so you can hit the ground running. You'll even have a chance to participate in a mock lobby meeting so you are well prepared for our June 14-18 Virtual Lobby Week (if you are participating). In this interactive workshop you will: Learn the basics of becoming an effective climate advocate through review of the CCL's structure, mission, purpose, and methodology of creating political will, Practice how to appeal to the best in others and build common ground, Review the details of the Energy Innovation and Carbon Dividend Act, Learn how to build constructive relationships with elected representatives and practice our lobbying methods.