The Princess Within

Saturday, October 19, 2019 from 10:30 AM to 3:30 PM (EDT)
Event Details
 The Princess Within
2019
'Equipping Young Ladies for Leadhership'
Saturday, October 19, 2019 | 10:30AM to 3:30PM
BALTIMORE, MD 21215
SPEAKERS. WORKSHOPS. PERFORMERS. VENDORS. EXHIBITORS. FASHION SHOW. PANEL DISCUSSION.
WORKSHOPS & ACTIVITIES
BEAUTY | BUSINESS | CAREER | GIRLPOWWER  ENTREPRENEURSHIP | HOME DECOR | JEWELRY MAKING
PURITY | SAFETY | VISION BOARD DESIGN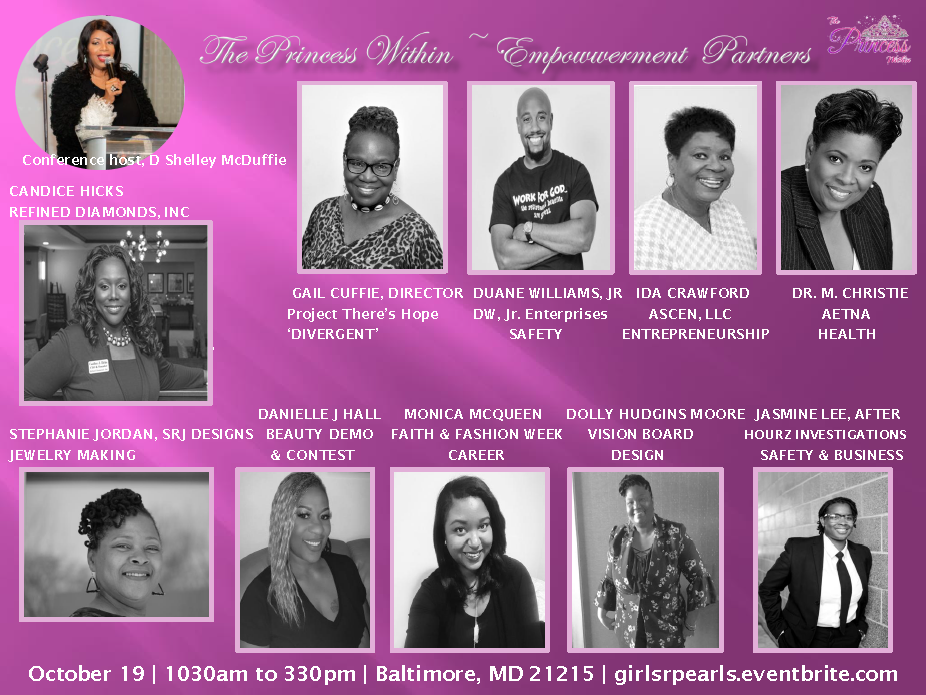 Writing & Publishing Panel Discussion
'GirlPOWWER of the Pen'
Moderator, Kalin Thomas
Multimedia Maven | Arts, Culture, Tourism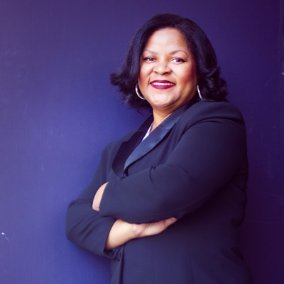 PANELISTS
Elder Kim Y. Jackson, Author
Owner, Write the Vision, Visionary Concepts www.writethevizn.webs.com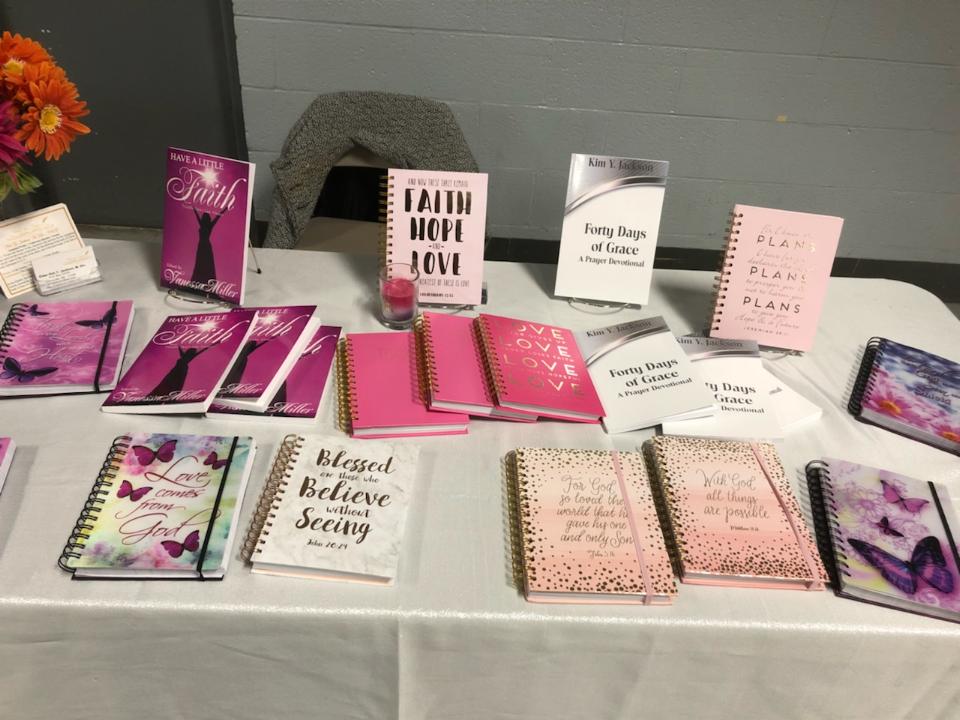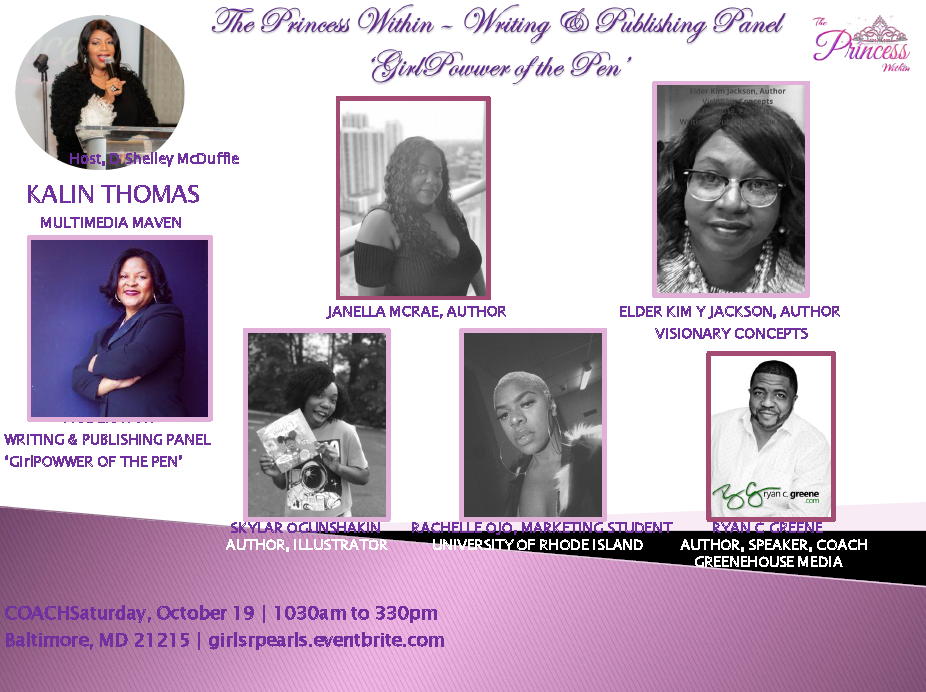 Janella McRae, Author
Every Little Girl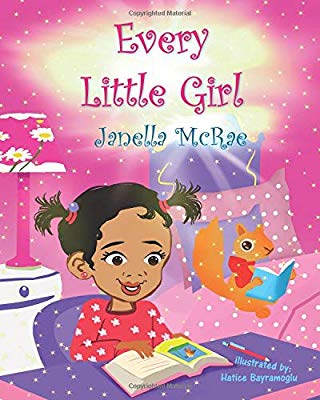 LET'S CROWN THEM WITH WISDOM, STRENGTH & BEAUTY!
  https://www.amazon.com/Janella-McRae/e/B07Q6SX4J2/ref=dp_byline_cont_book_1
 ------------------------------------------------------------------------------------------------
VENDOR SHOWCASE 2019
'the Golden Shopportunity'
3 by 2 T SHIRT DESIGN
SPANN FAMILY
Author, Janella McCrae
   https://www.amazon.com/Janella-McRae/e/B07Q6SX4J2/ref=dp_byline_cont_book_1
CEY'S CATERING 
https://www.facebook.com/ceyscatering/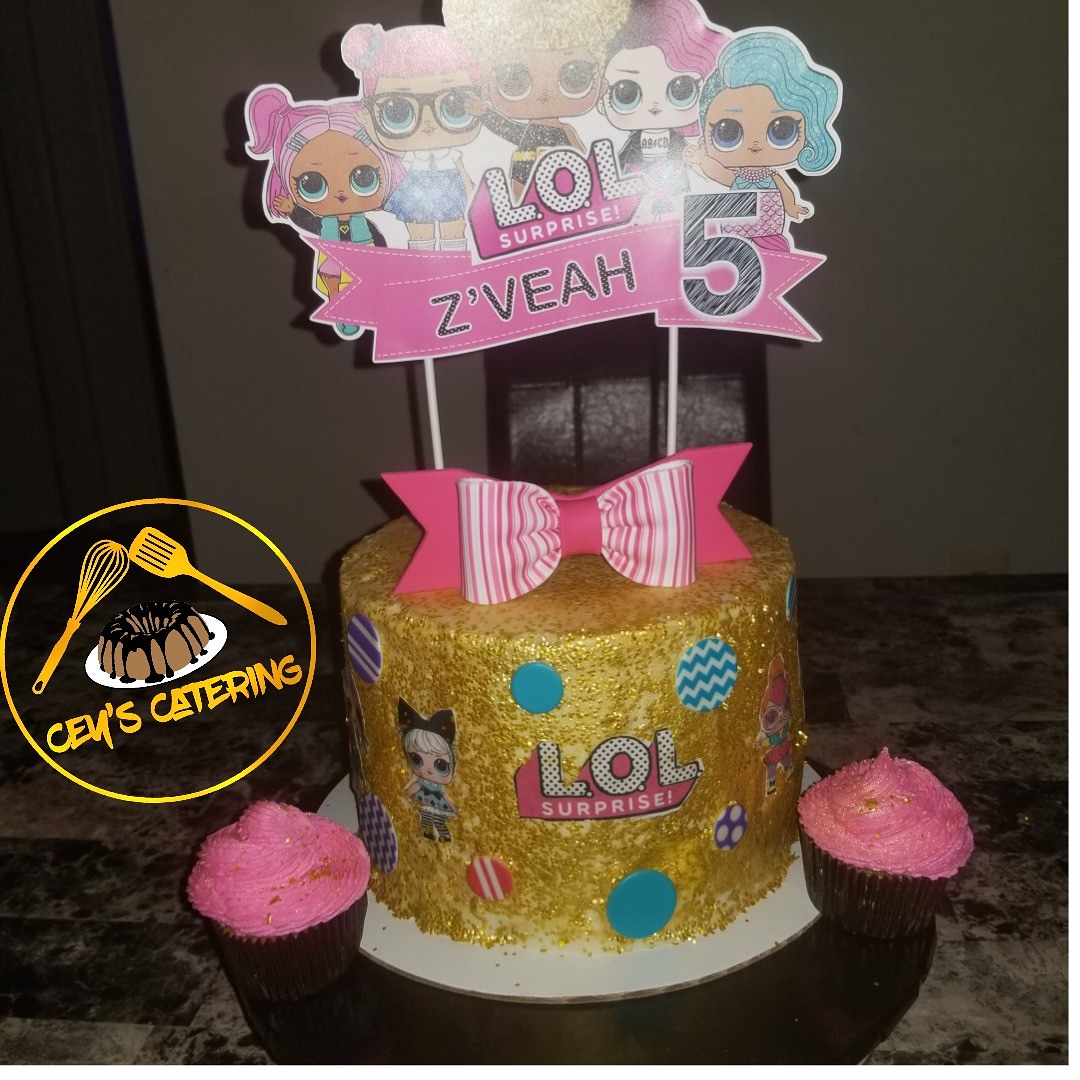 Damsel in Defense - Elerie Thomas
www.mydamselpro.net/protect-her
Darlene Ellis Jenkins
ISO Detox Tea, Health & Wellness
Heaven's H.E.A.R.T.
LemonTopia
 https://m.facebook.com/lemontopiabaltimore/ 

Matilda Jane Clothing
www.matildajaneclothing.com/lizstandish
Nail Solutions
https://www.facebook.com/HeatherRobles443 
Nadori Bath and Body Spa 
NRoyalFashion Beauty
PAPARAZZI | Kianna Mercer
https://paparazziaccessories.com/80268/
WELCOME TO THE
GLAMOUR & PAMPERING SUITE
HEATHER ROBLES 'NAIL SOLUTIONS'
https://www.facebook.com/HeatherRobles443/
WELCOME SHARIKA PETERSON
BOSS HENNA
DARLENE ELLIS JENKINS
HEALTH & WELLNESS
ISO DETOX TEA
-------------------------
EXHIBITORS
PERSPECTIVES FOR PEACE
SINETA ROBERTSON, Coach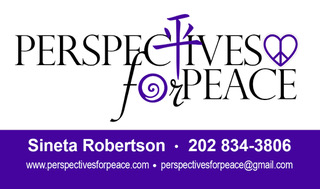 AETNA BETTER HEALTH
OF MARYLAND

LISA PHILLIPS
Celeebrate Us Workforce Training
---------------------------------------------------------------- 
 S P O N S O R S
Chrest CPA https://www.chrestcpa.com/
Just Minding My Business Radio WWW.ASISTASCIRCLE.ORG
HTTPS://WWW.FACEBOOK.COM/HUMMINGBIRD111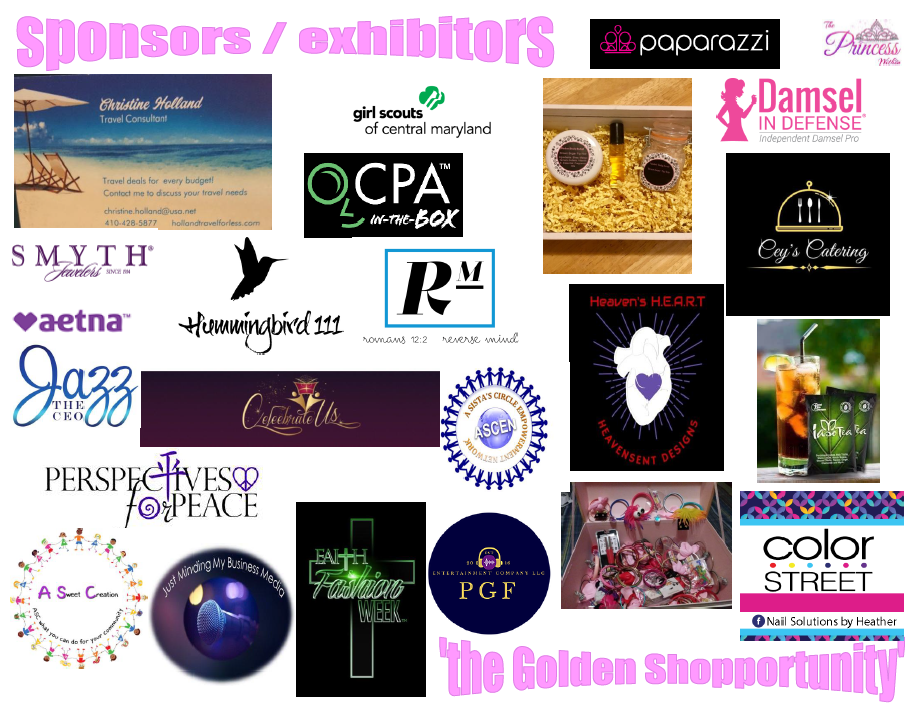 EMPOWWERMENT PARTNERS
VENUE - - - GIRL SCOUTS OF CENTRAL MARYLAND
CHEF DEMETRISU, REVERSE MINDS CAFE
REQUEST SPONSORSHIP FORM, LETTER OR 501C3 INFO VIA EMAIL TO TPW AT  OURGIRLSRPEARLS@GMAIL.COM  
NURTURING THEIR SPIRIT | NOURISHING THEIR MINDS | INSPIRING THEIR DREAMS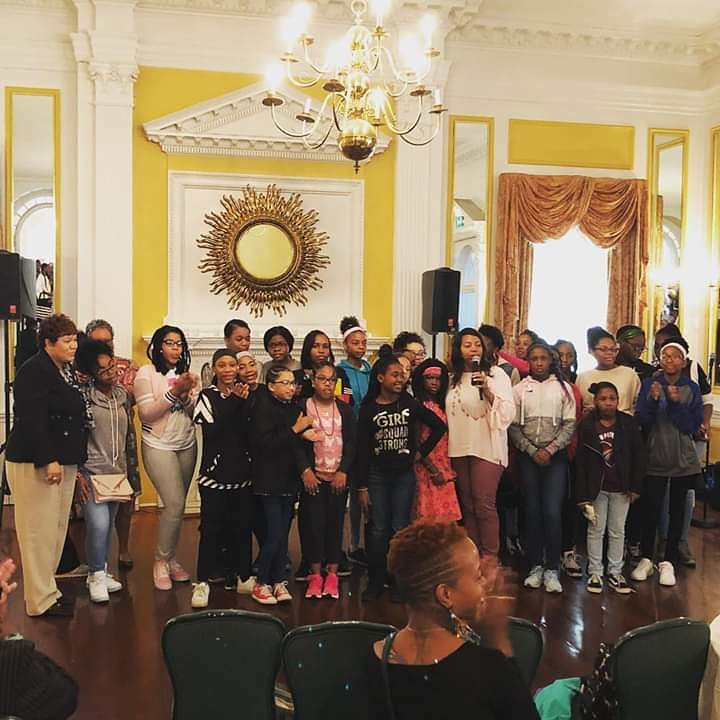 2018 AT-A-GLANCE 
 CLICK THE Link to "TPW_2018 Expo" photos
 VISIT https://www.facebook.com/GOALedNation/ FOR MORE VIDEO/PHOTOS OF #TPW2018
TPW EVENTS & ACTIVITIES NEWS FLASH
OUR MOST RECENT EVENT 'ROLLIN LIKE ROYALTY' CELEBRATING DECEMBER BIRTHDAYS WAS A BLAST & CHLOE (pictured between her GrandMom & Mom) WON THE ROLLER SKATES 
TSHIRT FROM '3X2 TSHIRT DESIGNS' #TPW2019 TSHIRTS VENDOR
-- TPW CLUB MEMBERS SEND YOUR SIZE & QUANTITY VIA EMAIL TO OURGIRLSRPEARLS@GMAIL.COM & RECEIVE 25% OFF BY ORDERING ONLINE IN ADVANCE OF THE CONFERENCE - FULL PRICE REQUIRED AT THE CONFERENCE!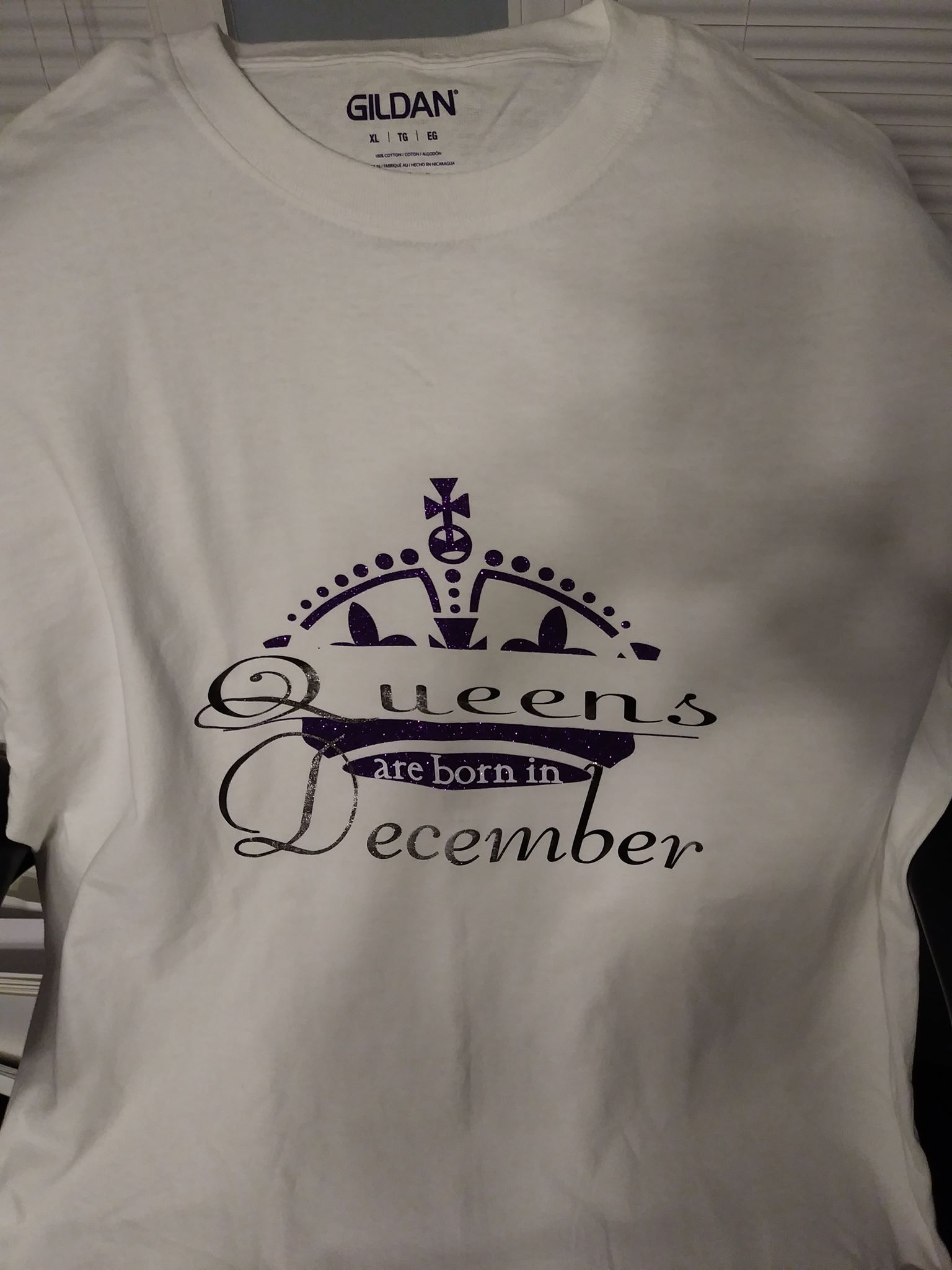 ALL NEW***
JOIN THE PRINCESS WITHIN
GIRLP.O.W.W.E.R.
MEMBERSHIP CLUB
A SISTERHOOD THAT NURTURES, NOURISHES AND iNSPIRES
AND WHERE YOU'RE THE STAR
girlsrpearls.eventbrite.com JOIN NOW & receive your TPW Journal!
MEMBERSHIP to TPW GIRLPOWWER CLUB IS $7 per month or $60 per year ---  FOR YOUNG LADIES UP TO 18 YEARS OF AGE
see all the goodies girls receive! After joining at girlsrpearls.eventbrite.com please send your confirmation to ourgirlsrpearls@gmail.com with contact information and request your WELCOME PACKET.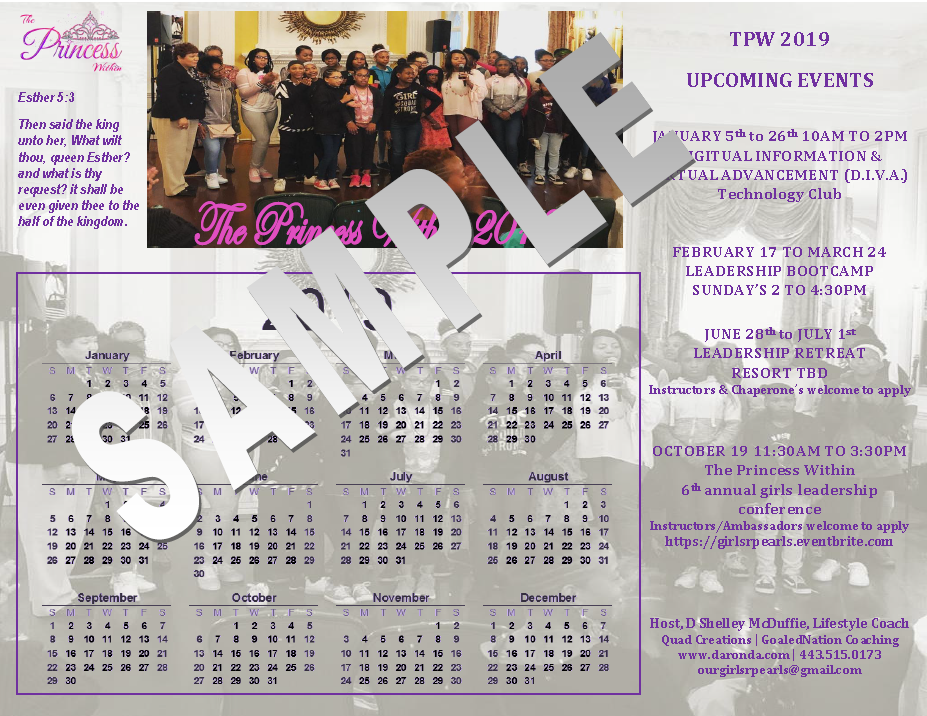 Attention Young Gifted & Talented Writers!
Put your writing skills to work & be featured in and or write for TPW GirlPOWWER NEWSLETTER / BLOG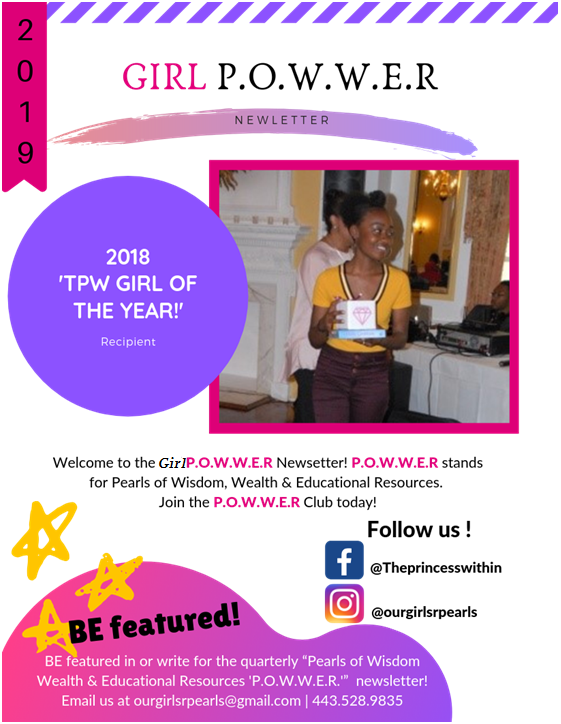 email your interest to: ourgirlsrpearls@gmail.com
http://girlsrpearls.blogspot.com/ 

 BE A PART OF THE FUTURE OF THE PRINCESS WITHIN
BOARD MEMBERS, MENTORS, SUBJECT MATTER EXPERTS, PROFESIONALS, VOLUNTEERS & AMBASSADORS WANTED -- EMAIL INTEREST TO OURGIRLSRPEARLS@GMAIL.COM
 Your Host DaRonda McDuffie, Owner Quad Creations events www.daronda.com
When & Where

TPW 2019
REGISTER FOR DETAILS
4801 Seton Drive
BALTIMORE, MD 21215


Saturday, October 19, 2019 from 10:30 AM to 3:30 PM (EDT)
Add to my calendar
Organizer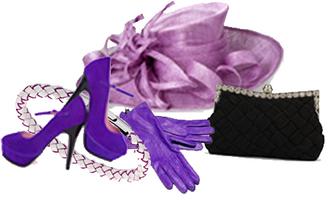 Creating specialty events for your personal or business special occasion or fundraising needs.
Founder of 'Chic Boutique' the indoor shopping affair and 'Golden Shopportunity' promoting small business, community, & economic growth and development. Sign up for one of our business building workshops today!