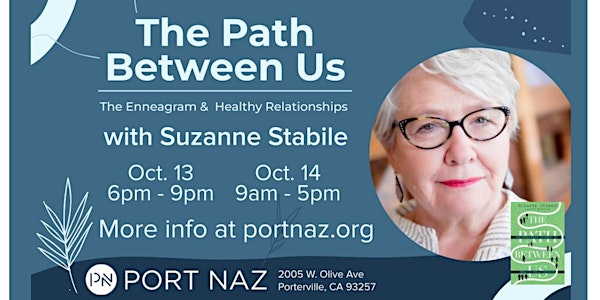 The Path Between Us: Enneagram & Healthy Relationships with Suzanne Stabile
TWO DAY EVENT! Join Enneagram master teacher Suzanne Stabile to learn how to use the Enneagram for healthier relationships!
Date and time
October 13 · 6pm - October 14 · 5pm PDT
Location
Porterville Church of the Nazarene 2005 West Olive Avenue Porterville, CA 93257
Refund Policy
Contact the organizer to request a refund.
Eventbrite's fee is nonrefundable.
About this event
This event is scheduled for
October 13, 2023: 6:00pm - 9:00pm
October 14, 2023: 9:00am - 5:00pm
The Path Between Us: The Enneagram and Healthy Relationships with Suzanne Stabile
"Few people can teach you the Enneagram with the genuine insight, humor, and potential for real growth and change better than Suzanne Stabile!" — RICHARD ROHR
In today's world, it's challenging for most of us to process our interpersonal experiences and understand how others view us. This makes relationships hard, whether with intimate partners, friends, family members, or professional colleagues. The Path Between Us Conference will guide you into more profound insights about yourself, God, and those around you so that you can experience healthier, more life-giving relationships. Together we will look at the nine Enneagram types and explore how each number behaves and interacts relationally. Additionally, we will dive deeper into the motivation and dynamics of the different Enneagram types, unlocking mystifying behavior in ourselves—and in others.
Suzanne Stabile is recognized as one of the leading authorities of the Enneagram in North America. She is the best-selling author of The Road Back to You and The Path Between Us, and hosts the popular Enneagram Journey podcast. Stabile trained with Fr. Richard Rohr and has taught at his Center for Action and Contemplation. Over the past 25 years, she has taught the Enneagram to thousands of people in corporate settings, churches, conferences, and mental health workshops.
"Suzanne has been a priceless source of wisdom in my life for many years. She is without question the best Enneagram teacher out there." — NADIA BOLZ-WEBER
*Book Signings: Bring your book along, or buy one at the conference, for Suzanne Stabile to sign. She will be doing book signings on Saturday during part of the lunch break and after the conference concludes.
*Travel and Lodging: Lodging and travel are the responsibility of the attendees. Discounted rates are available at the Holiday Inn Express in Porterville (call 559-782-1200, mention PATH for special rate).
-- SCHEDULE --
FRIDAY:
6:00 PM - Conference Begins: Session 1
7:30 - Break (Break times are approx.)
7:50 - Session 2
9:00 - End
SATURDAY:
9:00 AM - Session 3
10:15 - Break (Break times are approx.)
10:45 - Session 4
11:20 - Q&A
11:45 - *Lunch (book signing at end of lunch)
1:15 PM - Q&A
1:30 - Session 5
2:45 - Break (Break times are approx.)
3:05 - Session 6
5:00 - End (book signing at end of conference)
Join us for an inspiring and illuminating weekend!
**Please Note** The Path Between Us Conference is designed for attendees who have already identified their Enneagram number. If you need an introduction to the Enneagram before this conference, please check out:
Suzanne Stabile's introductory book, The Road Back to You
Suzanne Stabile's podcast, The Enneagram Journey
There are no refunds for this event.
*On-site taco truck lunch option available. Cost for lunch is NOT included in the event cost. Other off-site restaurants available.