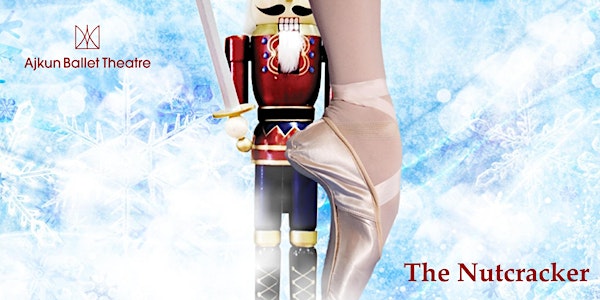 The Nutcracker
The Holiday Favorite Nutcracker with Ballerinas and Battles with Mice in the classical version by Chiara Ajkun.
When and where
Location
Rudolf Nureyev Space at Ballet Arts Center for Dance 130 West 56th Street 6th floor New York, NY 10019
About this event
The Holiday Season is perfect with a Family outing for the Nutcracker. Great for creating memories, the story of sweet little Clara, her toymaker uncle and a Nutcracker toy that transforms in a prince. Filled with funny battles with the mice and flavors from a worldwide journey to the Kingdom of Sweets. Chiara Ajkun's version for Ajkun Ballet Theatre is perfect for children and adults alike and completed by complimentary photos with the cast.
This performance is part of the Face to Face Series.
In the festive atmosphere of the Holiday Season, Herr Drosselmeyer (Jake), surprises his niece Clara (Brown) with special gifts to everyone's delight: a Ballerina and a Nutcracker doll (Muñoz and Munkherdene). Party guests depart and Clara sneaks out of bed to see her Nutcracker Doll, falls asleep and begins to dream. Herr Drosselmeyer settles the battle of the mice (Mouse King: Delli Priscoli) by bringing to life the Nutcracker. Clara and the Nutcracker embark on a magical journey through the enchanted pine forest to the Kingdom of Sweets. Greeted by the Dewdrop Fairy (Jeong), Clara is entertained by Spanish, Chinese, Arabian, Russian, and Mirliton dancers. The fragrant Flowers Waltz introduces Clara to the Sugar Plum Fairy (Burbine) and her Cavalier (Tafaj) Grand Pas de Deux.
Choreography: Chiara Ajkun after Marius Petipa
Music: Pyotr Ilych Tchaikovsky
Libretto: Alexandre Dumas Père's adaptation of the story by E.T.A. Hoffmann "The Nutcracker and the Mouse King
Performing Company: Ajkun Ballet Theatre | www.ajkunbt.org
No intermission.
The Face to Face Series is hosted by Artistic Director Chiara Ajkun and Ballet Arts Center for Dance in the intimacy of the Rudolf Nureyev Studio, located at the 6th floor of the historic landmark The City Center. This series offers a close up on the dancers, complimentary photos with the cast and a meet-and-greet the performers and fellow dance enthusiasts at the end of the show. There are no Door Sales.
All Proceeds benefit "A Ticket To Dream" offering free tickets to underprivileged members of our community and supports showings in-Children Hospitals. Thank You for making a difference!
For Inquiries about the show, please email ajkun@aol.com or call + 1 (347) 346-9951.