Two Magicians. One Winner. Who will take home the prize?
About this event
Tired of dinner and a movie? Magic isn't for kids anymore. First rate snarkists Mark Phillips and Ryan Phillips (not related) battle for the title of Best Magician in The Magic Duel. This show is full of seriously funny magic that will fool you. It involves the audience from start to finish! Audience members choose the magical challenges for the contest and then vote electronically to determine the winner of the coveted 'Golden Wand.' An amazing night out!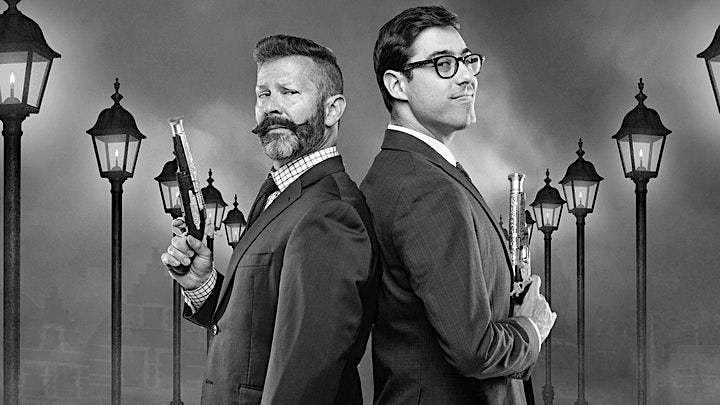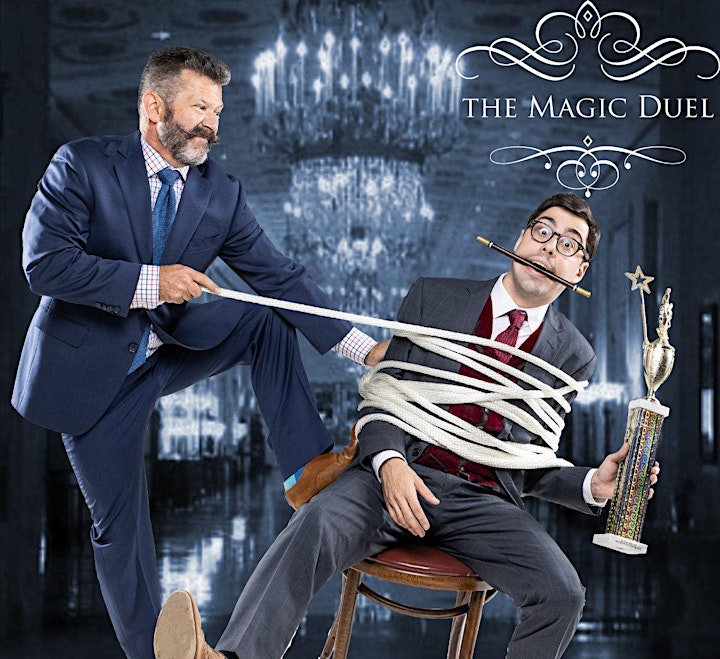 About The Magic Duel
A well balanced mix of comedy, magic and audience participation, The Magic Duel was created for "grown ups," 18 years and older, and encourages patrons to 'dress to impress." Though the show does have some mature themes, the age advisory is to promote and maintain the sophisticated atmosphere of the Mayflower hotel. Additionally the Magic Duel features genuinely "non-cheesy" magic (think America's Got Talent or Penn & Teller's Fool Us) that can be appreciated by discerning adults.
This show is full of seriously funny magic that will fool you. Audience members choose the magical challenges for the contest and then vote electronically to determine the winner of the coveted 'Golden Wand.' Winner of 4 consecutive TripAdvisor Certificates of Excellence, and ranked on Yelp as DC's Best Rated under the categories of Magicians, Performing Arts Events and Comedy Clubs.
"This magic duel was full of surprises and amazingly fascinating - from card tricks to disappearing acts to flames, there was never a dull moment. The talented magicians involved and humored the audience every step of the way! I would definitely go see it again and would recommend anyone to watch this adult -magic show!"
About Mark Philipps
Natural-born class clown Mark Phillips learned to vanish a cigarette when he was only six years old. Fortunately, six-year-olds with cigarettes were fairly common in 1960's Kentucky. Reared in a military household, Mark developed a passion for order, discipline, and psychological warfare on his sisters. Applying these traits to deception, Mark become an expert, eventually tricking a university into giving him a French horn scholarship even though his major in microbiology. Paying the remainder of his college bills by performing regularly at the Phoenix Playboy Club, Mark realized show business might not be such a bad idea. His long career as a magical entertainer performing in 36 countries proved him right.
Mark is one of only 12 recipients of the National Theater's "Star of Magic Award.- He has been profiled in UK's "The Guardian", and his appearance at the Kennedy Center prompted the Washington Post to write, "Mark Phillips has skill to burn." Hundreds of corporations have trusted him to entertain their most important customers, sales prospects, and guests at events worldwide. He frequently represents companies exhibiting at trade shows where he weaves his magic into his clients' marketing message to generate sales leads by the hundreds. Mark once fooled thousands of people into believing he could speak German fluently before actually learning how, and his favorite German word is "Leitungsuebertragungeschwindigkeit."
About Ryan Philipps
As a child, Ryan Phillips wanted to be somebody. Now in his early 20's, he's realized it is time to get more specific. Ryan entered the world of magic young, studying sleight-of-hand at the legendary Denny & Lee Magic Studio. Living vicariously through himself, Ryan earned his BFA in Theatre Performance from George Mason University and almost immediately won the role of Leo Bloom in The Little Theatre of Alexandria's production of Mel Brooks' "The Producers," for which he was nominated by WATCH* as best actor in a lead role. This is proof that Ryan always gives 100% (except when donating blood). Combining magic and acting skills, Ryan uses storytelling, character work, and sleight of hand to bring life to world-class acts and old and new. Ryan joined The Magic Duel just a short time ago yet can already throw shade at Mark like rice at a wedding.
About the Milton Theatre
Official Website | Facebook | Twitter | Instagram
The historic Milton Theatre is a uniquely diverse venue where you will find the best local, regional, national, and international talent. Free municipal and on-street parking are available. Full bar and light food options available. This facility is fully accessible.