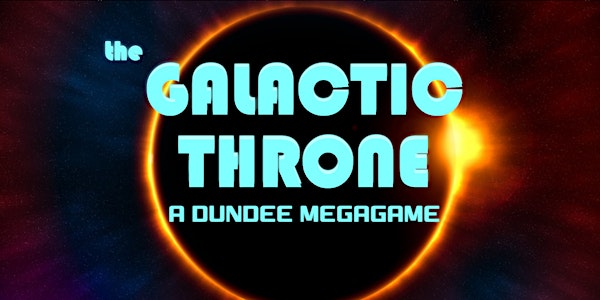 The Galactic Throne - Dundee
When and where
Location
Dundee West Church 32 Perth Road Dundee DD1 United Kingdom
Refund Policy
Contact the organizer to request a refund.
Description
The galaxy is in disarray.
Weakened by centuries of civil war, the rulers of the galaxy, the Imperia, are in decline. Realising this, the Imperia have stepped aside, ceding temporary control to their Custodians, until a worthy successor to the Galactic Throne can be found.
The Custodians' role: to judge which of the galaxy's other sentient races are able to overcome the political, logistical and technological challenges of ruling - and perhaps even uniting - the entire galaxy.
With little more to start from than their own home systems, each race regards the Galactic Throne with envious eyes, plotting their own path to the ultimate seat of power.
"As your ship enters hyperspace, you are alerted to a transmission from somewhere ahead. The Thiket ambassador flickers on-screen, the bark-like protrusions on their face curled into a sneer. "The time for trading and talk is over... ambassador", he growls at you, and the screen goes black. Klaxons scream throughout the ship, and you feel yourself being pulled out of hyperspace. As you look up at your viewscreen, a Terran dreadnaught can be seen charging its shields. The Thiket sold you out, and now their allies are mopping up. Luckily for you, the fleet arriving two minutes behind you should give these Terrans a nasty surprise..."
WHAT IS A MEGAGAME?
Megagames are events which pit large groups of players into a real life game where yourself and others will have to pit your wits against each other in situations based on any number of themes. Dozens of people could compete in any one game, and no two games will ever be the same.
WHAT IS "THE GALACTIC THRONE"?
The Galactic Throne is a sci-fi game of diplomacy, epic conquest and exploration in which you will play as one of eight alien civilisations competing for galactic dominance. Each civilisation provides a unique game experience with differing play styles. But…
Will you be the admiral of your civilisation, guiding your warfleet through space and protecting your borders?
Will you be a diplomat, making secret deals and brokering trade?
Will you be the explorer, seeking ancient technology to aid your travel through the stars?
Or will you be the president, the guiding hand for an entire civilisation?
In The Galactic Throne, many paths lead to the throne, but each path is forged from both alliances and betrayals.
FAQ: Do I need to be part of a team to play?
No! If you do not have a team, you will be assigned one before the day. We do encourage people to find friends to play with, as they may find it easier to act as part of a group with people they know. In no way is this required, however.

GAME RULES
The game rules can be downloaded by clicking here:
INSPIRATION
The idea for "The Galactic Throne" was originally inspired by the board game "Twilight Imperium". The races and game lore, however, are not those of Twilight Imperium, and are inspired from a variety of sources.
Twilight Imperium is copyright Fantasy Flight Games - For information on the board game "Twilight Imperium" and to purchase a copy for yourself, please see https://www.fantasyflightgames.com/
The organisers neither seek to, nor will, make a profit on the running of this game.
DATE
10th December 2016
TIMELINE
10:00 - Registration
10:15 - Rules explanation and demonstration
11:00 - Game start
15:30 - 45 minute break for lunch – The time for this may change based on the progress of turns
16:15 - Time in
21:30 - End of game and debrief
22:30 - Cleanup
23:00 - Leave building
PRICES
Tickets go on sale 10PM, Saturday 8/10/2016
Players: £18
Moderators: £6
Observers: £5 (Observers are not allowed to influence player decisions and were specifically requested for those curious)
Ticket prices cover venue hire, equipment shipping, and refreshment costs. Any money made over and above the incurred costs will be donated to a local charity organisation or used to secure venues and equipment for future events.
EVENT LOCATION
Dundee West Church
Perth Road
Dundee
FACEBOOK EVENT
If you wish to chat to others playing, feel free to join the Innerspace Games group at the following address and start chatting via the event page:
The Galactic Throne event page on Facebook
TEAMS
You shall be informed of the teams you shall take part in at least a week before the event. If you have plans to take part as part of a larger team, please let us know via the form on signup, or email innerspacegames@gmail.com to contact the organisers.
Each team will consist of four members:
President: Overseer and head of state. This player will make the overarching strategic decisions for the group (via "Strategy cards"), and decide how and when scientific advances are purchased. Once the president has resolved the strategy element of the turn, they are free to discuss events with others who are not at the Galactic War Map table, Explorer table or in the Galactic Council.
Should one race attain the ultimate approval of the Custodians, it is the President themselves who will be crowned Supreme Ruler of the Galaxy until the end of their days.
Admiral: The admiral is the master of their ships. Able to make decisions of where to move fleets and when, admirals are the only players allowed to view the Galaxy War Map. These are the players who take part in space-battles and invade planets, expanding their empire and waging war.
Diplomat: The diplomat negotiates with the dangerous Galactic Council on which the game balances, engages in trade, and supports or opposes new laws. Once per turn, the diplomats will be drawn to the Galactic Council room, where decisions and galactic laws are made which can affect the very course of events over the rest of the game. They are also encouraged to engage with other players in order to make or break alliances, and are the major user of the civilisation's influence, a resource gained from planetary conquest.
Explorer: The Imperia are in decline, but their technology still remains scattered through the galaxy. The explorer has the role of both scouring planets across the galaxy for these remnants, as well as begging or trading for all the findings needed to recreate the ancient Imperial technology.
Each civilisation will have unique abilities, and are themed around very different groups. Each civilisation has a backstory which will be provided, and we welcome players building a costume based on a visual style for their civilisation, but this level of participation is in no way necessary to enjoy the game.
AGE LIMIT
Players must be at least 16 years of age to participate.
FOOD AND DRINK
Roseangle Cafe is a cafe on-site which is open until 4PM and can provide lunchtime food:
We shall be providing "Snack food" and soft drinks for people, although players are encouraged to bring their own food. We shall not be providing full meals.
Alcohol is not permitted on the premises.
PHOTOGRAPHY
Please bear in mind that images and photographs of the day may be taken by the organisers of Innerspace Games or specific individuals chosen to do this. These may be used for the promotion of future Innerspace Games events via social media, news articles, or promotional material. If you are uncomfortable with photographs of yourself being taken, please let us know and we shall try to accomodate your wishes.
Photographers and players in attendance should take reasonable steps to avoid photographing individuals whom they know do not wish images of to be made public. You must delete from a device or remove from the internet any photograph you are asked to remove by a subject in the photo. Obscuring, editing or cropping the individual from any public images is a valid compromise if agreed to.
CODE OF CONDUCT
Unacceptable behaviour includes intimidating, harassing, abusive, discriminatory, derogatory or demeaning conduct by any participant at our events or online communities including Twitter, Facebook and other online media.
Harassment includes offensive verbal comments related to gender, age, sexual orientation, race, religion, disability, display or sharing of sexual images without consent, deliberate intimidation, stalking, following, harassing photography or recording, sustained disruption of the game, inappropriate physical contact and unwelcome sexual attention.
If a participant engages in behaviour that violates this code of conduct, the event organisers will take the appropriate action, including warning or expulsion from the game with no refund.
If participants have any concerns, inform a member of the moderation team who will offer support and ensure required assistance is given.