The First Rung: How to Jumpstart Your UX Career as a Student (Student Only)
A panel to help students seeking internships and jobs in the UX field. Come hear advice from industry professionals so you can stand out.
About this event
Event summary
Interested in landing your dream internship or job? We're here to help! As part of this year's Puget Sound World Usability Day event, we are offering a panel discussion around best practices for landing that first coveted job or internship in UX. Come learnw to take a first step into the industry.
Our Panelists
Gary Anderson: Principal Design Manager, Microsoft
Aaron Benjamin: Staff UX Designer, Home Depot
Sabrina Kang: Head of UX Research, Charles Schwab
Brien Thompson: Owner, Haystack Creative
Trinh Vo Yetzer: Managing Partner at User Research International
Tingting Zhang: Senior UX Researcher, Google
Britnie Chin: Panel Moderator, Junior HCDE student & PSWUD Academic Liaison
Event description
We'll explore topics such as:
What can you expect when applying for a UX internship or job?
What makes a candidate stand out when applying or interviewing for roles?
What experiences, skills, or courses help open doors for UX roles?
How has hiring changed with the impact of COVID and recent slowdown in hiring for UX roles?
What does the future of hiring for UX roles look like?
We invite you to take part in a moderated discussion and Q&A with a group of highly experienced UX professionals ranging from an HCDE alum that just went through the hiring process, to hiring managers and directors that have deep experience building UX teams. Join us for a discussion that will help you to stand out in seeking that terrific next internship or job role.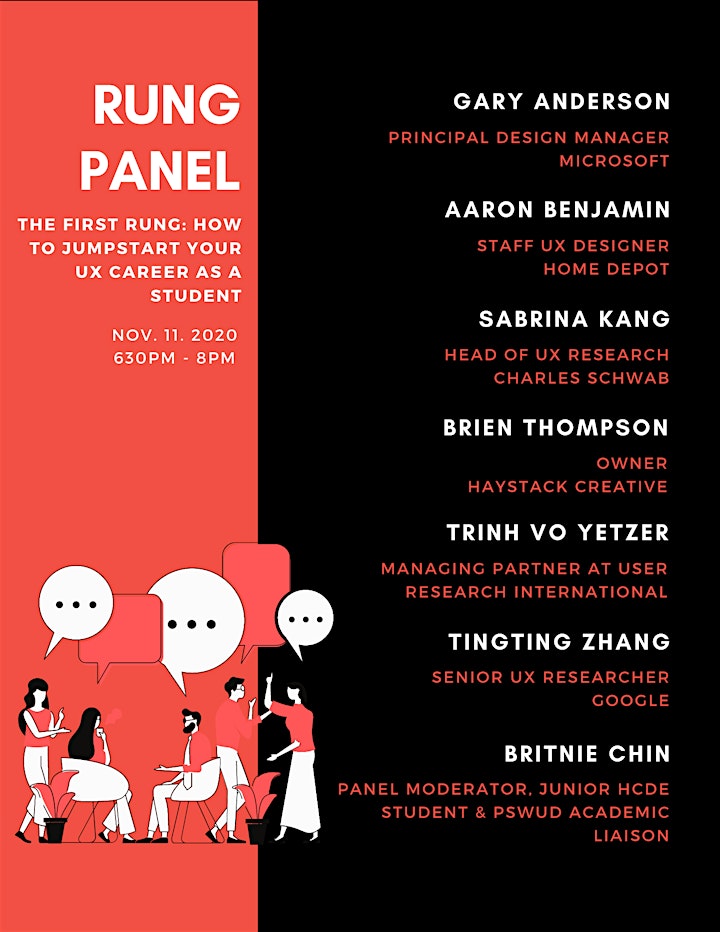 Organizer of The First Rung: How to Jumpstart Your UX Career as a Student (Student Only)