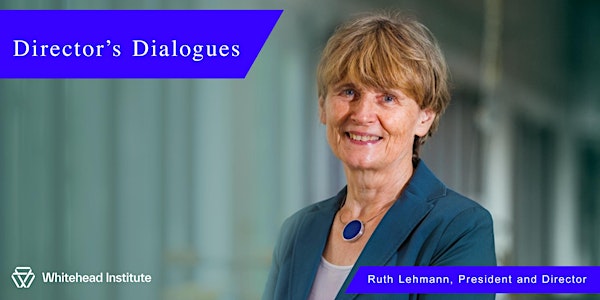 The Code Breaker: A Conversation with Jennifer Doudna
Click register to attend this dialogue. A link to join will be provided upon completion of your registration.
About this event

You are invited to join Ruth Lehmann, President and Director of the Whitehead Institute, for a series of virtual dialogues with scientific luminaries from academia, and visionary leaders from the biotech industry.
What trends in science and technology excite them the most? Which innovations have the potential to dramatically impact the way we live and work?
Be a part of the conversation.

The Code Breaker: A Conversation with Jennifer Doudna
Monday, March 14, 2022 7:00 - 8:00 PM (EDT)
Join Ruth Lehmann, Director, Whitehead Institute as she speaks with Jennifer Doudna, University of California, Berkeley professor and Nobel Laureate, about her role in the development of CRISPR-Cas9. They will discuss the potential applications of this world-changing genetic technology, the societal and ethical implications of gene editing as well as current research projects, collaborations, and new advances in biology.
Free, live virtual event. Open to all.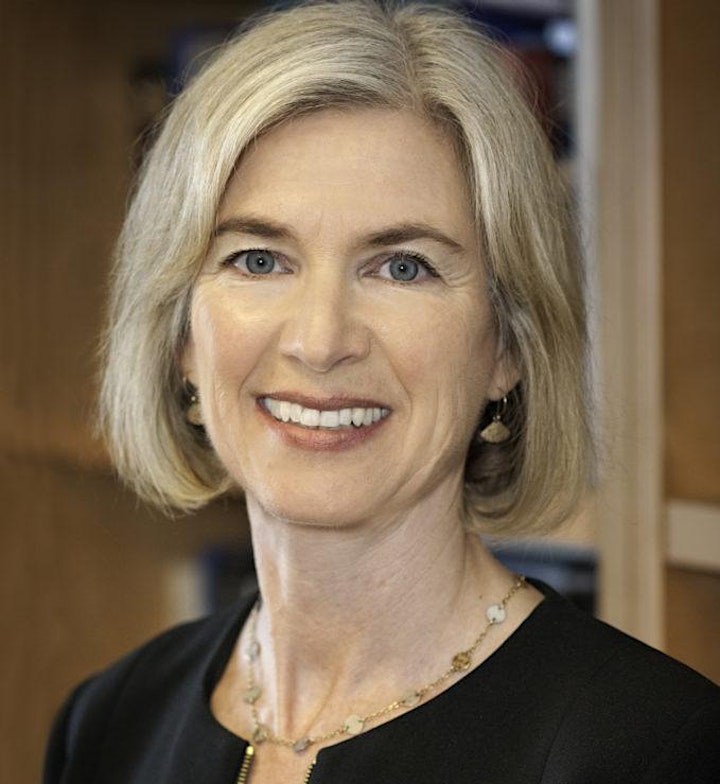 Founder and President, Innovative Genomics Institute; Li Ka Shing Chancellor's Chair, UC Berkeley; Professor, Dept of Chemistry and Molecular and Cell Biology, UC Berkeley; Nobel Laureate
Dr. Jennifer A. Doudna is the Li Ka Shing Chancellor's Chair and a Professor in the Departments of Chemistry and of Molecular and Cell Biology at the University of California, Berkeley. Her groundbreaking development of CRISPR-Cas9 as a genome-engineering technology, with collaborator Emmanuelle Charpentier, earned the two the 2020 Nobel Prize in Chemistry and forever changed the course of human and agricultural genomics research.
This powerful technology enables scientists to change DNA — the code of life — with a precision only dreamed of just a few years ago. Labs worldwide have re-directed the course of their research programs to incorporate this new tool, creating a CRISPR revolution with huge implications across biology and medicine.
In addition to her scientific achievements, Doudna is a leader in public discussion of the ethical implications of genome editing for human biology and societies, and advocates for thoughtful approaches to the development of policies around the safe use of CRISPR technology.
Doudna is an investigator with the Howard Hughes Medical Institute, senior investigator at Gladstone Institutes, and the President of the Innovative Genomics Institute. She co-founded and serves on the advisory panel of several companies that use CRISPR technology in unique ways.
She is a member of the National Academy of Sciences, the National Academy of Medicine, the National Academy of Inventors, and the American Academy of Arts and Sciences. Doudna is also a Foreign Member of the Royal Society and has received numerous other honors including the Breakthrough Prize in Life Sciences (2015), the Japan Prize (2016), Kavli Prize (2018), the LUI Che Woo Welfare Betterment Prize (2019), and the Wolf Prize in Medicine (2020). Doudna's work led TIME to recognize her as one of the "100 Most Influential People" in 2015 and a runner-up for "Person of the Year" in 2016. She is the co-author of "A Crack in Creation," a personal account of her research and the societal and ethical implications of gene editing.
Ruth Lehmann
President and Director, Whitehead Institute
Lehmann earned her undergraduate degree and a PhD in biology with Christiane Nüsslein-Volhard from the University of Tübingen, in her home country of Germany. She has conducted research at the University of Washington, the University of Freiburg, the Max Planck Institute for Developmental Biology, and the Medical Research Council Laboratory of Molecular Biology in Cambridge, England. She was a Member of the Whitehead Institute Member and on the faculty of MIT from 1988-1996. She then moved to New York University (NYU), where she served in a number of leadership roles specifically as the Laura and Isaac Perlmutter Professor of Cell Biology and director of the Skirball Institute of Biomolecular Medicine (2006-2020) and from 2014-2020 as the Chair of the Department of Cell Biology at NYU's Grossman School of Medicine. She also became an investigator with the Howard Hughes Medical Institute in 1990 and again in 1997. In 2020, Lehmann took on the role of president and director of the Whitehead Institute. She has received national and international recognition, including election to the National Academy of Sciences as Foreign Associate in 2005 and election as Associate Member of the European Molecular Biology Organization in 2012. She is currently editor-in-chief of the Annual Review of Cell and Developmental Biology and will serve as president of the American Society for Cell Biology starting in 2021.

September 20: Robert Langer
Robert Langer, David H. Koch Institute Professor, MIT
Visit wi.mit.edu/events for our current calendar of events.
For questions, contact Erin DeMarco at edemarco@wi.mit.edu.