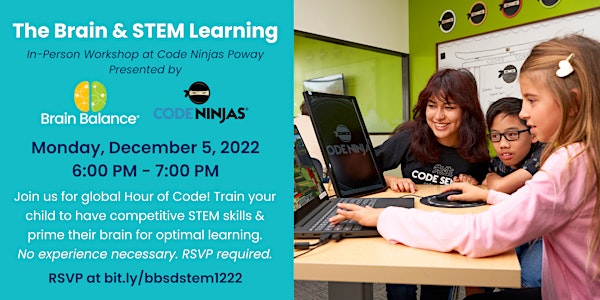 The Brain & STEM Learning
Join us for Hour of Code! Train your child to have competitive STEM skills & prime their brain for optimal learning. No experience necessary
When and where
Location
Code Ninjas Poway 12642 Poway Road #Ste 14 Poway, CA 92064
About this event
Participate in the global Hour of Code at Code Ninjas Poway!
Ninjas ages 5-14 are welcome to try out coding with experienced Senseis while caregivers learn about brain development for learning success and the importance of STEM skills in future careers. Train your child to have competitive STEM skills and prime their brain for optimal learning.
No experience necessary. Limited seating. RSVP required.
Presented by Brain Balance of San Diego and Code Ninjas Poway.
By participating in the event, you agree to the Brain Balance Media Waiver & Release. We are committed to your privacy. By participating in this event, you give Brain Balance of San Diego and Code Ninjas Poway consent to contact you about the event and our program by email, phone, or text message. For more information, check out Brain Balance's privacy policy.
The Brain Balance Program® is a personalized, drug-free, brain training program backed by research that addresses the root causes behind behavioral, social, and cognitive challenges (i.e. ADHD, anxiety, autism, dyslexia, regulation, sensory processing, memory, performance, etc.). Our personalized, holistic program incorporates proven cognitive, behavioral, and nutrition methods—an integrated approach that is literally redefining what's possible for kids, teens, adults.
Over the past decade, we have helped over 55,000 individuals nationwide to improve critical life skills and create a brighter path for their future. Learn more about the current and ongoing research studies of the Brain Balance Program with Harvard University's McLean Hospital, Cambridge Brain Sciences, University of California San Francisco, Journal of Humanities and Social Sciences Communications, and Journal of Mental Health & Clinical Psychology by visiting brainbalancecenters.com/research.
We invite you to visit our centers in Carmel Mountain Ranch at 10175 Rancho Carmel Drive, Suite 124, San Diego, CA 92128; in Chula Vista at 310 Third Avenue, Suite C-7, Chula Vista, CA 91910; or in Encinitas (coming soon) at 165 S El Camino Real, Suite E, Encinitas, CA 92024. Call (858) 324-5545 for a free consultation. Visit BrainBalanceSanDiego.com to learn more.
Code Ninjas® is the world's largest and fastest-growing kids coding franchise, with hundreds of locations in the United States, Canada, and the United Kingdom. At our centers, kids learn to code while building their own video games. They gain problem solving, critical thinking, and STEM skills in a fun, safe, and inspiring environment.
At Code Ninjas, kids learn to code by building their very own video games. Our flexible coding programs for kids make it easy on parents with convenient drop-in hours on weeknights and weekends. We invite you to visit our centers in Poway and Chula Vista. Our Poway center (Code Ninjas Poway (Poway)) is located at 12642 Poway Road, Ste 14, Poway, CA 92064 or call (858) 886-9309. Our Chula Vista center (https://www.codeninjas.com/ca-chula-vista) is located at 2318 Proctor Valley Road Suite 104, Chula Vista, CA 91914 or call (858) 621-3406.