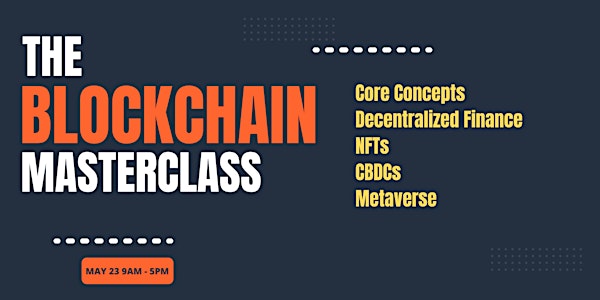 The Blockchain Masterclass
Professor-taught Blockchain Intensive for Executives and Professionals
When and where
Location
Rise New York 43 West 23rd Street New York, NY 10010
Refund Policy
Contact the organizer to request a refund.
Eventbrite's fee is nonrefundable.
About this event
The most popular blockchain course in NYC is back! Join us and a class full of professionals, entrepreneurs and enthusiasts. All attendees completing the course receive a Chainhaus Certificate of Completion in both digital and NFT form.
More details: https://TheBlockchainMasterclass.com
This is a a full-day 8+ hours deep dive into blockchain, DeFi, NFTs, CBDCs and metaverse. This course is for non-technical individuals looking to understand blockchain in greater depth and demystify some of the technical jargon to understand the blockchain's value proposition, how it works and the underpinnings of DeFi, NFTs and metaverse. Please bring your notebook and pencil and be prepared to learn. Each student is provided with a hardcopy of the course book (about 200 pages).
Module 1 - Learning Outcomes: Understanding Core Concepts
1. Understand the business and value proposition of blockchain and what problems it solves
2. Understand cryptography, hashing, public/private key, elliptic curve algorithms, cryptographic attack vectors in an easy to understand manner. Understand the future and impact of quantum computing, quantum-resistant crypto and algorithms.
3. Understand the technical trade-offs and architectures leading up to the blockchain within the world of distributed computing. Including concepts like a peer-to-peer network, Byzantine Fault Tolerance, Byzantine General's Problem, multi-phased commits and Merkle trees.
4. Understand the mechanics by opening up the blockchain and peek under the hood: Blockchain data structures like blocks, chains, transactions, accounts, addresses - see how it all works and how it all fits together
5. Understand consensus algorithms, what they are and why we need them, including algorithms like Proof of Work, Proof of Stake and Delegated Proof of Stake, the concept of forks
6. Understanding what smart contracts and tokens are, how they work, what they are capable of doing, auditing and lessons from the most recent hacks and basic token economics.
7. Career options that may exist for individuals looking to pivot into the space or pivot within the space
Module 2 - Learning Outcomes: Decentralized Finance
8. Dig into the various DeFi use cases, understand what DeFi is and how it works, the main applications, risks and reward profiles and how protocols like prediction markets, decentralized exchanges, money markets and other use cases work
9. Deep analysis of how automated market makers like Uniswap and Pancake Swap work, the constant product formula, divergence loss, liquidation and more, with a step-by-step walkthrough and simulation of how an AMM is used
Module 3 - NFTs
10. Understanding the different type of tokens, fungibility, non-fungibility and what NFTs are, how they work, the different token standards (ERC-721, 1155, etc.), the different platforms and how they vary (i.e. OpenSea, Rarible Protocol, Instamint), the architecture of a token and its metadata
11. Rapid hands-on walkthrough to minting an NFT yourself, deep understanding of the concept of provenance: community, story, creator and time/place, the incidentality of physicality of an object, lazy minting, gas fees
12. Understand the different use cases for NFTs, from art to real estate and financial assets and how NFTs will be the substrate for future business transactions
Module 4 - Metaverse
13. Understanding what the metaverse is, how it integrates with the blockchain, what the implications are, how its relationship to reality make it conducive, understanding play-to-earn and the opportunities / challenges
14. Rapid hands-on walkthrough to creating a presence in the metaverse
15. A deep analysis of the various markets that exist in the metaverse and their valuations and basis for valuations
Module 5 - Central Bank Digital Currencies (CBDCs)
16. Understanding what CBDCs are, the difference between retail and wholesale CBDCs, their potential impact on financial inclusion and stability
17. Evaluation of the major CBDC projects, MIT's OpenCBDC and a discussion of the seminal papers in the space that can be used as a jump for further study into the space
Testimonials
"I've had many conversations on blockchain but this is the first time I actually understood it." - Katherine Sanden, Math and Computer Science Teacher at Menlo School
"The course was informative, interactive and thought-provoking, and well paced. It was just the right mix of technical, theoretical and practical information. Thank you for a brilliant course" - Elham Bambaei, Vice President, Citibank
"Jamiel (Instructor) is deeply knowledgeable about blockchain." - Diana Doroftei, Vice President, Blackstone
"I could not have gotten more out of this class. They are so many different sources of information out there, but the group here, in particular, has studied it enough to become experts and have given me at least two or three very tangible action items I can take back to work" - Lisabeth Wirth, Marsh & McLennan Companies
"I had the time to ask questions. I had those questions answered in depth and I walked away from this as a long-time IT professional, ready and raring to go in this space." - Beverly Burnett, Senior Technical Project Manager, AIG
"This is the best blockchain training I've taken so far. We covered cryptography, hashing and the difference between fungible and non-fungible tokens. It was amazing." - Shagufta Sayani, Deloitte
"I would recommend this course to business leaders and technology professionals looking into the blockchain, bitcoin and cryptocurrency. " Alaa Lasheen, Head of PMO at Alexbank
"The full-day Blockchain Bootcamp was instrumental in helping me understand the basis of the technology. It's fully immersive and interactive nature makes the course great for learners at every stage." - Steve Nson, CEO and Founder at InnovativeCRE
Why take this course
This is an intensive deep dive into blockchain and blockchain-related technologies applicable to tech and non-tech individuals. This is for individuals that are looking to understand the impact of blockchain to their careers or industries and want to formulate and understand potential risks and opportunities.
Blockchain is poised to be one of the most disruptive technologies to ever impact business. Cryptocurrencies notwithstanding, the breadth and depth of impact are breathtaking. This disruption is unfolding as we speak. Blockchain technologies are impacting industries and sectors globally and are poised to make sweeping changes - financials, banking, trading, supply chain, logistics, healthcare and more. Given this backdrop, a large number of executives and leaders are looking for ways to understand blockchain in a way that can help them identify risks and opportunities.
This is a "no fluff" course that delivers deep insights and knowledge and offers the chance for you to network with seasoned professionals and peers.
This course is specifically for people who wish to be technically savvy but don't want the "geek" speak - business executives and leaders that wish to forego the pie-in-the-sky hype and excessive technical jargon but instead get the facts that matter to make the decisions needed for short and long term.
Think of this course as management consulting minus the high fees. If you are looking to take a deep dive into the blockchain world and walk away with actionable next steps that can move your organization forward then this course is for you.
Why Chainhaus
Chainhaus is dedicated to and passionate about your education and blockchain. We deliver classes globally and specialize in blockchain, AI and data science. We are geeks with MBAs and mystics of the dark blockchain arts :) We live, eat and breath blockchain everyday building solutions for large customers and running events. We not only teach blockchain but code & develop dapps and are business owners with a strong understanding of the industry and how it can be applied to businesses.
Schedule & Provisions
The course starts at 9AM sharp! Doors open at 8.30AM for entry and seating. We'll have coffee to make sure you are ready to go! Please do not be late - The first portion of the course covers critical information! The course will run till at least 5PM, often runs a little over. The goal is to not worry about time but making sure the knowledge is delivered. A 45-minute lunch break is allotted and a total of two 10-minute breaks, in the top and bottom half of the day. Please feel free to bring your own lunch or enjoy restaurants nearby.
About the Instructor
Professor Jamiel Sheikh is a founder, CEO, author, professor, educator, community builder, board member and event holder with over 20 years of experience in fintech.
He is founder & CEO of Instamint, a B2B NFT/DAO API minting platform, Chainhaus, a blockchain / DeFi advisory company, runs Blockchain101.com, an online blockchain education portal and is founder of the CBDC Think Tank which advises major central banks globally. He runs Blockchain NYC which is the largest blockchain and crypto community in NYC with over 30K members and runs events like DEFICON and completed over 150 community meetups since 2017. He founded and runs the CBDC Think Tank, a group of academics and NGOs that work on central bank digital currencies.
Jamiel is also an adjunct professor at Columbia Business School, CUNY and Zhejiang International Business School where he teaches graduate level courses on blockchain and machine learning. He authored a bestselling book on DLTs for developers under O'Reilly Publishing, and is currently authoring a book on DeFi for Columbia Press and a book on NFTs for Cambridge press.
Jamiel is board member of the Society of Women Coders, a group that seeks to help young females in underprivileged societies better engage in technology, a cause he is deeply passionate about, and sits on board of advisors of several startups while also mentoring startups in the IBM / Columbia LAUNCH accelerator program and is Innovation Fellow at Columbia Business School's Lang Center for Entrepreneurship. He is also expert member of the United Nations Digital Currency Global Initiative and Digital Euro Association.
Jamiel holds an MBA from Columbia University's Business School and BBA from Baruch College and is completing his second Masters in Artificial Intelligence from Georgia Institute of Technology.