Description
Join us at CAM on October 22nd for the Big Top Bash!
What is Big Top?
Big Top makes it easier for startups and individuals to plug in to the Triangle Startup Community and build regional connections, both online and in-person. When you join Big Top, you immediately inherit a network. Check out this quick video to learn more!
WHAT IS THE BIG TOP BASH?
On October 22nd, we're bringing the entire Triangle community together to celebrate the growth and success of the region's startups. You'll get to experience a few CPG companies, interact with growing teams, connect with new and old friends, and may even witness a product launch ... all in a dynamic environment, smack in the middle of the upcoming Above the Rim basketball exhibition.
We've got a few tricks up our sleeves, but one thing is for sure, we promise it'll be a slam dunk!
*We only have one ground rule: this is a sales-free event. If you're coming to sell your services to startups, you will be asked to leave and blacklisted from all future events. We take this seriously. Please play by the rule. :)
WHO SHOULD COME?
The Big Top Bash is an opportunity to celebrate the Triangle Startup Community on a regional level.
If you're a startup founder, you should be there!

If you're part of a startup team, you should be there!

If you want to learn more about what startups in the Triangle are up to, you should be there!

If you didn't know that the Triangle has been dubbed the "Startup Hub of the South", you should definitely be there!

If you're curious about joining a Triangle startup, you should be there!

If you're looking to move to the Triangle, you should hop on a plane or jump in your car to be there!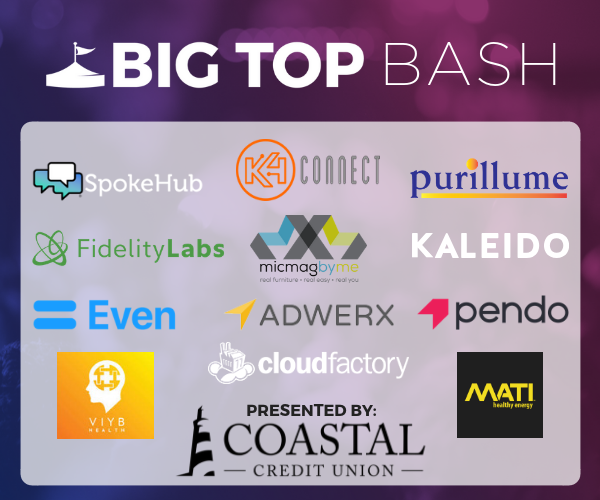 ---
More exciting updates and surprises to come, but save the date and get ready -- it's going to be a fun night!
ACCOMMODATIONS: If you are coming from out of the area and need a discount on a hotel room, please email Mable Rogers at Mable@bigtop.co.
QUESTIONS: Contact the Big Top Team at info@bigtop.co.