Actions and Detail Panel
The Austin All-Pro Event!
Mon, January 30, 2017, 6:30 PM – 9:30 PM CST
Description
This powerful event will bring together some of the most experienced and talented investment professionals from across Texas to answer your Self-Directed IRA questions.
The event will be structured as a panel and will showcase a lineup of professional investors from many segments of real estate investing, to provide the event attendees with a wide variety of free education. The All Pro Event will provide advanced education on how to increase personal wealth, how to locate private funding sources, how to leverage time, money and network; and the best part of all is that the event is completely FREE!
Wanting to be a part of The Quest IRA All Pro Event but won't be able to join us in Austin, TX this year?
The event will be streamed LIVE from 6:30-9:30 pm on Monday night! All you need to do is
CLICK HERE
to get FREE remote access to this powerful event!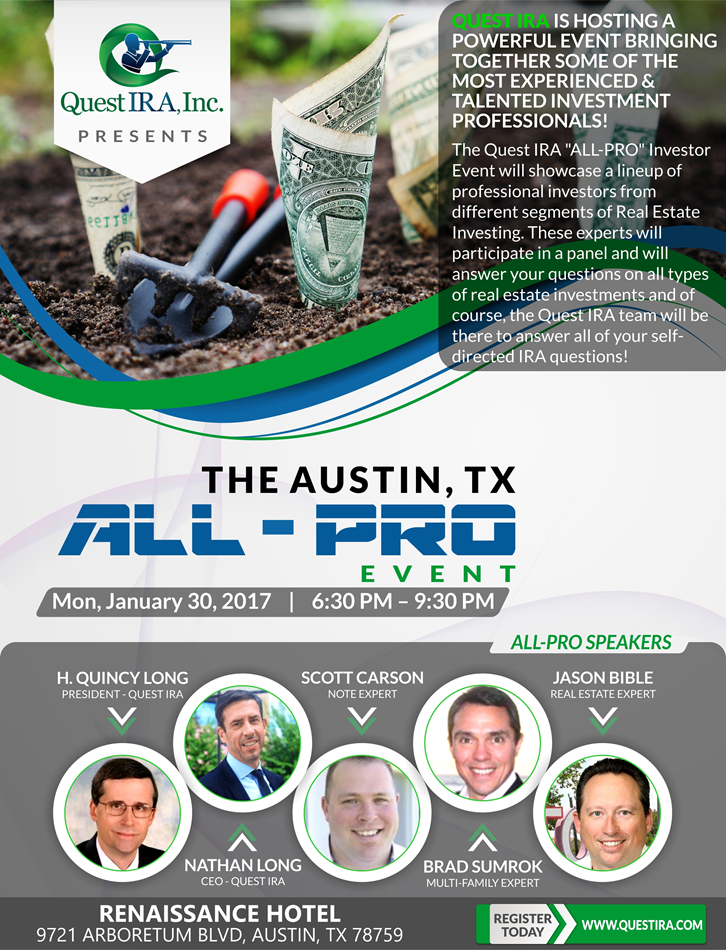 H. Quincy Long
H. Quincy Long is the President of Quest IRA and works in the Houston corporate office. Quincy has been a licensed Texas attorney since 1991, specializing in real estate, and has been a fee attorney for American Title Company.
Nathan Long
As the CEO of Quest IRA, Nathan Long oversees the operations of the company and aids in improving the practices implemented. After joining his brother, Quincy and the Quest IRA team in 2007, Nathan has aided in growing the company from a small establishment to a rapidly growing leader in the SDIRA industry.
Scott Carson
Scott has been in the mortgage, finance, and banking industry since 2001 and an active real estate investor since 2002. He has been actively buying notes on residential and commercial properties since 2005.
Brad Sumrok
Brad started as a Real Estate Investor with absolutely no previous investing experience. After just 3 short years, he retired from his corporate job with over $1,000,000 PROFIT from his first 2 apartment deals.
Jason Bible
Jason got his first taste of real estate investing after joining a local real estate club. In 2012 made his first transaction and hasn't looked back. Since then he has bought, sold, and leased dozens of properties.


RSVP is required for this event!

---

Event hosted by Quest IRA, Inc.