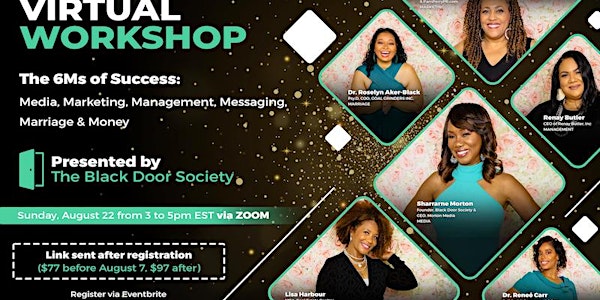 The 6Ms of Success Virtual Workshop
Opening Doors: All workshop registrants have one of two chances to be featured on SiriusXM Radio!
About this event
The 6Ms of Success:
Media, Marketing, Management, Messaging, Marriage & Money
VIRTUAL WORKSHOP
Presented by The Black Door Society
Sunday, August 22 - 3:00pm to 5:00pm EST via ZOOM
Link sent after registration
All workshop registrants have one of two chances to be featured on SiriusXM Radio!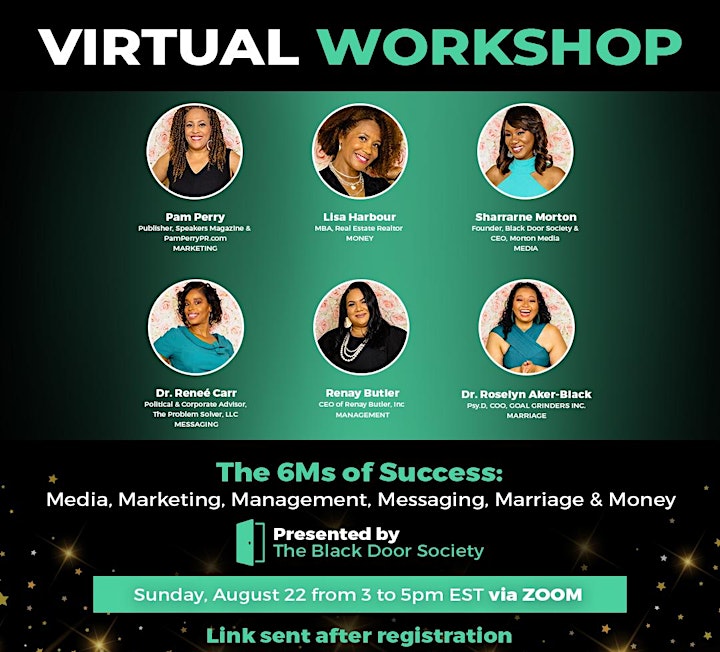 THE 6 Ms of SUCCESS
Media (Sharrarne Morton) - Hear from veteran TV/Radio personality on how media can build your brand and expand your business. In this session learn the secrets to looking like a natural on TV and sounding like a regular subject matter expert on air.
Messaging  (Dr. Renee Carr) - What do you do in a crisis? Hear from "The Problem Solver" on how to navigate pitfalls and manage your reputation online and off. Learn how to craft the right message to the right audience for your brand.
Money (Lisa Harbour) - Money gives you options. Building wealth leaves legacy. You can create wealth through real estate. In this session, learn how to make your money work for you and how to get started in the real estate market.
Management  (Renay Butler) -The art of management intersects both our personal and business lives - Whether it's managing people, managing a business or managing your personal/home life. In this session, learn new techniques and skills to add to your "toolbox" to help you become more productive, influential, and efficient.
Marriage (Dr. Roselyn Aker-Black) - Understand the tenets of a healthy relationship, whether it's a romantic relationship, friendship, or business relationship. This session will teach you how to spot the Red Flags, how to effectively communicate, resolve conflicts appropriately, and to heal and forgive!
Marketing (Pam Perry)  - The world is noisy. Too much information is coming at us. How does your brand, business or book stand out? In this session, we will talk about the AIDA system to getting out there and getting known.