The 2020 Summit
Description
Agenda
Day 1 (July 16)
Future of Work, Technology, Innovation and Digital Transformation
8.00 to 8.25 a.m. - Keynote session: Jason Averbook

8.30 to 9.45 a.m. - Panel: The Future of Work and Jobs with Ravin Jesuthasan, Kathy Henrich and Enrique Rubio

10.00 to 11.15 a.m. - Panel: Disruptive Technologies with Trish Uhl, Patti Fletcher, Margaret Regan, Andrew Spence, Brent Leland. Moderated by Ann Lustig

11.30 a.m. to 12.30 p.m. - Fireside Chat: Digital Transformation with Ben Eubanks and Shannon Gaydos. Moderated by Heidi Glickman.
Day 2 (July 17)
Building Strong Organizational Culture
8.00 to 8.25 a.m. - Keynote session: Claude Silver

8.30 to 9.45 a.m. - Panel: Culture and The Future Workplace with Mike Vacanti, MaryBeth Hyland, Cheryl Johnson, Jon Ingham, Vanessa Shaw. Moderated by Evangelia Laclaire.

10.00 to 11.15 a.m. - Fireside chat: Employee Experience with Ben Whitter and Conny Kunert. Moderated by Josia Nakash

11.30 a.m. to 12.30 p.m. - Panel: Diversity and Inclusion with Jina Etienne, Effenus Henderson, Rebekah Bastian and Rania Anderson. Moderated by Rebecca Oppenheim.

12.45 to 1.30 p.m. - Fireside chat: Leadership with John Eades, Rebecca Price and Todd Cherches. Moderated by Michelle Tenzyk.
Speakers Bios
---
Day 1 (July 16)
Future of Work, Technology, Innovation and Digital Transformation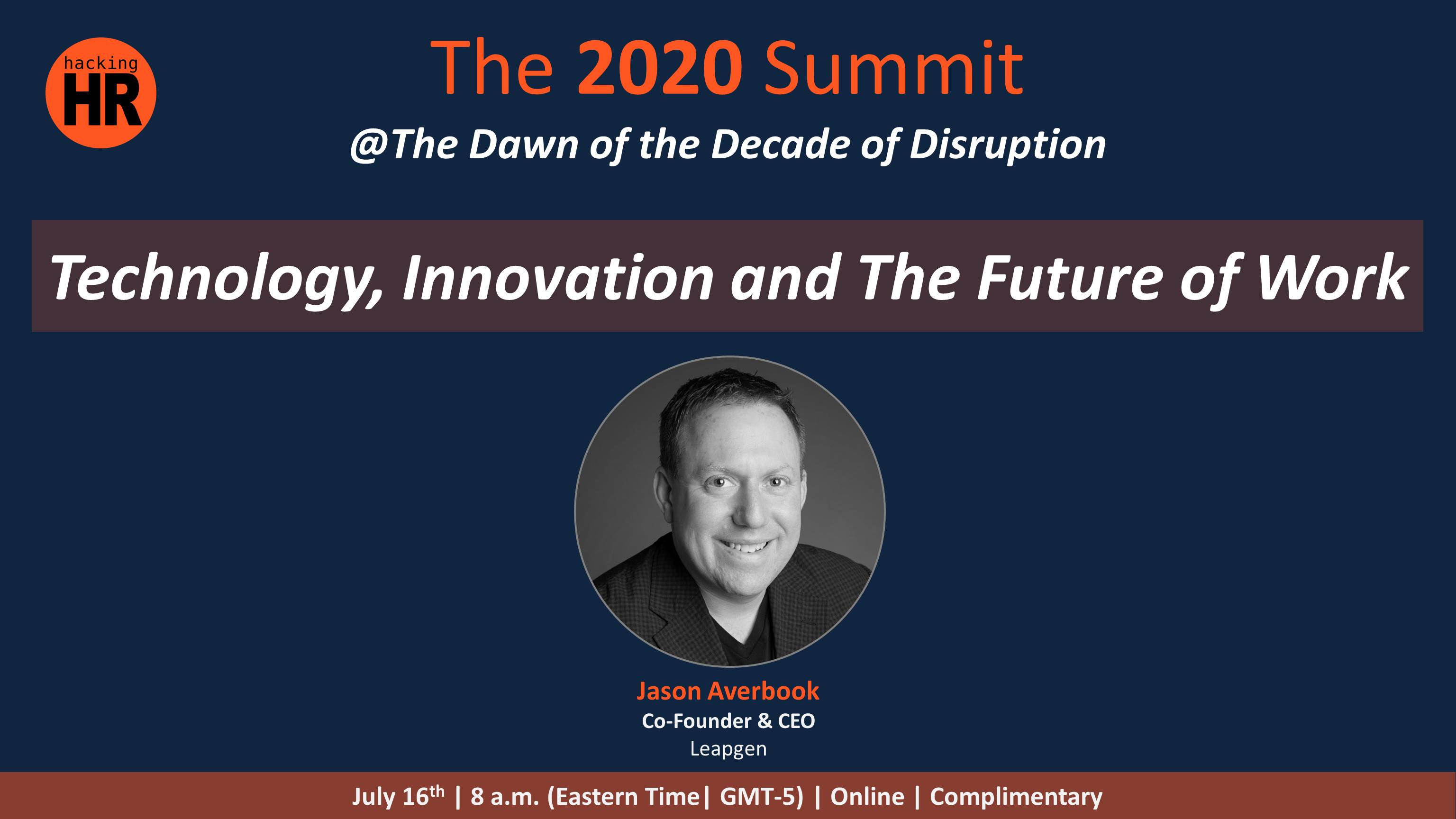 Jason Averbook
Jason Averbook is a leading analyst, thought leader and consultant in the area of human resources, the future of work and the impact technology have on that future. He is the Co-founder and CEO of Leapgen, a global consultancy helping organizations shape their future workplace by broadening executive mindset to rethink how to better design and deliver employee services that meet the expectations of the workforce and the needs of the business. Prior to founding Leapgen, Jason served as the CEO of The Marcus Buckingham Company (TMBC). In 2005, he co-founded Knowledge Infusion LLC and served as its CEO until 2012, when the company was sold to Appirio. Earlier in his career, he served as the Chief Business Innovation Officer at Appirio Inc., where he led the HCM business. He has also held senior leadership roles at PeopleSoft and Ceridian Corporation. Jason has more than 20 years of experience in the HR and technology industries and has collaborated with industry-leading companies in transforming their HR organizations into strategic partners.
---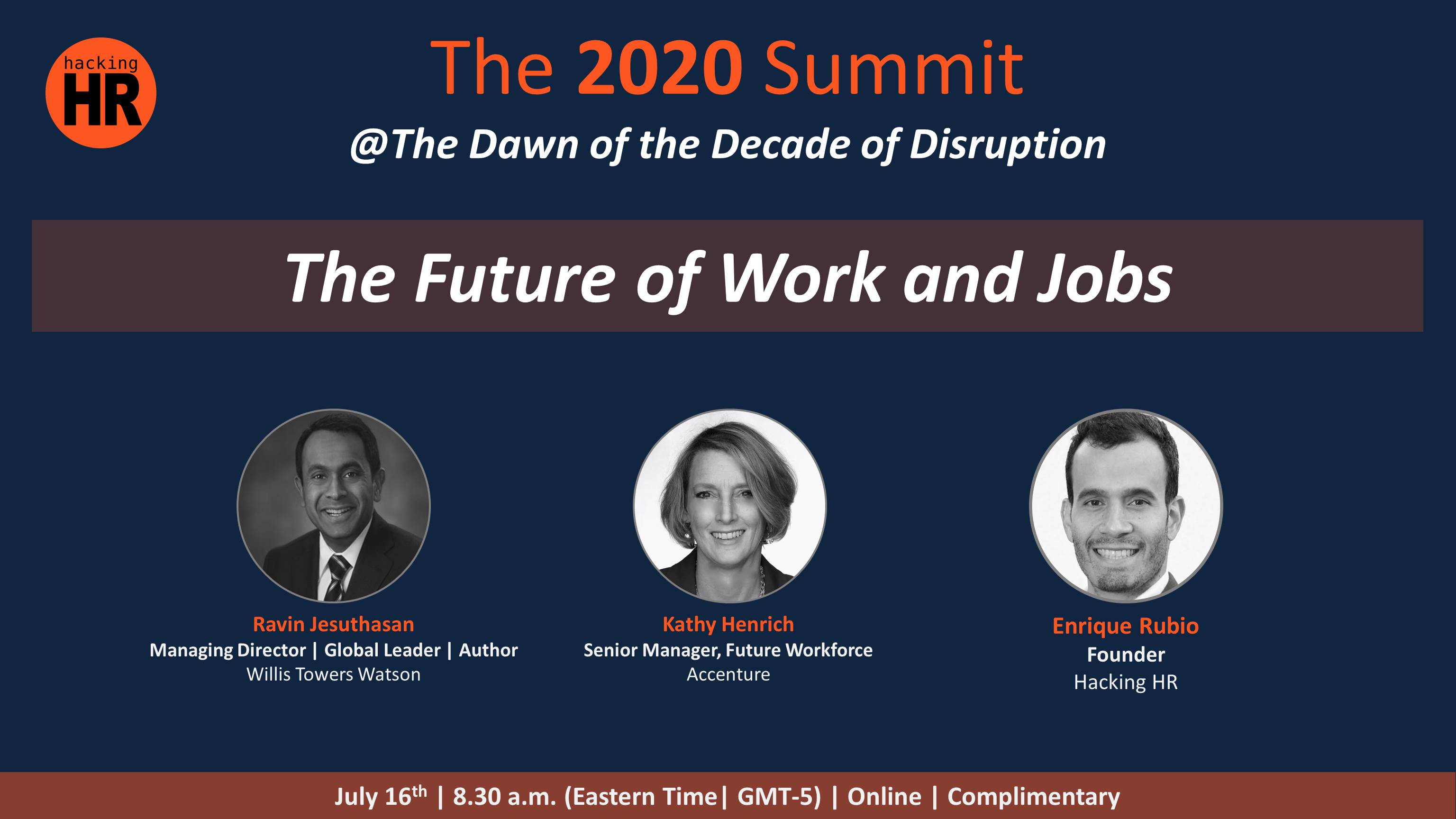 Ravin Jesuthasan
Ravin Jesuthasan is a recognized global thought leader on the future of work and human capital. Ravin was the lead partner for the World Economic Forum's ground breaking study; Shaping the Future Implications of Digital Media for Society. He has led numerous large-scale, global restructuring and transformation engagements for his clients. Ravin has been recognized as one of the top 25 most influential consultants in the world by Consulting Magazine. He is the author of Transformative HR and the recently released, Lead The Work: Navigating a World Beyond Employment and Reinventing Jobs. Ravin has authored over 40 articles including 6 for the Harvard Business Review and his article in the HR People and Strategy Journal entitled Performance Management as a Business Discipline received the 2014 Walker Award for the most original and valuable contribution to the HR profession.
Kathy Henrich
Kathy Henrich is a Senior Manager in Accenture's Talent & Organization practice. She has over 15 years of executive leadership experience delivering results by developing organizational capability. In 2017, Kathy pursued her Master's in talent development based on a need for talent re-skilling in the era of AI/automation. Kathy has spoken at over twenty events on the topic of the Future Workforce and led a Talent Pipeline initiative for a non-profit focused on AI as a means to economic competitiveness
Enrique Rubio
Enrique is an HR and Tech Evangelist and founder of Hacking HR. He came to the United States from Venezuela as a Fulbright Scholar. Prior to coming to the US, Enrique was the CEO at Management Consultants, a firmed specialized in Human Resources in Venezuela. Before Management Consultants, Enrique worked in the telecommunications sector as a Senior Project Engineer for Telefonica. He is also the cofounder of Cotopaxi, a recruitment platform focused on Latin America and the Caribbean. Enrique is a guest author in several blogs about innovation, management and human resources. Enrique is an Electronic Engineer with an Executive Master's in Public Administration from Maxwell School.
---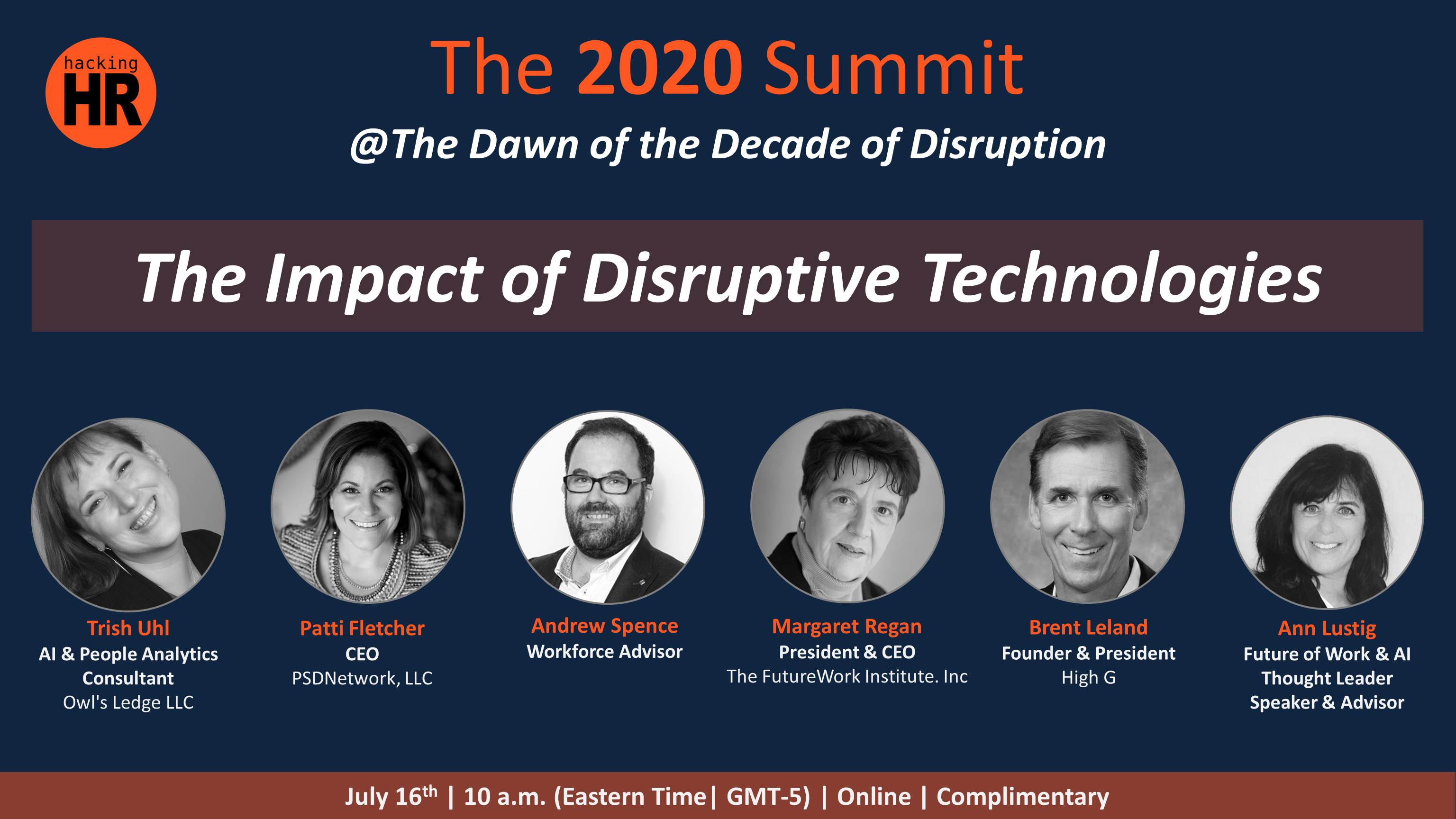 Trish Uhl
Trish Uhl, creator of the Learning Systems Engineering Framework™ and founder of the Talent & Learning Analytics Leadership Forum, works globally with learning leaders and business executives on transforming their organizations into Digital Workplaces and developing their people's digital fluency and dexterity. Trish's unique skillset combines data science, learning science, advanced analytics, artificial intelligence (AI), predictive modeling, ambient intelligence, voice UX, blockchain and emerging tech to promote positive people impact and deliver organizational performance.
Patti Fletcher
Dr. Patti Fletcher, author of best-selling Disrupters: Success Strategies From Women Who Break The Mold, is a seasoned tech executive, award-winning marketing and business influencer, board member, angel investor and keynote speaker. She has appeared on NASDAQ, Cheddar, Bloomberg, and Greater Boston among others. Patti writes for Entrepreneur.com, Inc., The Guardian, Forbes and The Digitalist. She works with SAP SuccessFactors as a Leadership Futurist focused the role of technology in the talent economy, and is currently Executive-in-Residence at Babson College WINLab and was formerly EIR at the Simmons College Entrepreneurship program. She lives in Boston.
Andrew Spence
Andy Spence is a human resources and workforce transformer with a mission to help develop better organizations. Founder of Glass Bead Consulting, he works at the intersection of technology, strategy, organizational change and HR. Long before Watson and Siri, Andy completed his masters in artificial intelligence and cognitive science. He has over 20 years of experience of innovative transformational change programs in banks, energy, health organizations, public sector, and retail. Andy is author of "Blockchain and the CHRO" and attempts to contribute to better organizations with his writing, research, speaking, coaching, and training.
Margaret Regan
Margaret Regan is the President and CEO of The FutureWork Institute, a global consulting firm that translates future trends to transform organizations. The Institute's focus is on helping clients achieve a MindShift, a HeartShift and a SkillShift in creating a more future-focused culture. As a futurist, Margaret brings to her keynotes and consulting assignments a perspective on the next 10 years and their implications for the workplace. Her keynote presentations, See the Future to Be the Future, are visual journeys into the next 10 years as ESIs and AI change the nature of how we work and serve clients.
Brent Leland
Brent Leland is the founder of High G, a boutique consulting firm focused on technology-enabled business transformation and chairs the advisory board of Advancing AI Wisconsin. Prior to his consulting career, Brent was the CIO of Trek Bicycle and earlier in his career held various business, engineering, and IT roles for Spectrum Brands (formerly Rayovac), Hewlett-Packard, Loral, and General Dynamics. Brent holds an MBA from Stanford and a BS in Aerospace Engineering from the University of Florida.
Ann Lustig
Ann is a thought leader and strategist, focusing on the future of the workforce and the impact of Artificial Intelligence, specifically within the HR function. As head of Technology Business Operations at both Standard & Poor's and Citi Alternative Investments, Ann brought together leadership, organizational planning, employee development, technology and data to lead the creation of effective solutions to organizational challenges. Ann is currently on the Advisory Board of Sproutlogix, a technology solutions company which focuses on aligning organizational objectives and employee goals through quantifiable and measurable results. Ann's recent articles focus on the future of HR and the workforce as well as the impact of AI, including discussions about optimization and the future of job descriptions, salary, employee retention, empowerment, continual feedback and recruiting.
---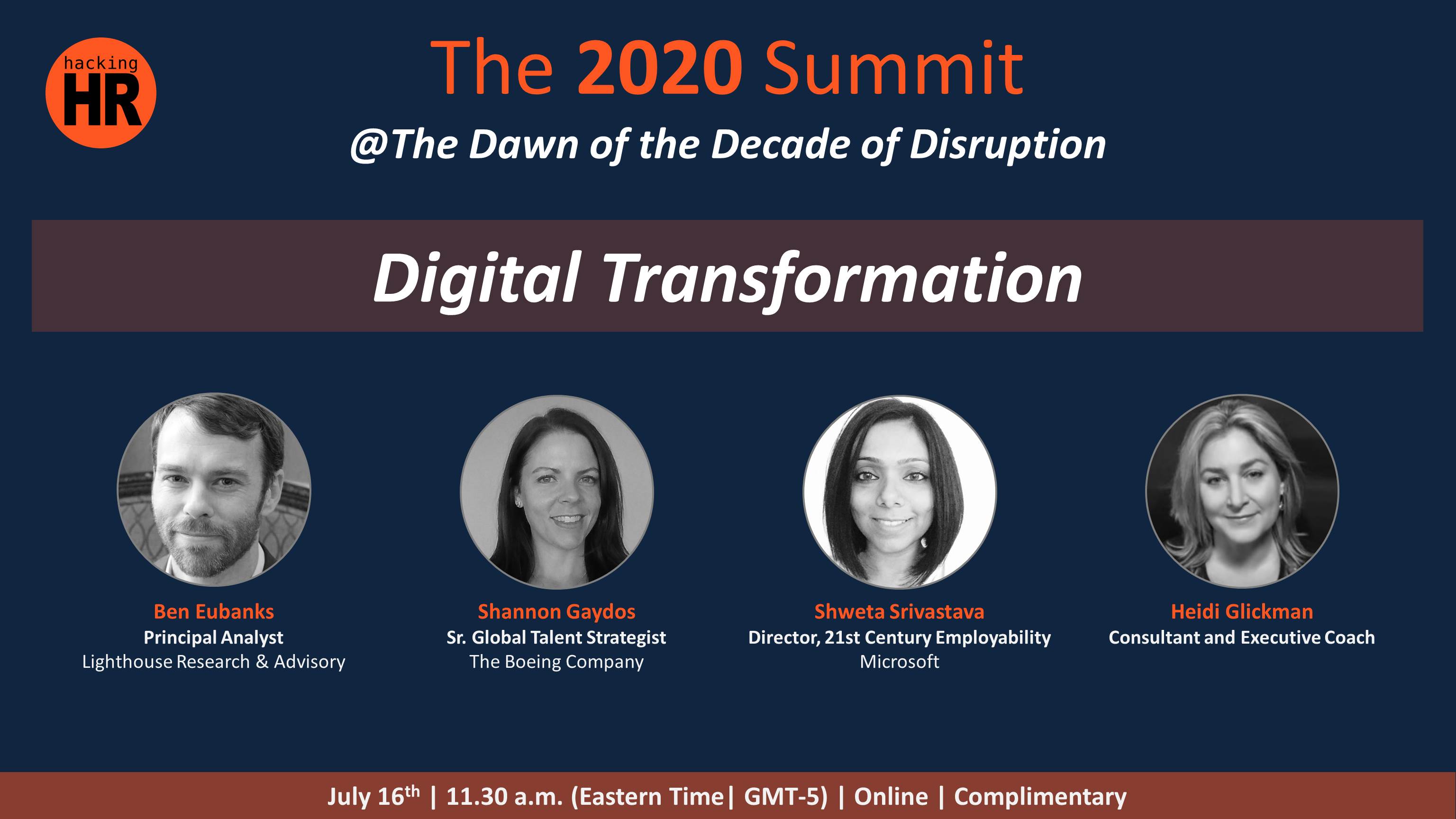 Ben Eubanks
Ben Eubanks is an author, speaker, and researcher based in Huntsville, Alabama. He is the author of Artificial Intelligence for HR, the first piece of in-depth published research on the topic.
Shannon Gaydos
Shannon Gaydos is a Fortune 50 talent strategist, writer and founder of The 2050 Project. She has led talent technology operations and strategic advisement within The Boeing Company, General Motors and Ally Financial. A self-proclaimed futurist, she writes and speaks on the future of work on LinkedIn, ERE Media and other forums. An avid traveler, she has visited over 65 countries and lived in Japan, Argentina and Chile.
Shweta Srivastava
Future of work strategist. Expertise across multiple industries and around the globe in designing, developing and implementing talent strategies in support of business and human resources transformation. Work experience includes internal roles at Microsoft, Cigna, Aditya Birla and Tata Motors. Shweta completed an MA in Economics at the University of Mumbai, and an MBA at the Asian Institute of Management.
Heidi Glickman
Heidi Glickman is an executive coach and strategic human capital consultant. Her practice focuses on enabling successful organization, team & individual transformation to drive value creation. Heidi has worked as both an external consultant, and as an internal leader across numerous industries and geographies in companies as diverse as Wal-Mart Stores; MassMutual Financial Group; IDEXX Laboratories the high growth veterinary diagnostics company; & Gogo the inflight internet company. Heidi has a PhD in Industrial/Organizational Psychology, SPHR, and SHRM-SCP.
---
Day 2 (July 17)
Building Strong Organizational Culture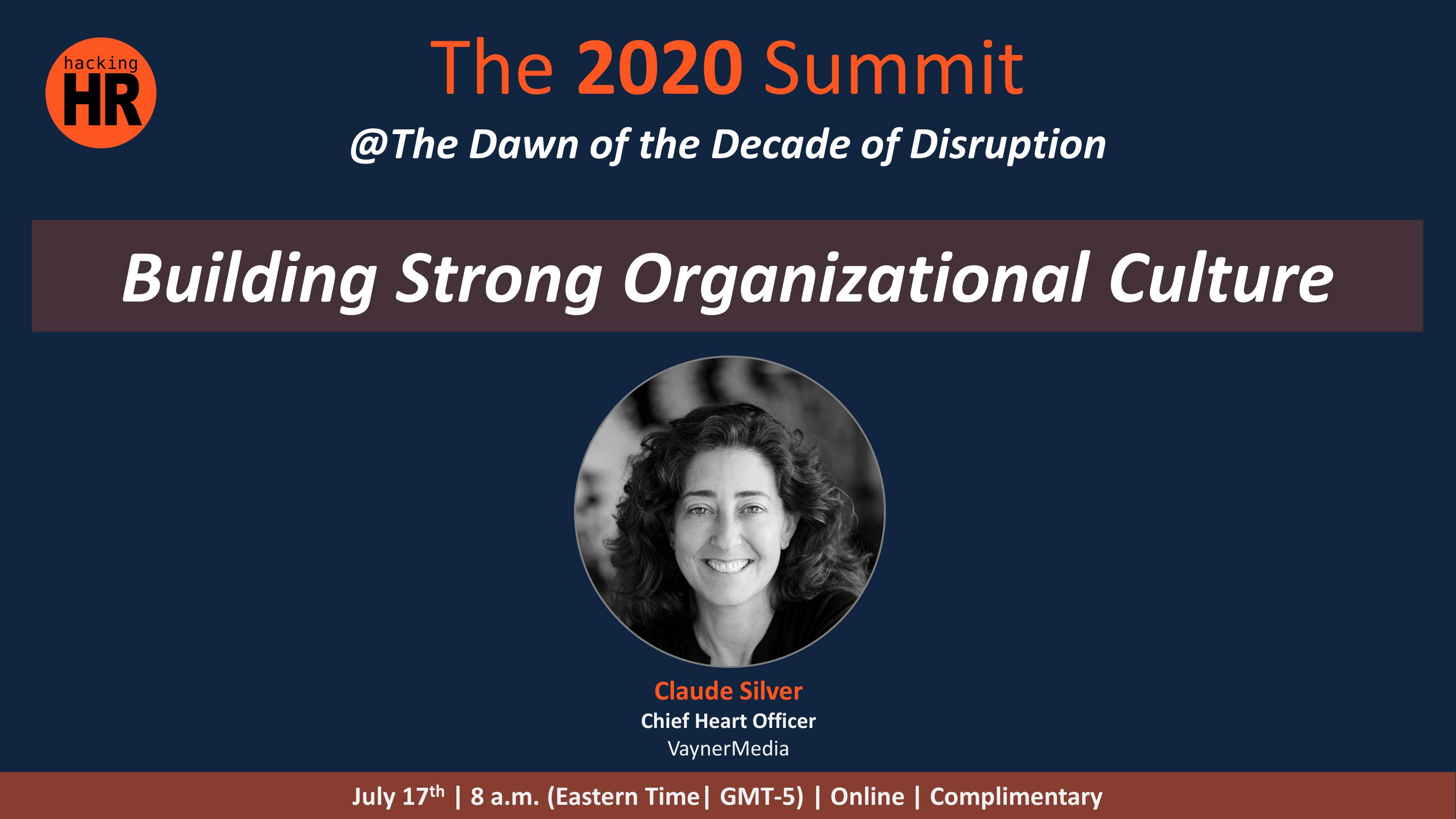 Claude Silver
As VaynerMedia's first Chief Heart Officer, Claude Silver unlocks employees' potential by forging human-to-human connection, creating cultures of belonging, empowers teams to be purpose-driven, efficient, and strong, and infuses the agency with empathy, humanity, and joy. Claude's unique perspective on servant leadership and team-building comes both from her training in Positive Psychology and her experience in talent management, leadership development, coaching, workplace culture, and people operations for over 800+ employees across VaynerX. She also founded and ran an outdoor adventure & surf company in San Francisco where she was in the cold Pacific Ocean coaching 250 days a year. Prior to VaynerMedia, Claude held leadership positions at Publicis London, J.Walter Thompson (London & San Francisco), and Organic San Francisco. She and her partner live in NYC and are expecting a baby girl in late October.
---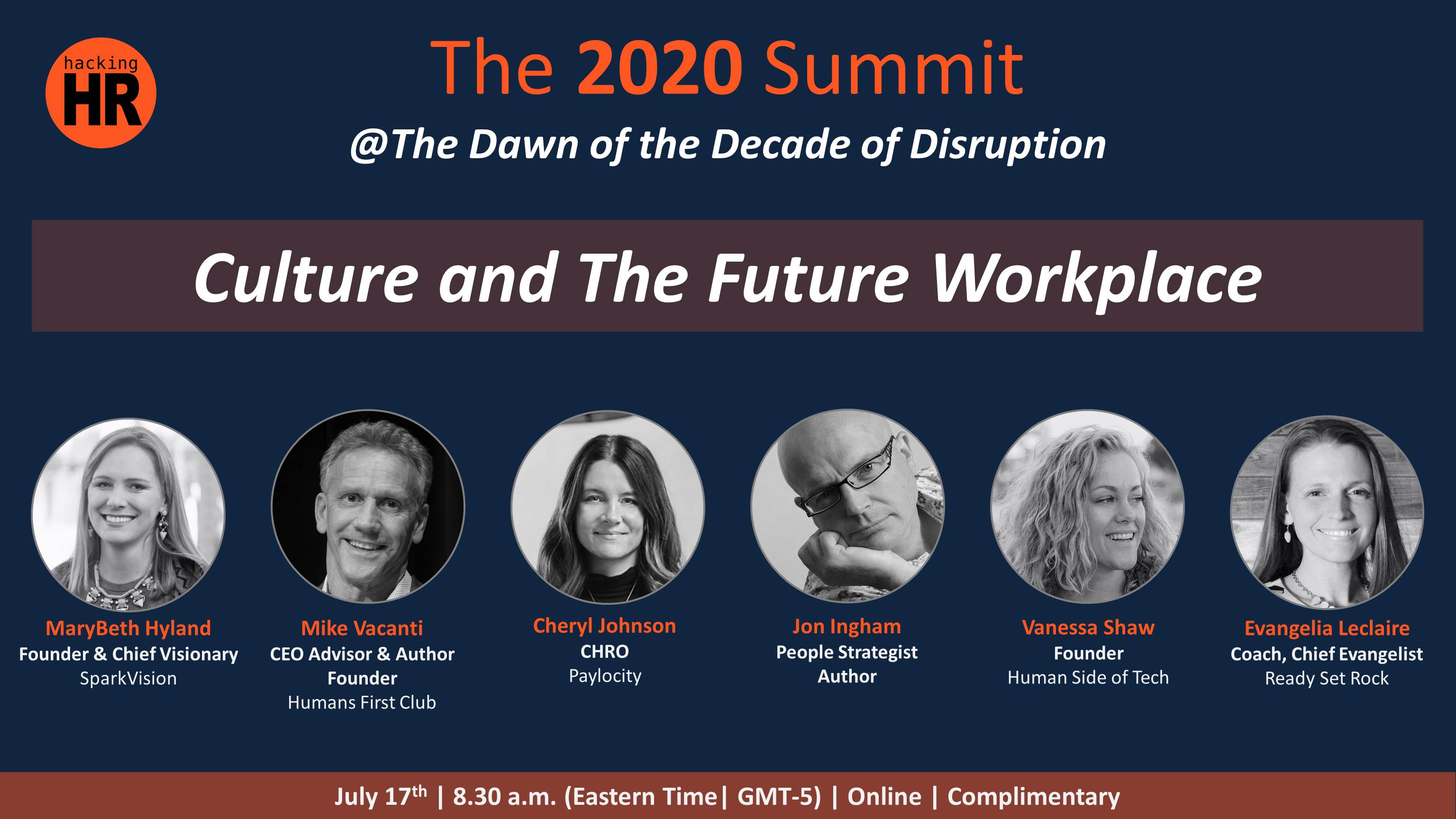 MaryBeth Hyland
MaryBeth Hyland believes when you connect people through purpose, there's no limit to what they can do. In 2015, MaryBeth left a high-profile Baltimore-based nonprofit career to find greater purpose in her work. Now, as the millennial founder of SparkVision, she is living her values every day by creating environments where people thrive. On a quest to become a bonafide cowgirl and retreat owner, she is living a life by design working with organizations and associations to create value-based cultures and programs, as well as penning her first book set to publish this year.
Mike Vacanti
Mike inspires people and companies to reach new levels of possibility through performance, leadership & culture transformation. The heart of any organization is People - People drive results. For decades, he thoughtfully led organizations through mergers and acquisitions, catapulted morale, helped people discover their potential, embrace a growth mindset and deliver results during significant change and growth. A Fortune 100 client says: "Mike is a master at helping people become their best, he listens and solves big challenges."
Cheryl Johnson
As Chief Human Resources Officer at Paylocity, Cheryl oversees strategy for people and human resources functions. She joined Paylocity in 2018 and brings with her over 17 years of HR experience in a variety of industries where she led strategies and initiatives related to attracting, retaining, and engaging talent and building culture. Cheryl most recently served as Chief HR Officer for Echo Global Logistics, a transportation and supply chain management organization. Prior to Echo, Cheryl guided the HR strategies of many well-known companies such as ULTA Beauty, Radio Flyer, Sears Holdings Corporation, and Fossil, Inc.
Jon Ingham
Jon provides insight and provocation enabling companies to innovate their people and organization strategies, better fitting the new digital world of work and also their own strategic needs. He has been a co-author with Dave Ulrich on the future of HR and is the author of 'The Social Organization'. In this, he suggests that businesses need to focus on the relationships between people (social capital) as the basis of competitive success. He is based in the UK but works globally.
Vanessa Shaw
Vanessa Shaw is the Founder of Human Side of Tech, and The Workplace Lab - the first of its kind design thinking online incubator and community for HR & Talent leaders to prototype and build new people practices. She supports leaders at companies like Lyft, Expedia, VISA, McDonalds and Tesla. Working across sectors, Vanessa has delivered culture and innovation trainings at GE Oil & Gas, Department of Defense and with multinationals in EMEA while living in Spain for four years.
Evangelia Leclaire
Evangelia Leclaire is a coach, trainer, and facilitator with 15+ years of people operations, working closely with executives and senior managers at fast-growing companies. Since 2005, she's helped over 15,000 professionals and companies build dream careers through one-one coaching, group programs, and workshops. Evangelia has a knack for asking soulful questions, and inspiring people to take action by leveraging systems and resources that drive results and build relationships. Most of all, she provides a custom-tailored approach to help you GROW through change and build a career that fuels your life dreams and doesn't compromise your well-being.
---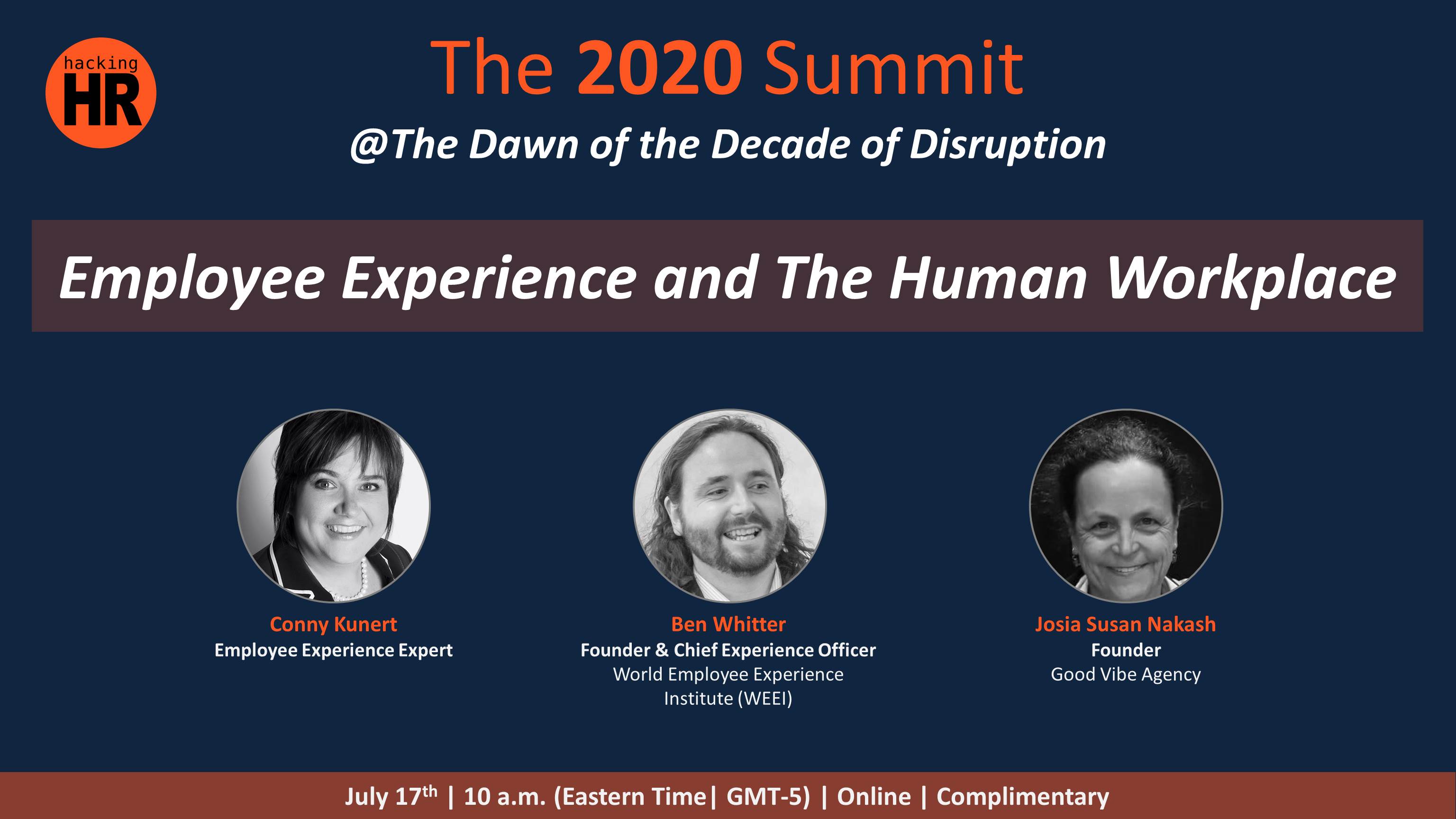 Conny Kunert
Passionate about people, the way we want to work and getting companies ready for the challenges they face to be attractive for top talents. Trusted mentor and respected sparring partner to the business - someone with the ability to create and implement effective strategies, processes, and programs designed to develop organizational capabilities and improve operational effectiveness. I empower companies to implement successful strategies for • Employee Experience, • Employee Engagement • People Analytics and I align businesses with people.
Ben Whitter
Ben Whitter is recognized as one of the World's leading authorities on employee experience. He is author of the new book, Employee Experience, and is the CEO/Founder of the World Employee Experience Institute (WEEI). Ben's thought leadership on EX has reached 16 million people and he has been featured by The Economist, Forbes, Thomson Reuters, MIT Sloan, CGTN, Deloitte University Press and HR publications worldwide. Ben chairs the UK's major EX events including the UK EX Awards and EX Forum.
Josia Nakash
Founder of the Good Vibe Agency
---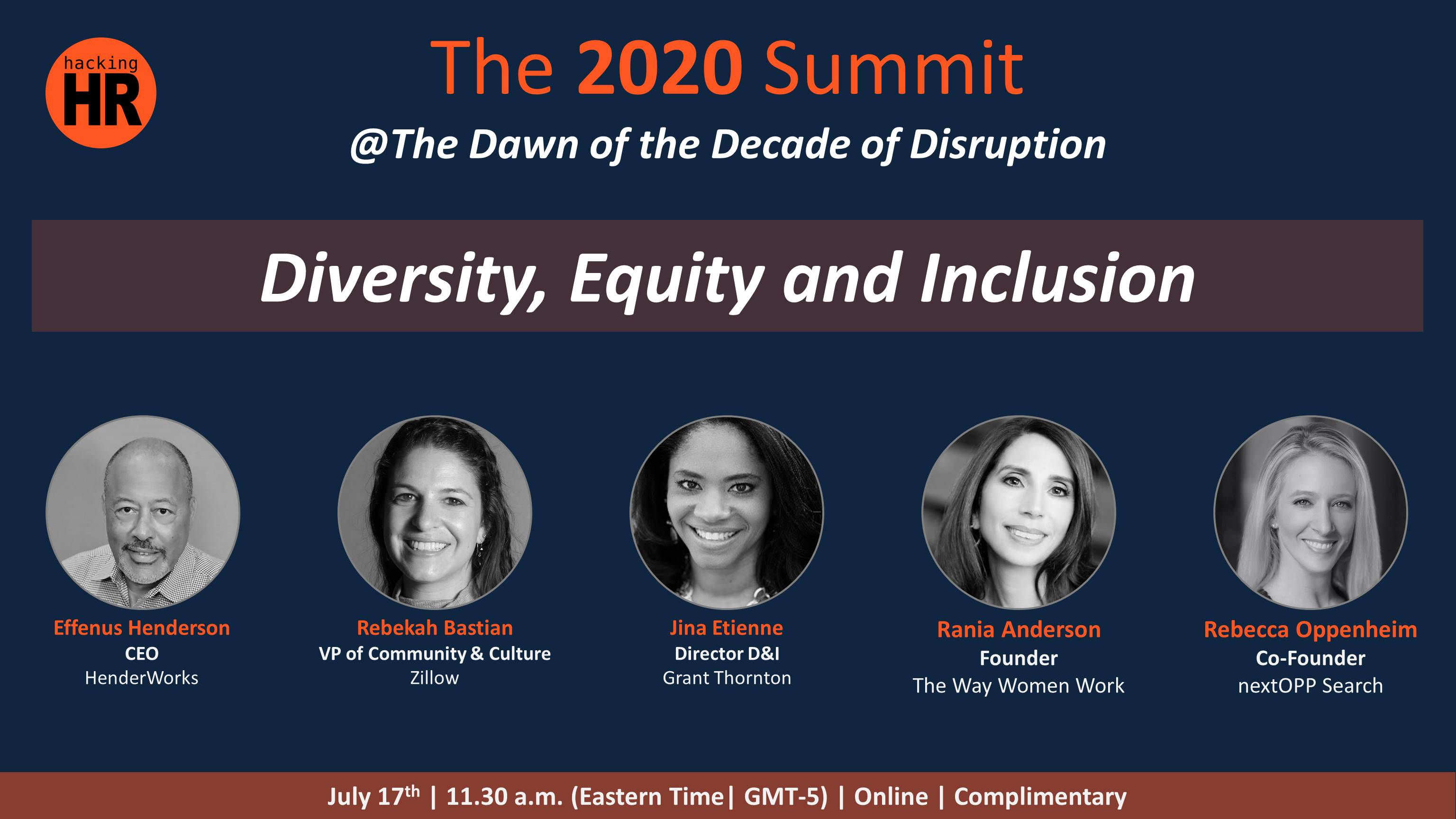 Effenus Henderson
Effenus Henderson is Co-Founder of Institute for Sustainable Diversity and Inclusion (www.i4sdi.org ) and President and CEO of HenderWorks, Inc. (www.henderworks.com). He served as Chief Diversity Officer for Weyerhaeuser Company, Federal Way. Effenus is an internationally recognized diversity thought leader. He has provided advisory support on diversity to the US Federal Government's EPA office, Office of Personnel Management, US Forest Service, State Department and the USDA. Effenus was named one of the top diversity officers in corporate America by Diversity Best Practices / Working Mother Media and received its first Diversity Officer Leadership Award in 2007 and was one of 100 Global Diversity Thought Leaders invited by the president of the Society of Human Resource. Management
Rebekah Bastian
Rebekah is VP of Community & Culture at Zillow, leading efforts around Equity & Belonging, Social Impact and Cultural Engagement. She serves on nonprofit boards, as an advisor to technology startups, and is a Forbes.com contributor. Her book, Blaze Your Own Trail, will be coming out in February 2020. Rebekah has been recognized in the PSBJ 40 Under 40 and the Female Founders Alliance Champion Awards. She is also a mentor, a mother to two boys and an aerial acrobat.
Jina Etienne
As Director – Diversity & Inclusion for Grant Thornton LLP (GT), Jina manages the firm's Diversity & Inclusion (D&I) team, responsible for developing and implementing GT's firm-wide D&I strategy. Before joining GT, she was Principal Consultant at EtiennePartners, a boutique consulting firm she co-founded with her husband. She is an author and speaker on diversity, inclusion & culture, small firm operations, practice management and tax ethics. Formerly President & CEO, National Association of Black Accountants, Inc. (NABA). Jina was responsible for strategic direction, stakeholder relationships and organizational priorities. Before joining NABA, she was Director – Taxation at AICPA. She was founder and Managing Member of Etienne & Associates, a boutique CPA firm. She began her accounting career in the tax department of at Touche Ross (now Deloitte).
Rania Anderson
Rania H. Anderson, is an international keynote speaker, author and executive business coach who transforms the way men and women work together. She is the author of WE: Men, Women and the Decisive Formula for Winning at Work and Undeterred: The Six Success Habits of Women in Emerging Economies.
Rebecca Oppenheim
Rebecca Oppenheim is the co-founder of nextOPP Search, a women-owned, B Corp Certified recruiting agency built on a one-for-one model. For every candidate hired, nextOPP donates career coaching services to a survivor of domestic violence working towards financial independence: Hire One Help One©. They specialize in recruiting top-tier talent for companies from early stage to Fortune 500 with a focus on building diverse and inclusive teams. Rebecca is passionate about empowering underrepresented groups is also a mentor with Backstage Capital.
---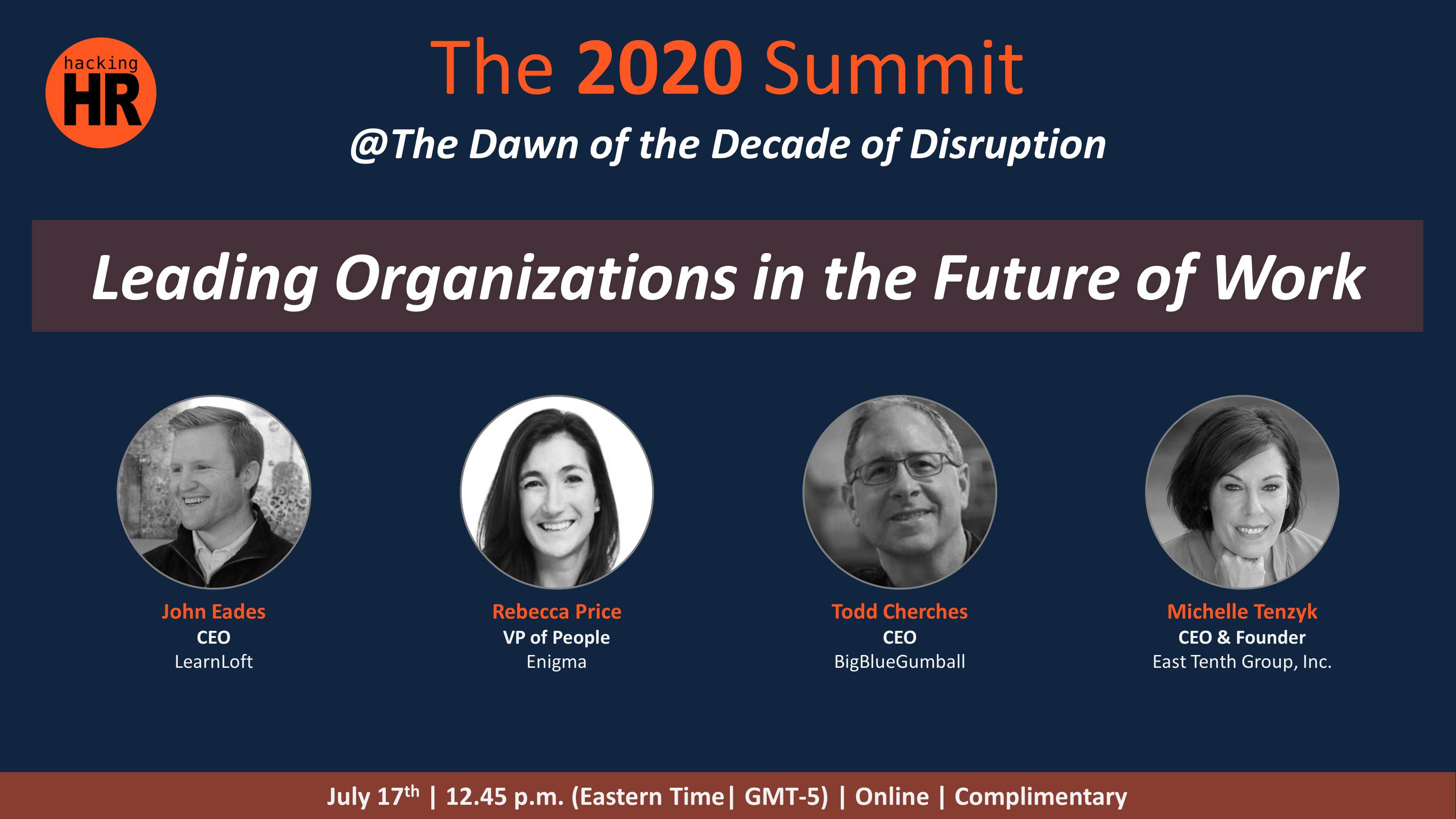 John Eades
John is the CEO of LearnLoft, a leadership development company that exists to turn managers into leaders and create healthier places to work. He is also the author of the upcoming book "Elevate Others" and host of the 'Follow My Lead' Podcast. He writes a weekly column on Inc.com and has been featured in LinkedIn Pulse, TrainingIndustry.com, eLearningIndustry.com, CNBC Money, and more.
Rebecca Price
Rebecca Price joined as Enigma's first Head of People in 2016 leads People Operations. She brings to the role extensive experience across multiple business units, regions, and all aspects of the HR function. Prior to Enigma, she was SVP of people at Sailthru, and previously spent nearly a decade at Johnson and Johnson Rebecca holds a bachelor's degree in psychology from the University of Pennsylvania and a graduate degree in organizational psychology from Columbia University.
Todd Cherches
Todd Cherches is the CEO and Co-founder of leadership consulting, training, and executive coaching firm BigBlueGumball, as well as an Adjunct Professor of leadership at NYU and a Lecturer on leadership at Columbia University. He is also a TEDx speaker ("The Power of Visual Thinking"), as well as the soon-to-be-published author of his first book, "VisuaLeadership: Leveraging the Power of Visual Thinking in Leadership and in Life" (Post Hill Press/Simon & Schuster, 2020).
Michelle Tenzyk
Michelle Tenzyk leverages her 25 years in business to bring insight, perspective, and experience to all aspects of leadership and people strategy. In her work with CEOs and senior executives, Michelle is known for her no-nonsense, direct approach which gets right to the core of a leader's issues. Michelle received her MBA in HR Mgmt & Systems from the Univ of Albany and earned her Executive Coaching Certificate at iCoach NY. She is a Board Director for dancker.