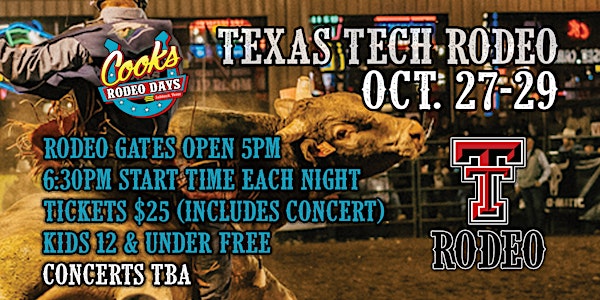 Texas Tech College Rodeo
ALL AGES
Cook's Garage, Rev Limit Customs and Texas Tech Rodeo
Texas Tech College Rodeo! SW Region Rodeo of The Year for 2021 and 2022!
When and where
Location
Cook's Garage 11002 Highway 87 Lubbock, TX
About this event
73rd Annual Intercollegiate Rodeo
October 27th, 28th, 29th (Performances @ 6:30 pm, Slack @ 9 am).
We were the 1st college rodeo to ever be broadcast on the Cowboy Channel and they will be back this year! All proceeds benefit the Texas Tech Rodeo team!
Texas Tech Rodeo includes 15 College teams in 10 rodeo events. Tickets are $25 and include the Texas Tech College Rodeo performance and the nightly concert. Rodeo begins at 6:30pm each night with gates at 5pm. The nightly concert will begin after the rodeo inside the Bus Barn. The concert time varies depending on the number of contestants and events for the day. Thursday Rodeo and Rodeo Revival is FREE! We have a clear bag policy. Once the concert begins you will not be allowed to leave and come back in. Kids 12 & under are free. Concerts TBA