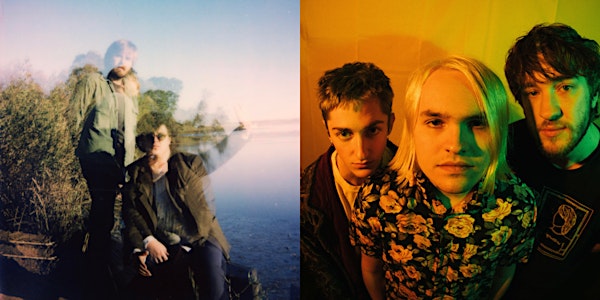 Tennis Courts + Sonic Blume - NEW SHOW TIME 8PM (Doors 7:30pm)
Performers
Tennis Courts, Sonic Blume
Location
The Evening Muse
3227 N. Davidson Street
Charlotte, NC 28205
2 great Indie Bands from NY/NJ
About this event
Tennis Courts
Based in Brooklyn, NY.
Tennis Courts is an indie-rock band led by songwriting duo Patrick Walsh and Andrew Clarke. The pair met while attending college in Charleston, South Carolina and began writing songs together soon after. Inspired by everything from indie rock bands of the 2000s to folk singers of the 1960s, the group spent their formative years developing their sound in a live setting. Along with former members Coleman Gould and Bryce Gothier, the band hit the scene in early 2019 and slowly but surely made a name for themselves as one of Charleston's most exciting up-and-coming bands.
The group's take on indie rock eventually caught the attention of producer and local legend, Mark Bryan of Hootie & The Blowfish. After sitting in on a practice at the band's rehearsal space, Mark invited to band to record at his home studio in Awendaw, SC. Recording began in March 2020 and was delayed duo to… obvious reasons. Nonetheless, Tennis Courts regrouped in August 2020 and set up a makeshift studio in Patrick's childhood bedroom, adamant to finish what they started 5 months earlier. Their debut EP 'Best Regards' was finally released in January 2021.
After spending the rest of the year hunkered down at home and writing songs, the band returned to the studio in the fall of 2021, this time with producer/engineer Matt Zutell (Susto, Easy Honey, 87 Nights) at Coast Records. Zutell helped Patrick and Clarke further improve their talents as songwriters and explore new sounds and sonic palettes, all while staying true to their indie roots.
After recording wrapped up at Coast Records, the duo packed up their things and relocated to Brooklyn, NY at the beginning of 2022. With a new EP and their first tour on the horizon, the band has big plans for the upcoming year. Whatever happens, Tennis Courts are showing no signs of stopping.
Max Connery, Danny Murray and Noah Sullivan met in high school after bonding over music from the likes of MGMT, DIIV, The Smiths, and My Bloody Valentine. They released their self-titled, debut EP in November of 2017, which quickly brought them local recognition. Within a few months, they were playing shows all over New Jersey and received local praise, press coverage, and an Asbury Park Music Award for "Best New Band under 21". The band finished writing and recording their second EP shortly after and released Beach Karma in July of 2018. Their Beach Karma EP brought the band larger recognition and was celebrated with college and international radio airtime. The EP was listed on You Don't Know Jersey's "Best NJ Records of 2018" list, and the band appeared on NJ.com's "Top Bands to Hear in 2019" and "Top Bands to Hear in 2020."
This forward momentum led Sonic Blume to signing with Asbury Park's new independent label Shore Points Records. Sonic Blume's 2021 debut album "We're Drifting Further Apart, Aren't We?" is a collection of songs which create a dreamy world of escapism. The album explores themes of longing, separation, and isolation—sentiments that have become universally understood among artists and live music fans through 2020 and 2021. The album's high-energy, vocal-centric performances layered with 80s drum machines are a creative leap forward from their previous two EPs. Sean Kayden of EARMILK writes that Sonic Blume have "created a dream-pop world of their own, where their melodic tendencies flow in the direction of an ethereal soundscape to bask within." He also added that Sonic Blume has "the languidness of early Wild Nothing, the cutesy synth-pop prowess of Craft Spells, and the jangly guitar melodies of Beach Fossils."
Since late 2021 and throughout 2022, Sonic Blume has been performing live promoting their debut album, supporting artists such as Joe P and Tor Miller. On Valentine's Day of 2022, they released their newest music video for their album track "Lovers," which they filmed and edited on their own as an homage to mid 2000s TV commercials and home footage.