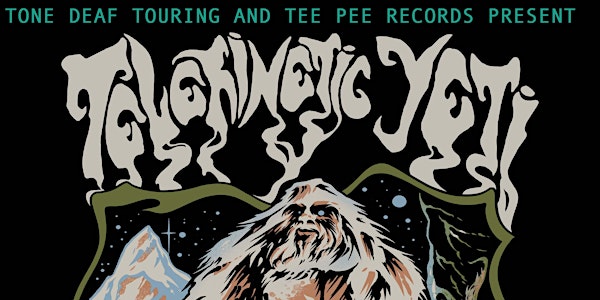 TELEKINETIC YETI, WHITE HILLS, COLD BLACK RIVER at the LYRIC ROOM
TOM JOHNSON PRODUCTIONS presents
Location
Lyric Room
231 N Broadway
Green Bay , WI 54303
About this event
TOM JOHNSON PRODUCTIONS presents
TELEKINETIC YETI, WHITE HILLS, COLD BLACK RIVER at the LYRIC ROOM on WEDNESDAY AUGUST 3rd!
7PM DOORS | 8PM SHOW
TICKETS: $18 ADV | $20 DOS - available to buy at Keggers Bar, Exclusive Company - Green Bay, Rock n Roll Land, at the door and on Eventbrite
21+ EVENT
ABOUT THE BANDS -
TELEKINETIC YETI - Based out of Iowa, Telekinetic Yeti is a two-man band that delivers sonic brutality melded with psychedelic doom wizardry, forged by the worship of the almighty riff and honed by relentless touring and dedication to their craft.
Creating music as cryptically enchanting as it is heavy, you wouldn't guess that the impressive cacophony pouring out of the speakers like molten, metal syrup is being produced by only two people. Founder and guitarist Alex Baumann explains, "Originally I decided not to have a bass player purely for logistical reasons, it was just another schedule to work around, another person who's boss could tell us we can't tour, but then I started seeing it as a challenge, like let's see how heavy we can make it with just two people."
That started grabbing peoples' attention. Relentless touring and playing pretty much any club that would have them, the band set sail on their epic voyage, selling their debut album Abominable out of their van and cutting their teeth in the underground playing hundreds of shows. All the while receiving rave reviews of their live performance as well as their first release, which landed at #2 on the doom charts and stayed right there for months. The Sludgelord called the eight-song album "a f***ing monster from start to finish," and The Obelisk, including the album in their year-end, best of list, dubbed it the "debut of the year," and said "it could have been another band's second or third record for the level of cohesion on display." The video for "Stoned and Feathered" quickly racked up a few hundred thousand views and counting. It was at this time that Telekinetic Yeti caught the attention of Ozzy Osbourne bass player, Blasko, who named Abominable on his "5 favorites" list. People were starting to catch on, and soon thereafter Telekinetic Yeti would be invited to tour extensively with some of the best heavy rock bands in the business, including Clutch, Black Label Society, Red Fang and Weedeater.
Now the band finds itself in a much different, auspicious position, and with the help of famed producer Phillip Cope (Baroness, Kylesa, Damad, Black Tusk et al), Telekinetic Yeti returns with their eagerly-anticipated, second full-length album, Primordial.
With this release, the band takes their game to a whole new level. Primordial explores themes as diverse as evolution, sorcery, black magic and the contradictions of the gloriously uplifting yet simultaneously melancholic human condition. "I wanted to write something that was an appropriate intro to the album, that brought to mind an early earth setting and featured atmospheric elements as well as some droning, sparse simplicity and lyrically, simple imagery regarding the dawn of humankind and creation of the first tools." explains Baumann of the title track.
As it unfolds, the album evolves into a cathartic exploration turning themes into tangible sounds and haunting fugues. Says Baumann regarding the inspiration behind "Beast": "This song is about wanting to escape the societal constraints that keep us on the wheel, toiling away, indefinitely. It's also about questioning authority figures, or really anyone that claims to have all the answers."
LISTEN TO TELEKINETIC YETI on SPOTIFY HERE. https://spoti.fi/3ab7qhB
WHITE HILLS - Hailed by Pitchfork for their "loud, exhilarating and unhinged" live performances, NYC's White Hills have garnered a cult reputation as a fierce, genre-bending band. The music made by core members Dave W. and Ego Sensation is risky and cutting edge, rooted in punk ethos and no-wave aesthetics. Their last album, Splintered Metal Sky, was hailed by The Quietus as the Best Psych Rock of 2020. The band will be releasing a new album in Fall 2022. White Hills appear as themselves in Jim Jarmusch's vampire romance Only Lovers Left Alive.
Website: https://whitehillsband.com
Bandcamp: https://whitehills.bandcamp.com/music
Facebook: https://www.facebook.com/WHITEHILLSBand/
Instagram: http://instagram.com/whitehillsmusic
Youtube: https://www.youtube.com/whitehillsband
Spotify: https://open.spotify.com/artist/0ttvGAnfEC6KZLrljUdIyXApple Music: https://music.apple.com/us/artist/white-hills/268360949
COLD BLACK RIVER -
YOU CAN'T STOP THE RIVER FROM RISING
The undertow is inescapable with Cold Black River's latest foray into the macabre.
Cold Black River pulls you down deep, holds you close, and doesn't let go, even after you stop kicking and submit. The hooks are real, the vocals immersive, and the driving doom draws you in. CBR swim in the vein of seminal influences like Alice in Chains and Clutch, submerging the audience in a mix of heavy riffs and haunting lyrics.
https://www.reverbnation.com/coldblackriver