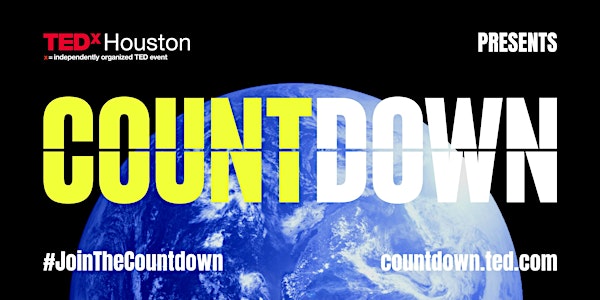 TEDxHOUSTON COUNTDOWN
TEDxHouston presents its first in-person Countdown event at POST on October 29, 2022,
When and where
Location
POST Houston 401 Franklin Street Houston, TX 77201
Refund Policy
Refunds up to 7 days before event
Eventbrite's fee is nonrefundable.
About this event
In the spirit of TED Countdown — a movement to champion and accelerate solutions to the climate crisis — TEDxHouston is hosting its first in-person Countdown event to spotlight innovators, advocates, and artists at the forefront of energy, sustainability, built environment, and environmental justice. 200 attendees and participants will enjoy talks from sustainability thought leaders like Jeff Carlson, Founder of RioRaiz; Moji Karimi, Co-Founder of Cemvita Factory; Maria Burgos, Founder of Trendy Seconds; and Eric Rubenstein, Founding Managing Director of New Climate Ventures. TEDxers will be able to enjoy cultural exhibits throughout POST with works aimed to evoke responses to our changing climate from designers and artists including Mel Chin, Luis Berrios Negron, and architect Juan Jose Castellon. The day will conclude with a celebration in POST's "X" Atrium that is free and open to the public!
"TED's global community is rallying to cut greenhouse gas emissions in half by 2030 in the race to achieve a world that is safer, cleaner and fairer for everyone. In light of the growing support for this in the U.S.—and especially in our region, where catastrophic weather-related events like Hurricane Harvey and Winter Storm Uri seem to occur almost every year, now—it is important for the public to understand how innovation, policy, and community-driven problem solving can work in tandem to tackle this incredible challenge. This is why we're excited to bring TEDxHouston Countdown to POST, certified LEED Gold by the U.S. Green Building Council, on October 29: We'll weave thoughtful talks, inclusive discussion, cultural exhibits, and inspiring entertainment together to engage Houstonians in these issues and hopefully inspire them to embrace how 'being the change' can, and must, start at home," said Grace Rodriguez, TEDxHouston Curator and CEO/Executive Director of Impact Hub Houston.
TEDxHouston Countdown 2022 will take place at POST, 401 Franklin in Downtown Houston, on October 29 from 9:00am to 1:30pm. Seating is limited and your registration includes beverage service, a light lunch, and interactivities throughout the day!
Sponsoring and/or Donating to TEDxHouston
Your support for TEDxHouston inspires and empowers our community to achieve amazing things. Thanks to fiscal sponsorship through Impact Hub Houston, your donations are tax-deductible so your financial support can go even further! To sponsor TEDxHouston Countdown, view our Partnership Deck (http://bit.ly/tedxhoustoncountdownsponsorship) and contact Grace Rodriguez at me[at]gracerodriguez.com for next steps. If you make a donation larger than $250 (above all registration fees), we can provide you with a tax receipt in accordance with IRS guidelines.
About TEDx, x = independently organized event
In the spirit of ideas worth spreading, TEDx is a program of local, self-organized events that bring people together to share a TED-like experience. At a TEDx event, TED Talks video and live speakers combine to spark deep discussion and connection. These local, self-organized events are branded TEDx, where x = independently organized TED event. The TED Conference provides general guidance for the TEDx program, but individual TEDx events are self-organized. (Subject to certain rules and regulations.)
About TEDxHouston
TEDxHouston launched its first event in 2010 to shine a spotlight on some of Houston's most interesting and inspiring "Ideas Worth Spreading," with talks from stellar speakers including Brené Brown discussing vulnerability, Dan Phillips sharing how he builds creative and sustainable homes, and David Eagleman inviting people to become a "Possibilian." Since then, it has hosted 30 events featuring over 120 Houston innovators, creatives, scientists, artists, and performers on stage, and bringing thousands of attendees and volunteers from the Greater Houston area together for a day of enlightening experiences and deeper connection. For more information, visit https://TEDxHouston.com.
About TED
TED is a nonprofit organization devoted to Ideas Worth Spreading, often in the form of short talks delivered by leading thinkers and doers. Many of these talks are given at TED conferences, intimate TED Salons and thousands of independently organized TEDx events around the world. Videos of these talks are made available, free, on TED.com and other platforms. Audio versions of TED Talks are published to TED Talks Daily, available on all podcast platforms.
About Impact Hub Houston
Impact Hub Houston is a locally rooted, globally connected, 501c3 nonprofit organization that inspires, connects and empowers people working to solve problems in our city and around the world…especially those that impact historically marginalized and/or disadvantaged communities. Working alongside 107+ Impact Hubs in over 64 countries around the globe—the world's largest community recognized by the United Nations for accelerating entrepreneurial solutions towards measurable and scalable impact for the Sustainable Development Goals (SDGs)—Impact Hub Houston works with intention to build inclusive innovation ecosystems and equitably empower diverse changemakers, entrepreneurs, and innovators to create the impact they wish to see for a more just and sustainable world.
About POST
Recently awarded USGBC LEED Gold status, POST is one of the most sustainable large commercial projects in Houston. POST is located at 401 Franklin Street next to the famed Buffalo Bayou and is home to Blackwood SkyFarm, 713 Music Hall, and numerous diverse local restaurants and businesses. For more information visit PostHTX.com.