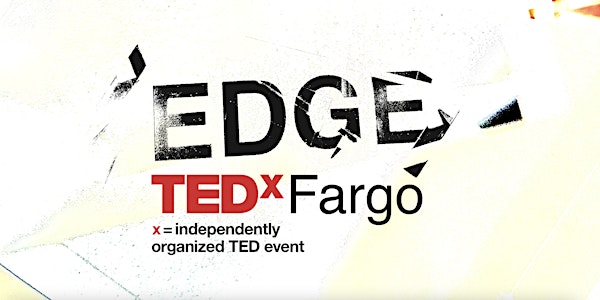 TEDxFargo EDGE
Join us for "ideas worth spreading" on July 20, 2023.
Date and time
Thursday, July 20 · 8am - 5pm CDT
Location
Fargo Civic Center 207 4th Street North Fargo, ND 58102
Refund Policy
Contact the organizer to request a refund.
Eventbrite's fee is nonrefundable.
About this event
Going to the edge gives you experiences. Experiences give you ideas. Ideas change the world.
Why do some people thrive on the edge while it scares others?
At TEDxFargo EDGE, we will explore this question as we challenge your perception of the uncomfortable, the safe, the new, and the different and guide you to see ideas through other lenses.
TEDxFargo focuses on engaging attendees in a world-class experience by showcasing the best of our community. Everyone's experiences and perceptions are unique but just as true as your own. Join us as we embark on a journey to embrace our differences and meet each other at the edge to share our experiences and ideas.
SPEAKERS:
You can explore our speakers and find additional information on the TEDxFargo website here.
GROUP TICKETS:
If you are interested in purchasing group tickets, please contact Natalie Lemnus at nataliel@emergingprairie.com.
SPONSOR:
If you are interested in sponsoring TEDxFargo, please contact Natalie Lemnus at nataliel@emergingprairie.com.
ABOUT TEDxFargo
In the spirit of ideas worth spreading, TED has created a program called TEDx. TEDx is a program of local, self-organized events that bring people together to share a TED-like experience. Our event is called TEDxFargo, where x = independently organized TED event. At our TEDxFargo event, TEDTalks video and live speakers will combine to spark deep discussion and connection in a small group. The TED Conference provides general guidance for the TEDx program, but individual TEDx events, including ours, are self-organized.
ABOUT TED
TED is a nonprofit organization devoted to Ideas Worth Spreading. Started as a four-day conference in California 30 years ago, TED has grown to support its mission with multiple initiatives. The two annual TED Conferences invite the world's leading thinkers and doers to speak for 18 minutes or less. Many of these talks are then made available, free, at TED.com. TED speakers have included Bill Gates, Jane Goodall, Elizabeth Gilbert, Sir Richard Branson, Nandan Nilekani, Philippe Starck, Ngozi Okonjo-Iweala, Sal Khan and Daniel Kahneman.