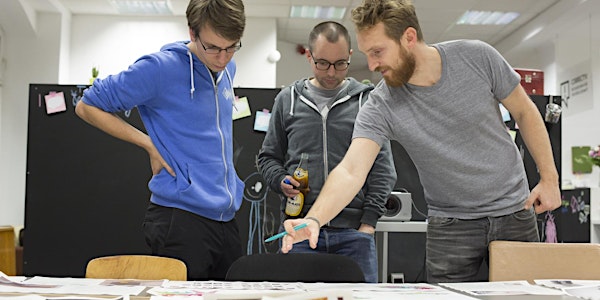 TechRaking Berlin 16
When and where
Location
CORRECTIV Singerstraße 109 10179 Berlin Germany
Description
TechRacking in Berlin
An event for creative & investigative journalists, designers & technologists organized by The Center for Investigative Reporting and CORRECTIV, in partnership with the Google News Lab.
What is it about?
For the first time since the collapse of the Soviet Union, European unity hangs in the balance. Accelerating political, humanitarian and economic forces are fracturing the foundation of peace and stability for the continent. As populist movements push rhetoric to the extremes, the spectre of nationalism stalks the principles of open borders and open dialogue. For a generation of Europeans coming of age with limited opportunities and increasing inequality the potential impact of this storm is hard to imagine.
Into this fray, journalists are working to uncover critical stories and provide fact based information and insights to citizens. The challenges they confront are extraordinary. There is less money for deep reporting while media consumption continues to evolve rapidly.
The rise of mobile phones and ubiquitous connectivity are also changing the game for reporters. In some cases subjects can document their own plight and share their narratives over social networks and reach millions. Government and corporate players have also gotten smarter about controlling the flow of information. TechRaking Berlin 16 will explore these converging forces in Europe and examine the ways journalists have responded in their coverage, methodologies, and engagement with the public. We will dissect innovative approaches to bridging language and cultural divides in bringing important stories to the light. We will also highlight surprising examples of reporters and communities connecting in unexpected ways.
TechRaking Berlin 16 Challenge
We would like to develop a solution for journalists to connect the dots between the complex forces driving the state of Europe in ways that help communities engage with fact based reporting and information. The solution can be technological, network, story-based or design in nature.
Projects may take the form of technology, apps, a network initiative or editorial collaboration. Teams have the freedom to imagine totally unique approaches.
TechRaking is an event series that brings journalists, designers, technologists and artists together to develop solutions for public service journalism. TechRaking is part conference and part design sprint that challenges participants to think differently about new ways for journalism to serve the public. TechRaking is a place to network, connect and create if you are a reporter, editor, designer, technologist or artist. Hacks&Hackers meets Hackathon.
TechRaking is produced by The Center for Investigative Reporting, in partnership with the Google News Lab. For TechRaking in Berlin the non-profit newsroom CORRECTIV is the local partner.
When and where?
TechRaking Berlin 16 will begin with a casual gathering on April 29th in Berlin (Cafe Nest, Görlitzer Str. 52, Berlin-Kreuzberg). Over beers and good food we will get to know each other and discuss the premise for the event. On April 30th, we start in CORRECTIV's office (Singerstr. 109, Berlin-Mitte) at 9:30. Attendees will participate in a morning of panels exploring the issues for TechRaking Berlin 16 before breaking into teams to participate in the Challenge. Coaches will engage with teams as they develop solutions and create their pitches. We will hear about the team projects throughout the day before the coaches judge a winner. TechRaking winning concepts are then developed by The Center for Investigative Reporting, CORRECTIV and participants as community centered open source solutions for journalists everywhere.
Who can participate?
Journalists
Producers
Designers
Coders
Artists
Policymakers
NGOs
STUDENTS!
Language
English
Agenda
April 29th
19:00-22:00 Casual Meet Up and Introductions
April 30th
8:00-9:30 Registration and Coffee
9:30-10:00 Welcomes and Orientation
CIR; Correctiv; Google NewsLab
10:00-10:40 Panel 1
10:45-11:00 Speed Round: Fader Project
11.00:-11:40 Panel 2
11:45-12:00 Challenge Description
12:00-13:00 Team Formation over lunch
13:00-15:00 Design Team work Round 1
15:00-15:30 Round 1 Review
15:30-17:00 Design Team Round 2
17:00-18:00 Project Presentations and Winners announced
Contact
Tel: +49 (0) 30 – 555 780 20
HOTELS:
Berlin has got a lot of Hotels.
You can get information here: bit.ly/1QID9CE
Near Singerstr.109 (Berlin-Mitte) you can find the following:
- Parkhotel Berlin Alexanderplatz / http://www.parkinn-berlin.de/
- Hostel Singerstr. 109 / http://www.singer109.com/
- Pegasus Hostel / http://www.pegasushostel.de/