About this Event
Join us August 13-14 for the 2020 Technovation World Summit (formerly known as World Pitch), an opportunity for girls, families, and industry experts from all over the world who are using technology to solve big problems. Learn more about AI, mobile app development, and creative problem solving and join our global community!
**Note: In order to attend any of the World Summit events, you must first register on this page and then follow the steps to activate your Pathable account. Log into your Pathable account in advance of any event you wish to attend.**
During World Summit you will have the chance to interact with Technovation Families and Technovation Girls finalist teams, regional winners, student and program ambassadors, Technovation judges and mentors, and industry leaders from all over the world.
Don't miss our workshops hosted by leading tech companies on:
AI and machine learning
Marketing and branding
Voice recognition software
Hardware tutorials to help you create your own technology prototype
If you are under 18 years of age, please complete your registration while you are with a parent or guardian.
Check out the schedule of events below for both days of #WorldSummit2020, August 13-14! Find more information on each event and speakers on the Agenda in your Pathable account.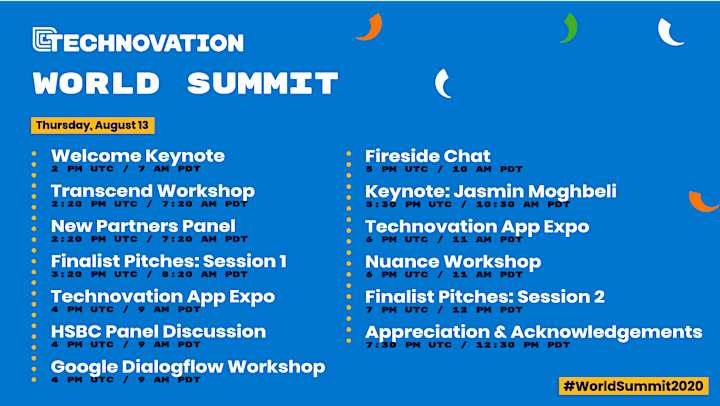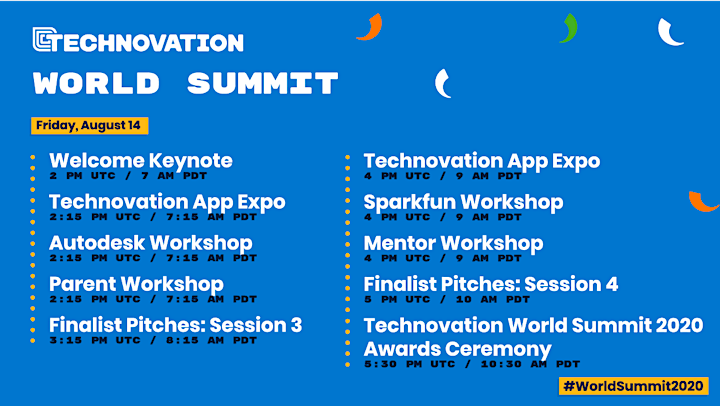 Signature Sponsor
HSBC