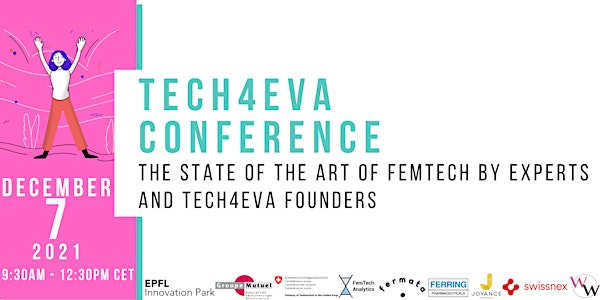 Tech4Eva Conference
Tech4Eva Conference - The State of the Art of Femtech by Experts & Tech4Eva Founders
About this event
To join the Tech4Eva conference live:
Join the Zoom Meeting below:
https://us02web.zoom.us/j/85453549789?pwd=QkVUWU9rRWFPem1Mb3JFRnE5amhFZz09
Meeting ID: 854 5354 9789
Passcode: 945331
Women's health and wellbeing deserves more attention and investment: Of the nearly $42 billion the National Institutes of Health (NIH) spends in the US on medical research each year, only approximately $5 billion is directed specifically at women's health.
Furthermore, even though the market opportunity for the Femtech sector is expected to reach $1+ Trillion by 2027 (Crunchbase/Femtech Focus), it still only receives 2.3% of venture investments, undercutting the opportunities for innovative tech solutions reaching the market.
The lack of awareness, research, investment and support in the development of disruptive solutions for women's health undermines effective prevention, diagnosis and treatment for women, and overall wellbeing and productivity of the society.
This is why on December 7th, the first conference of Tech4Eva - the first Swiss Femtech Conference is organized in Lausanne to accelerate the Femtech development in Switzerland and across the world. The conference is bringing together stakeholders, entrepreneurs, innovators, academic researchers, as well as ecosystem builders to discuss the current and the future of technologies for women's health.
Audrey Tsang, the keynote speaker who is the Co-CEO, of CLUE by Biowink, the company which is credited as having coined the term "Femtech", will share the inspiring journey of the company established in Germany in 2013. CLUE has developed a period tracking app to empower women and people with cycles with the science, data and technology needed to make informed choices about their lives.
Why should you attend?
Gain knowledge on the latest trends advancing women's health from the leading innovators
Find Femtech solutions, investment and partnership opportunities.
Expand your research and Femtech business network.
Discover and meet Tech4Eva's Growth stage Start-ups.
Be inspired to create tomorrow's innovative solutions!
*Don't miss the Tech4Eva morning event to connect, get insights about the industry and network! The event will now be fully online in light of the latest covid situation and restrictions.
Register here for Tech4Eva morning conference: https://www.eventbrite.com/e/tech4eva-conference-tickets-190377804137
Afternoon Program: 13:30 - 16:30 pm CET
Meet all the Tech4Eva start-up founders pitching at Swiss Accelerators' Showcase that same afternoon on Dec 7 to get to know the latest development of Femtech around the world! In addition, you have the opportunity to get to know over 40 other high tech start-ups of incubators and accelerators from different parts of Switzerland and network with them on a 3D immersive platform.
Swiss Accelerators' Showcase is an annual event organized by EPFL Innovation Park's incubator la Forge, a unique opportunity for worldwide investors, business partners, start-ups founders and corporate innovation enthusiasts to meet and to foster partnership and investment. This year, the participating organizations include: La Forge (Lausanne), ETH Center for Innovation and Entrepreneurship (Zurich), Geneus (Geneva), Bluelion (Zurich), Dayone (Basel) and Tech4Eva (Lausanne).
More info here about the afternoon program: https://swissacceleratorsshowcase.ch/
Want to see how it looks like? Look at the 3D event from last year: https://bit.ly/SASLIVE2020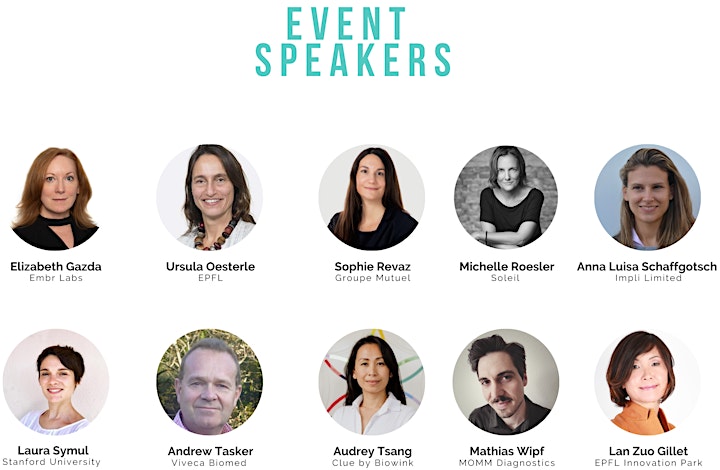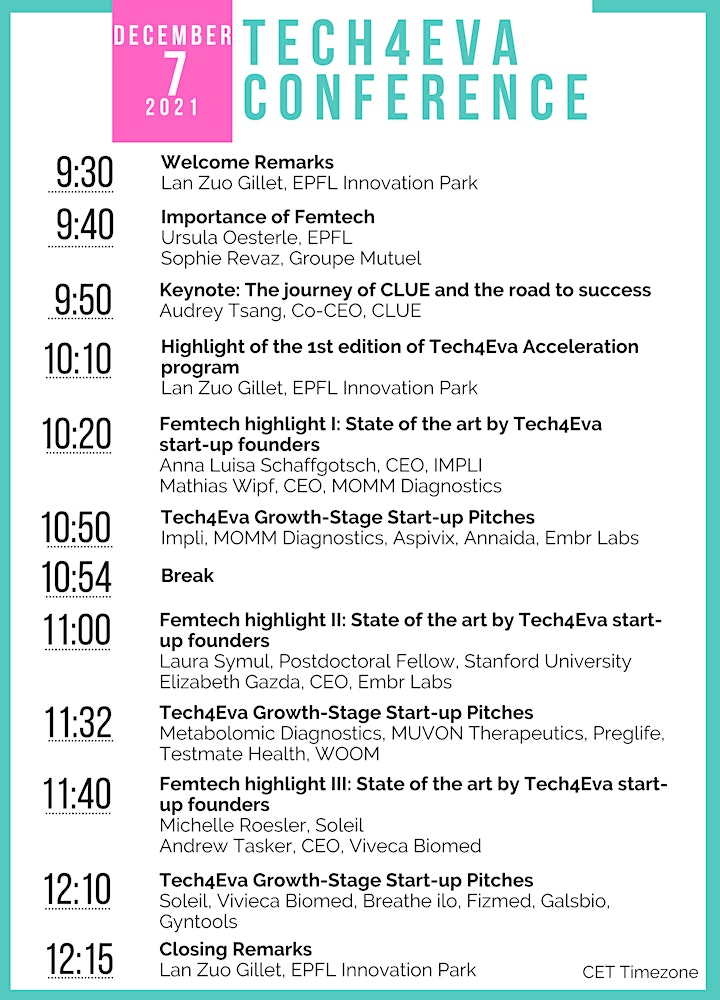 Femtech Highlights by Start-up Founders:
1. Bridging the inefficiencies of IVF treatment – Anna Luisa Schaffgotsch, CEO, IMPLI
Currently, monitoring the hormone blood serum levels and promoting the use of ultrasounds to understand follicle size is the common standard in IVF clinics. The average woman of 38 years undergoing treatment required 5.5 cycles for success. Through this talk, explore and learn how we can bridge this disconnect and how improved monitoring and data collection can increase the safety of women undergoing treatment through advanced analytics and predictive algorithms.
2. Streamlining Point of Care Diagnostics & trends – Mathias Wipf, CEO, MOMM Diagnostics
The current pandemic demonstrates the need for rapid and decentralized diagnostics, and it also points out the current limitation of Point-Of-Care (POC) testing. POC diagnostics aim to streamline the diagnosis of disease by enabling doctors and patients to identify a condition within minutes, when and where they choose. This talk will address the current trends in connected Rapid diagnostic tests (RDTs), which promises better access to diagnostics and an improved patient care pathway. This promise will be explored and challenges in realizing the potential of RDTs to improve today's health systems will be discussed.
3. How host reproductive status shapes the vaginal ecosystem – Laura Symul, Postdoctoral Fellow, Stanford University
The absence of Lactobacillus dominance in vaginal microbiota (VM) is associated with health issues such as an increased risk of preterm birth, higher susceptibility to sexually transmissible infections, or painful menstruations. While menses have been identified as a VM disruptor and pregnant subjects were shown to have a more stable microbiota than non-pregnant subjects, the impact of the hormonal milieu on the VM and the mechanisms driving changes in VM composition are still poorly understood. This talk will emphasize collected data results showing that the host's reproductive status and associated hormonal changes shape the vaginal ecosystem.
4. Impact of Menopause in the workplace – Elizabeth Gazda, CEO, Embr Labs
By 2025, there will be 1.1B women in menopause worldwide, and by 2030, women will occupy 70% of the working population. At the same time, 80% say that menopausal symptoms interfere with their daily life, and 50% say it has made work difficult or even untenable. This talk will explore these trends and how to ensure menopausal women can thrive at work.
5. Trends in psychological well-being and women's health – Michelle Roesler, Soleil
The psychological well-being of women has been steadily deteriorating over the past two decades. This attributes to several social and economic factors that can put women at greater risk of poor mental health than men. Furthermore, body dissatisfaction amongst women of all age groups and across cultures has increased during this period. Exploring unique ways to improve self-esteem is essential. In response to young people increasingly turning to technology to help manage their psychological well-being, there has been a rapid increase in mental health apps. The talk will highlight opportunities for the further development of Evidence-Based Practices (EBPs) within digital mental health and how technology can become a partner in modern mental healthcare.
6. Bringing Women's health Innovation to market – Andrew Tasker, CEO, Viveca Biomed
Gain insights on the practical aspects of delivering innovation and bringing a product to market, including the challenges and opportunities of delivering product innovation to the female user across multiple market channels. Discover from the lessons learned helping the world's largest Health and Beauty retailer understand female health innovation.