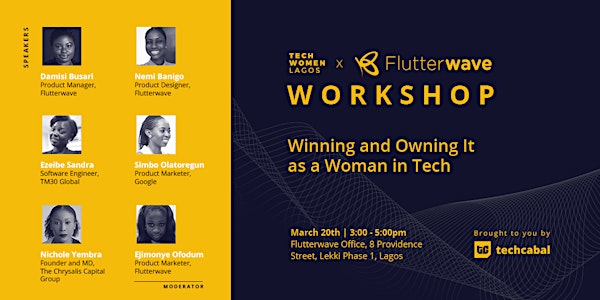 Tech Women Lagos x Flutterwave Workshop - Winning and Owning It as a Woman in Tech
When and where
Location
Flutterwave Office 8 Providence Street, Lekki Phase 1 Lagos, Lagos Nigeria
Description
The Tech Women Lagos portrait series and exhibition event has shown us a diverse range of women making great accomplishments in the technology sector. Whether as software developers or C-Suite executives, women continue to debunk the stereotype that technology is only for men and that they can't thrive in the industry.
However, there's still a lot to do to build the confidence of young girls and women seeking to gain entry and grow in the industry.
In this fireside chat, Flutterwave brings together a number of female professionals from various segments and positions, to discuss how others can follow in their path.
Talking Points:
Mapping out and pursuing your desired career path in the technology sector;

Positioning yourself for growth in the workplace;

Developing confidence in your abilities and the value you bring to an organisation;

Dealing with "impostor syndrome";

And more.
Meet the Speakers
Damisi Busari, Product Manager, Flutterwave
Nemi Banigo, Product Designer, Flutterwave
Ezeibe Sandra, Software Engineer, TM30 Global
Simbo Olatoregun, Product Marketer, Google
Nichole Yembra, Founder and Managing Director, The Chrysalis Capital Group
Moderator
Ejimonye Ofodum, Product Marketer, Flutterwave
Agenda
3:00pm-3:10pm Welcome and brief networking
3:10pm-3:20pm Welcome address
3:20pm-3: 40pm Keynote address by Bode Abifarin, COO, Flutterwave
3:40pm-4:20pm Fireside chat
4:20pm-4:30pm Q&A
4:30pm-5:00pm Photos and refreshments