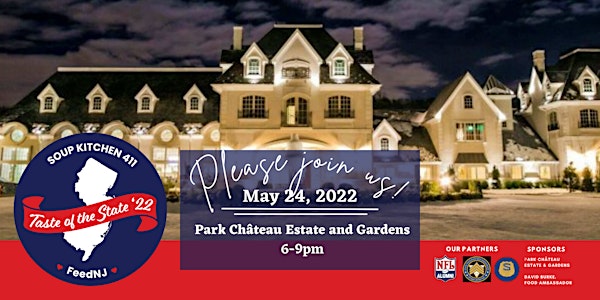 Event Information
Location
Park Chateau Estate & Gardens
678 Cranbury Road
East Brunswick, NJ 08816
Enjoy a memorable fundraising event tasting exquisite food prepared by top chefs from the finest restaurants in New Jersey.
About this event
We are excited for you to join us on May 24th 2022 for Taste of the State '22!
By joining our allies in the fight against hunger at Taste of the State, you help us deliver meals to our food-insecure neighbors while supporting independent local restaurants that fuel our economy.
Taste of the State supports Soup Kitchen 411's unique mission of feeding communities while also stimulating local economies, which to date has bought almost 500,000 meals from local restaurants to serve in their communities.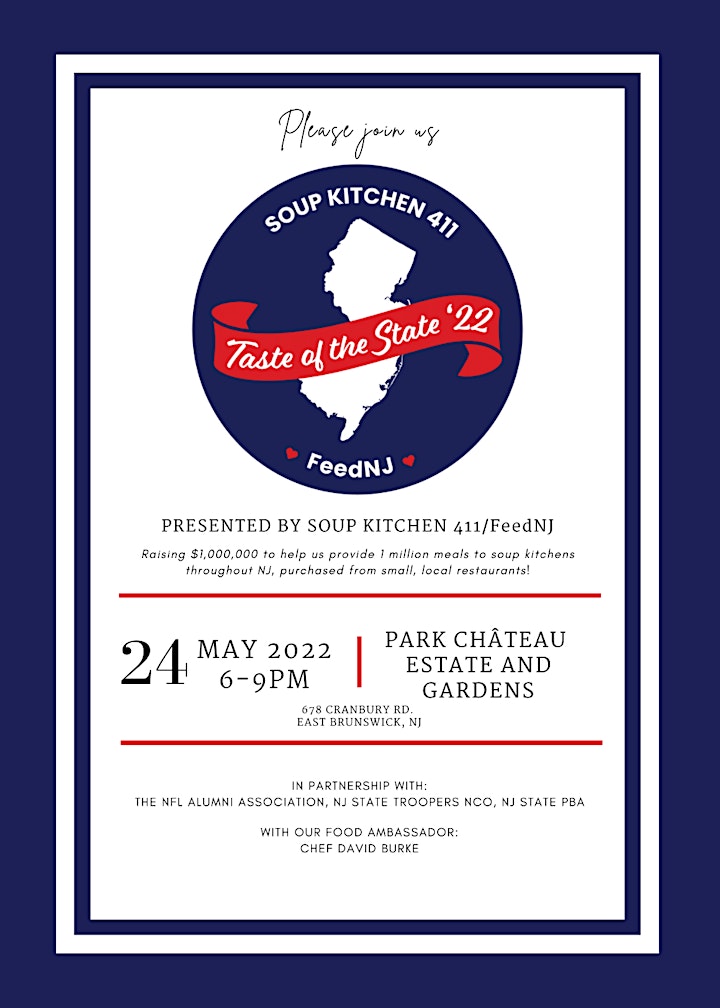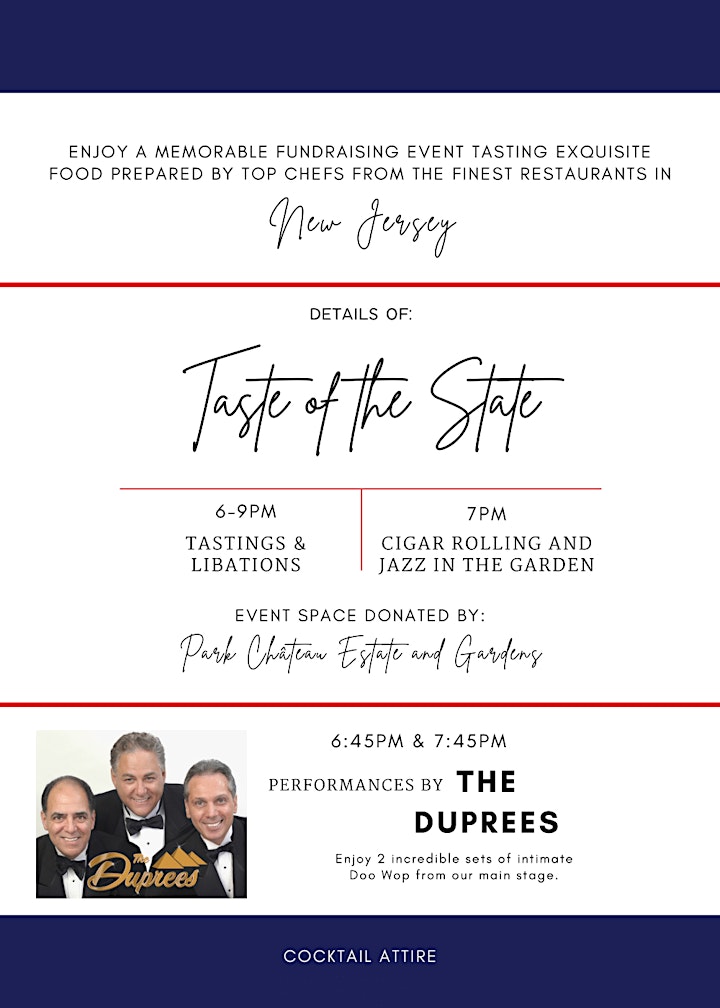 Enjoy delicious tastings with...
Chef David Burke; bringing you several of his signature creations including lobster dumplings and clothesline bacon straight from the menu of Red Horse in Rumson
Chef Brian Karluk and Matty Terranova of Steakhouse 85 bring you inside their latest business venture of Batch, Bin & Barrel with a tasting of fresh mozzarella roulade with prosciutto di Parma
Artful plating and culinary genius of award-winning Chef Daniel D'Alessio.
Fiorino Ristorante of Summit. Fiorino will be serving their signature Panzanella salad and Lasagna Bolognese.
Charlies of Bay Head offers delicious dishes including Spicy tuna on Crispy Rice, Sriracha Aioli, Soy ginger glaze, furikake, scallions AND Pavlova, raspberry custard and vanilla shortbread.
Experience the discerning collection of culinary dishes curated by James Beard Foundation Chef Duke Estime, of LeMalt Royal.
Roots Steakhouse offering Tuna Tartare, Filet Mignon Crostini, Maine Lobster Rolls, NY Style Cheesecake Bars and MORE!
Whiskey Specialist Patrick McCarthy of the number one rated whiskey store in America in 2021, Bayway Liquors
And much, much more!
ABOUT SOUP KITCHEN 411
We are a top-rated hunger awareness charity that connects people in need to free meals near them. Our flagship program, FeedNJ, is designed to combat food insecurity while helping to keep struggling restaurants afloat by purchasing nutritious meals that are served to communities in need. Since the start of the pandemic, this campaign has served over 500,000 meals purchased from numerous locally-owned restaurants, which are delivered to soup kitchens, food service groups and other pop-up distribution programs.
WHERE DOES THE MONEY RAISED FROM TASTE OF THE STATE GO?
100% proceeds from Taste of the State go to funding Soup Kitchen 411's flagship program, FeedNJ, reinvesting in local restaurants and subsidizing food distribution locations' workload. Soup Kitchen 411 actively pursues grant and private philanthropic funding avenues year-round to maintain its extensive, publicly-accessible database of over 250 tri-state area and general hunger-awareness campaigns.
HOW PREVALENT IS HUNGER IN NEW JERSEY?
The Community Food Bank of New Jersey has found that 13.5% of all residents and 19.7% of children in New Jersey are projected to be food insecure due to COVID-19, nearly double the respective pre-COVID-19 numbers.
Date and time
Location
Park Chateau Estate & Gardens
678 Cranbury Road
East Brunswick, NJ 08816
Refund policy