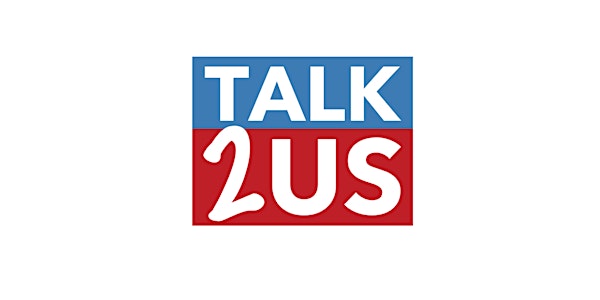 TALK2US
Practice your English conversation skills with VOA Learning English teachers and writers!
About this event
TALK2US is an interactive English lesson presented by members of VOA Learning English. Each lesson is limited to a small number people to allow for as much practice time as possible for participants. This is a chance for you to practice speaking English. So, come prepared to speak.
Please do not sign up for more than one session per week. And sign up only one time for that session. When you duplicate your ticket, you take away the chance to speak from another learner.
If you are a minor (under 18 years of age), we will need permission from a parent (a parent that agrees for you to join). There is a photo of the agreement on this page and a link to the agreement. Please have a parent complete this form. If not, they may appear during the meeting and give a verbal agreement on video. This is a link to the parental agreement for a minor (a person under the age of 18). Please have a parent complete this form and email it to: voalearningenglish@gmail.com. Once the form is completed, you will not need to complete it again.
HOW TALK2US WORKS:
You will get an email that asks you to "Join Microsoft Teams Meeting."
First, you need to have a Microsoft account. When you get the meeting email, click on the words "Join Microsoft Teams Meeting" to open a web page. If you do not have a Microsoft account, sign up for a free one. Then, from the meeting link, you have two choices for joining: "Download the app" or" Join on the web." If you join on the web, you can use either Google Chrome or Microsoft Edge as your internet search engine.
Your internet search engine may ask if it is okay for Teams to use your microphone and camera. Be sure to let it so that you can be seen and heard during the lesson!
If possible, use a computer to join the meeting. If you plan to use a phone or other device, please put it on a flat surface so that the picture from it will not move around. (You are not required to have your video turned on if you do not wish to, however.)
Before the lesson, please ask other people who may be around not to make much noise during the meeting. And try to turn off any radios or televisions. Also, please wear headphones so that the sound from the lesson does not go back through your microphone.
When joining the meeting, enter your name and choose your audio and video settings. Please enter the same name that you used when signing up for the lesson (or at least the same first/given name).
Set up your computer or mobile device so that your face shows in the picture. Try to make sure there is no bright light behind you!
When you are ready, press "Join now." This will bring you into the meeting waiting area. A VOA Learning English member will then admit you before the lesson begins.
See the video for more on how to join.