Description
Take Your Seat at the Bench: An Evening with the IP Judges
Join the London Chapter of ChIPs for an evening with women judges who hear IP and technology disputes in the UK. Her Honour Judge Melissa Clarke, District Judge Janet Lambert, Pat Treacy, Kelyn Bacon QC and more, will take us through their journeys in joining the bench, the barriers and opportunities they faced and what we can all do to promote a career in the judiciary for the next generations of women (and men). We will also shed light on some of the diversity initiatives already offered by the UK judiciary and programs the ChIPs London leadership, with help from some our fabulous members, are working on launching in 2019.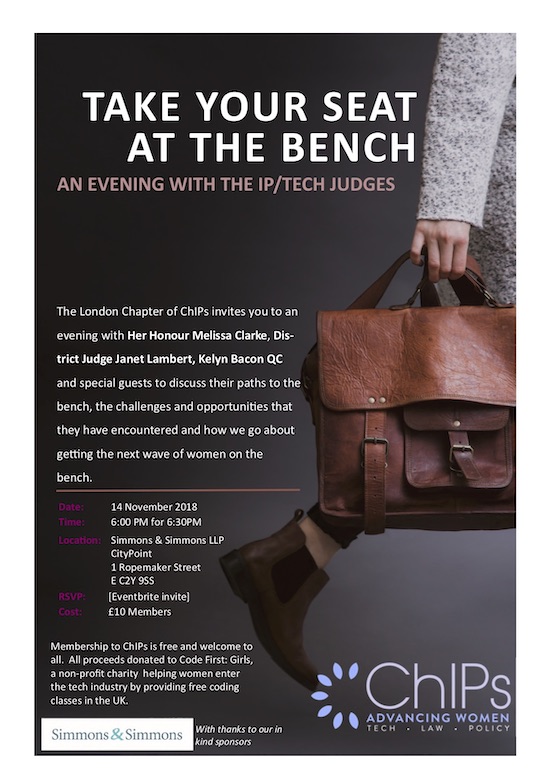 Schedule:
6:00 PM - 6:30 PM: Registration
6:30 PM - 8:30 PM Fireside Chat
8:30 PM - 9:30 PM Networking
Location: Simmons & Simmons LLP, CityPoint, 1 Ropemaker Street, London, EC2Y 9SS
This event is open to all members of the ChIPs Community. To become a member of ChIPs, click here.
Questions? Email Londonuk@chipsnetwork.org
Thank you London planning committee for organizing this event and our event sponsor, Simmons & Simmons for their support: