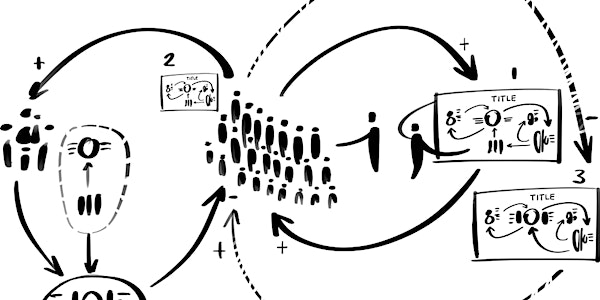 Systems Scribing Lab
When and where
Location
Online event 00000
Refund Policy
Refunds up to 7 days before event
Eventbrite's fee is nonrefundable.
Description
Systems scribing is a visual practice that combines scribing—visually representing ideas while people talk—with systems thinking. This is a new, tangible approach to representing dynamics, occurring in the moment and over time, between a scribe and a social body. This discipline develops a critical skill to facilitate a system's ability to see and sense itself, as well as crystalize ideas into action.
This online lab will create a space to learn and practice systems scribing by exploring multiple directions of coming to understand systems: outside in—where cognition determines understanding, and inside out—where we function from a place of inherent interconnectedness.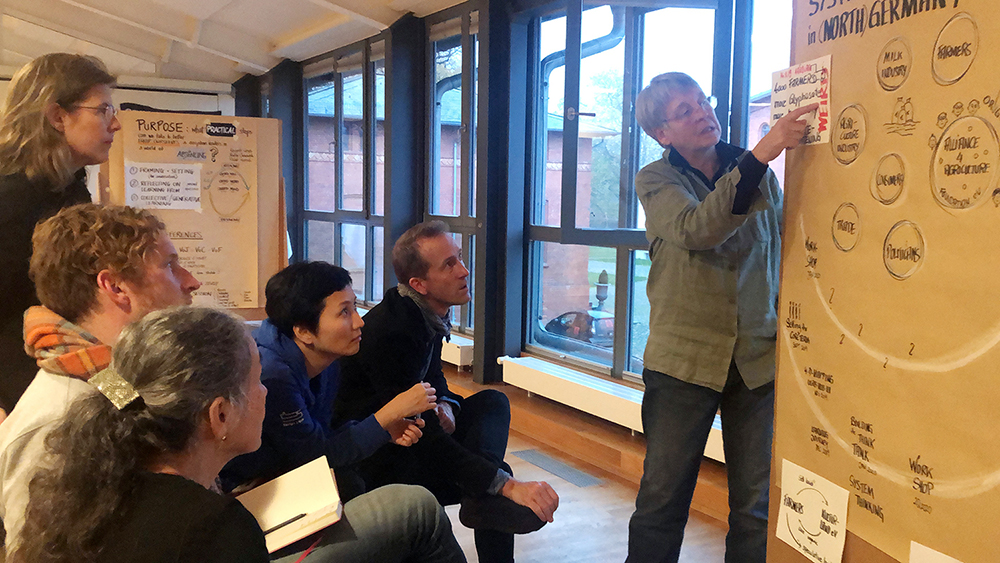 OVERVIEW
Session 1: Systems Thinking
In this session we set the foundation for the lab by mapping the 4 week learning arc and defining systems scribing. We will also focus on systems thinking, and present 6 key elements for practicing this new methodology.
Week 2: Systems Being
Learn about "containers"—energetic holding spaces that foster trust, risk, and truth—and relate this to systems being, where we experience deeper knowing of interconnection that informs our sense of place in the present moment of time.
Session 3: Systems Living
Move into the open will, where systems awareness guides our drawing and action. We enfold the consideration of purpose, place, and time into the previous content, and further the shift from scribing as an independent "actor" to scribing from within an ecology.
Week 4: Integration
The group will engage in a longer conversation on one topic (to be determined) that addresses a systemic issue we face in the world today. Participants can apply their learning by drawing realtime during the module, and advance the collective inquiry into the potential of systems scribing.


Participation
This lab is open to all who are interested, with no previous experience in scribing or systems thinking required. Drawing will be our primary form of expression, and conversation the primary form of shared reflection. You do not have to be a skilled scribe or artist – but be prepared to use visual language as the main method of practice during the lab.
Process
Online: Each 75-minute Zoom session will include: framing and content that we encourage participants to scribe; break out groups for sharing; full group reflection; questions and answers.
Offline: Community space in Mighty Networks where participants can further share their insights from the live sessions, application in practice, images, questions, insights, and additional resources.
LOGISTICS
Dates and Time: The sessions will each take place at 5:00pm UTC (Universal Time Coordinated - Check the program time for your location here) on the following Wednesdays:

February 26
March 4
March 11
March 18
Required Technology: Participants of the live sessions will need to have access to the following technology:
A computer or tablet with Zoom installed - or - a phone to dial into the weekly calls
A computer, tablet, or phone to participate in the Mighty Networks community
A wireless connection or phone signal that can support video conferencing


REGISTRATION
In order to include a range of participation from around the world, we are experimenting with a model of a self-selected fee. Please register at the rate that feels most appropriate to your local economy, stage of professional development, and income. Whether you join the live sessions or not, all rates include access to: recordings of live sessions, the online community, and resource materials.
Rate One - Live Sessions $480 (Strong global currency, med-exp practitioner...)

Rate Two - Live Sessions $240 (Emerging markets, those building their practice...)

Rate Three - Recorded Sessions $200

Scholarship - Email your request

10% discount for Visual Practice Workshop or previous System Scribing Lab alumni
Refund Policy: The amount paid minus a $35 processing fee will be refunded for all cancellations received in writing before February 12, 2020. No refunds will be granted for cancellations received after that time, but registrations can be transferred to other participants at no additional cost. The Organizer is not liable for an event cancellation due to riots, epidemics, or disabling weather conditions.
TEAM
Kelvy Bird has been working as a scribe in the fields of human and organizational development since 1995, with a focus on innovation, collective intelligence, and systems thinking. As part of the Presencing Institute since 2007, Kelvy has helped shape many of the global community offerings, most recently the edX course u.lab, for which she provides extensive visual material. In 2016, she co-edited the anthology: Drawn Together through Visual Practice, and in 2018 released Generative Scribing: A Social Art of the 21st Century. Kelvy received a BFA and BA from Cornell University, and currently lives in Somerville, MA USA. More
Jessica Riehl is charting new territory in "systems scribing", helping to define and deliver the studio sessions. She is a designer and facilitator who uses collaborative-based design processes to gain insight and empower change. She employs visual and systems thinking, mindfulness, storytelling, ethnographic research, cameras, sharpies, and Post-it notes. As an entrepreneur, nature lover, photographer and former Naval Officer, Jessica brings a unique perspective that informs her design process and facilitation. She is located in Tigard, Oregon where she lives with her son, husband, and two cats. More
Michelle Sampaio started her journey with dialogue in 2015, and has been bringing meaningful conversations to the world ever since. One of her passions and focal points of research is capturing the intangibles of conversation into images through visual facilitation. She works as a Professor of Sustainability and Botany at the Federal University of Rio de Janeiro State (UNIRIO). Michelle has hosted online environments since 2017, connecting people around the globe. She supports the lab's online spaces from Rio de Janeiro, Brazil. More
We will be fortunate to have Ethan Nichtern join us in Module 2, to explore the concept of interdependency as it relates to "systems being". Ethan is a renown Buddhist teacher and the author of numerous books, including One City: A Declaration of Interdependence. He founded the Interdependence Project, a Meditation Teacher Training Center in New York City that is dedicated to transformational activism and arts, and served as Executive Director from 2007-2011. Ethan was formerly on the part-time faculty at Eugene Lang College at New School University and has lectured at Brown, Wesleyan, Yale, NYU, FIT, Antioch and other universities, and as well as at many meditation/yoga centers and conferences around the country and world. More